15 Months Old Baby Food Chart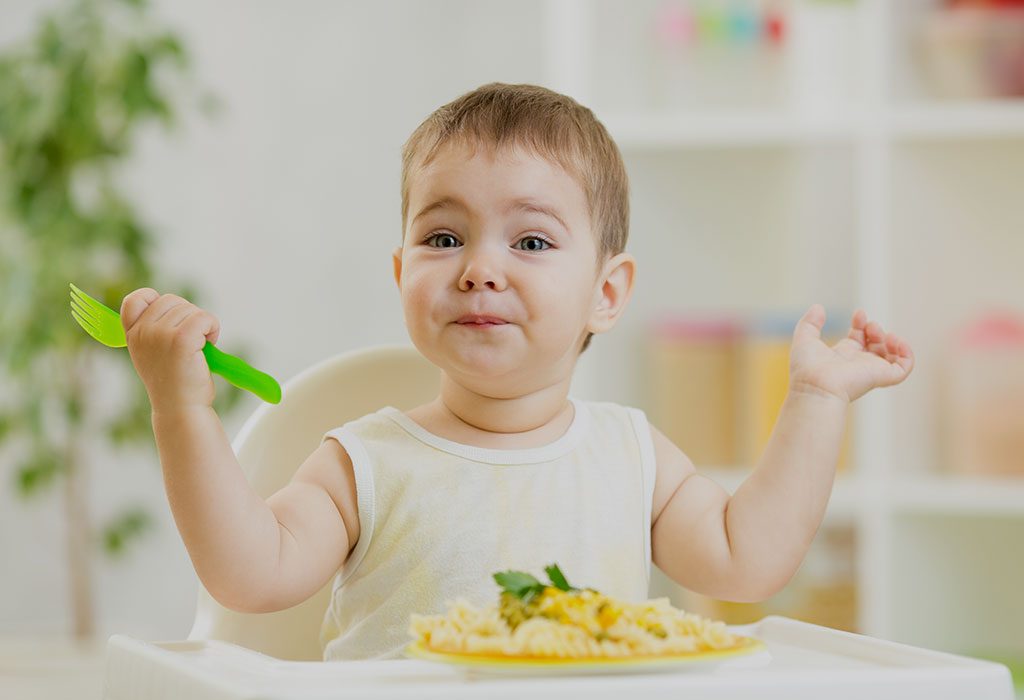 It is quite natural to completely run out of ideas for meals or even snacks for a 15-month-old child when you are used to a very typical meal schedule for yourself. The nutritional requirements for adults and kids are quite different and figuring out what food items can suffice them both can be quite tricky. This is where a proper meal plan and a simple schedule can be quite handy.
Video
Nutrient Requirements for a 15 Months Old Child
The nutritional requirements for a 15-month-old child are all-encompassing. There is a necessity for all the major nutrients to be present in the appropriate quantities, even with reduced food intake.
1. Supporting nutrients
With reduced food intake, the chances of minor nutrients such as probiotics, omega-3 acids and others falling short in their required proportion are quite high. Therefore, a special focus is needed to ensure these are included in the diet.
2. Water
Including water, especially in the diet is highly recommended since most kids won't remember to have as much water as they should. Roughly a litre of water is the least your child should drink in a single day.
3. Iron
The requirement of iron from other food items increases strongly as your child grows up, since his dependency on breastmilk, the primary source of iron, will begin to reduce. Make sure that he gets 7mg of iron daily from his food intake.
4. Sodium
The major food item that provides us with sodium is salt. While that might usually take care of the general requirement of a child amongst other food items, households that sparingly use salt should take extra care of this.
5. Fibre
Bowel movement and proper digestion are how your children can truly get the benefits that all the nutrients provide. Including fibre in the diet not only ensures this but also keeps the rest of the body functioning optimally.
6. Carbohydrates
The powerhouse of all energy, these form the core of any meal that your kid would have. There should be no compromise in the number of carbohydrates since there is a vast dependency of various bodily processes on it.
7. Proteins
Vegetarian families might worry about providing their kids with the necessary amount of protein they need. While meat does provide a substantial amount of protein, there are vegetarian alternatives providing good nutrition, too.
8. Calories
The growth rate of your kid might not be as rapid as it was during his early baby days. This results in a calorie requirement of around a kilocalorie or so, on a daily basis, which increases gradually over the years.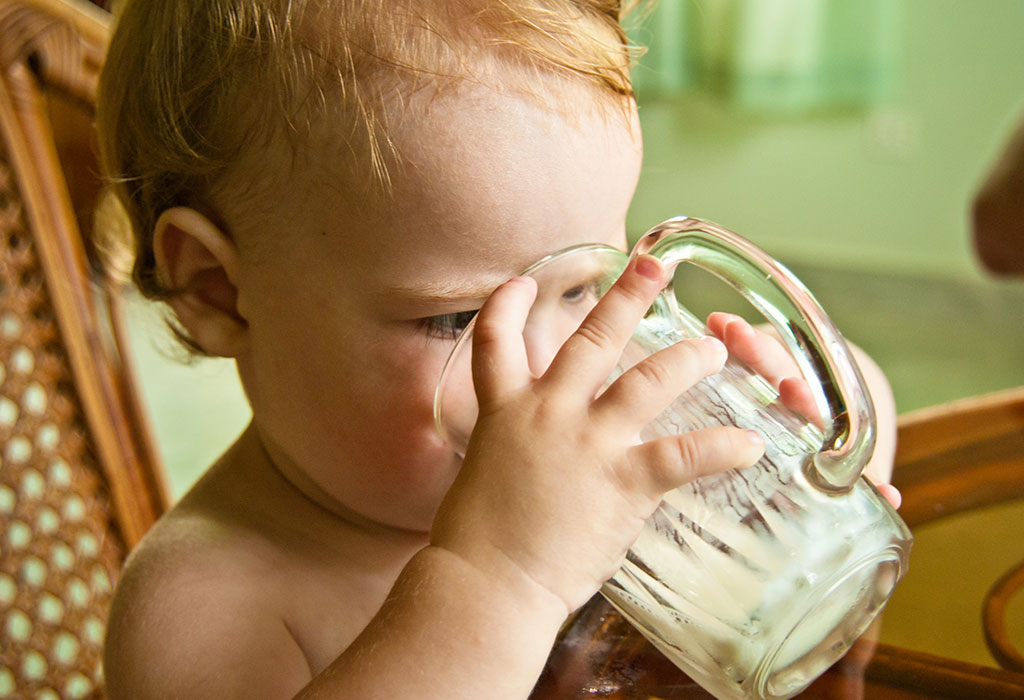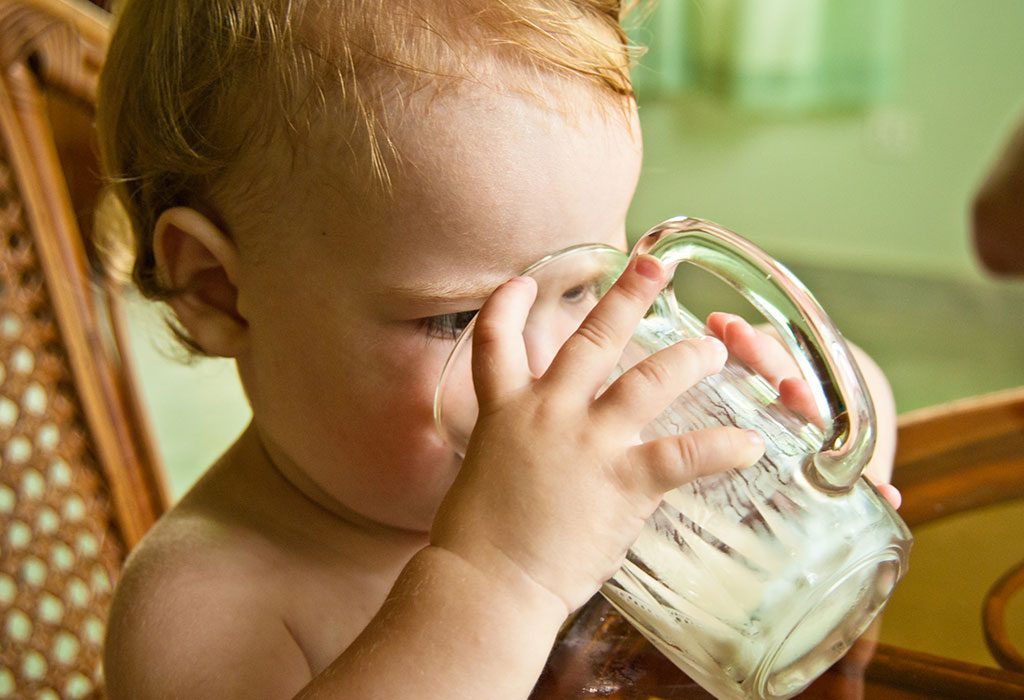 How Much Food Does Toddler Need at 15th Month?
Depending on your child's physical activities and metabolism, a toddler's food requirements stay within the range of 1000 to 1400 calories within the first few years. Hence, breakfast ideas and meal options need to strike a balance together to ensure proper nutrition for the child.
Best Foods for Fifteen-Month-Old Baby
Some specific food items make for great choices in giving your little one a wholesome meal that provides the necessary nutrition he needs.
1. Meat
It is important to know that little kids cannot have large pieces of meat such as steaks or hams like adults. The protein requirement for their age can be substantially satisfied by opting for lean meat alternatives, such as minced pork, soft fish, crumbled chicken or ham, and so on. Precautions need to be taken when including seafood in their diet.
2. Legumes and Nuts
While eggs also make for a great meal choice to provide your kids with proteins and fats, vegetarians can rejoice with a better alternative in legumes and nuts. Giving nuts directly to your kid is not advised since it can be a choking hazard. However, using food items that contain nuts as an element shouldn't be a problem.
3. Vegetables
Most kids will start eating their veggies around this age. Certain items might still be a bit difficult to chew, and those can be either boiled or steamed to soften them up. Avoid fried vegetables and opt for a variety that gives your kid a wider taste spectrum to enjoy.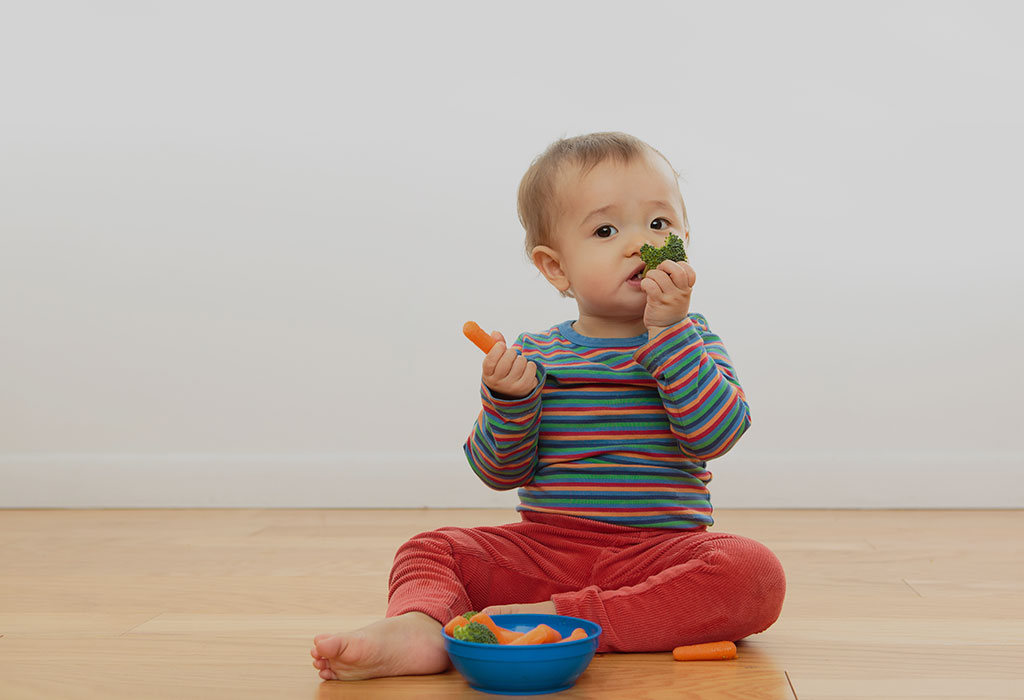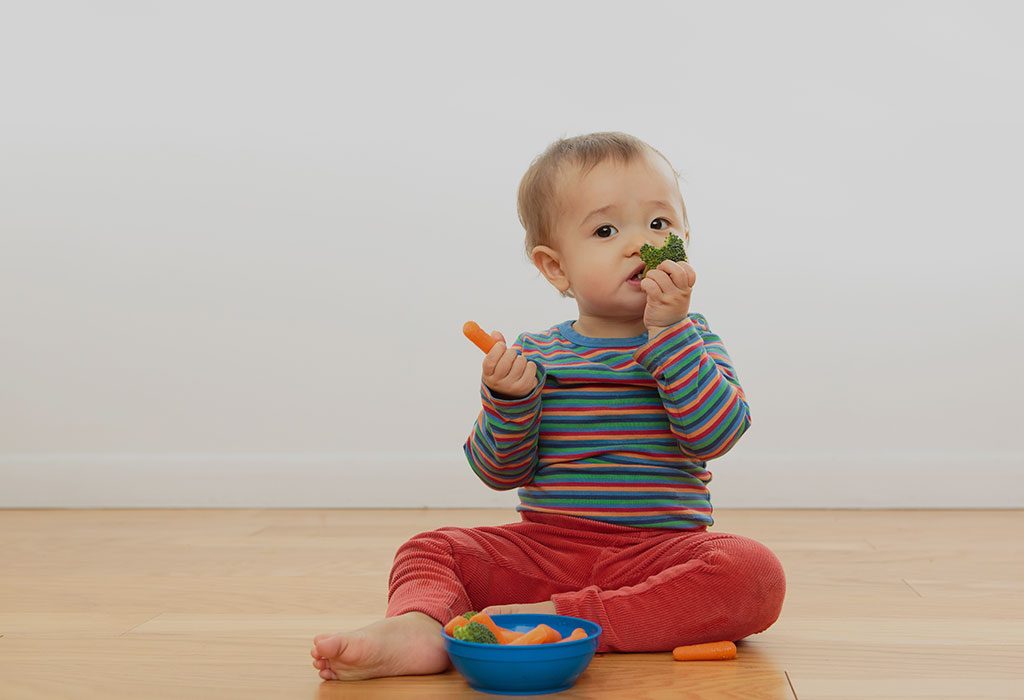 4. Grains
Parents are suggested to go for whole grain varieties when choosing food items, as an easy way to keep up with the nutrient requirement of your child. These can exist in variants of roti, rice and pasta as well. On the other hand, any fortified cereals free from artificial additions make for a great choice, too.
5. Fruits
Not only do fruits provide your kid with a different range of tastes as compared to other food items, but the presence of natural fibre in them also helps in stimulation of the digestive system as well as help in procuring different vitamins.
6. Snacks
While your little one might munch of tiny pieces of cookie or toast, it is best to avoid giving any sugar-heavy products early in life. Make use of cheese based items or steamed veggies to satiate the random cravings.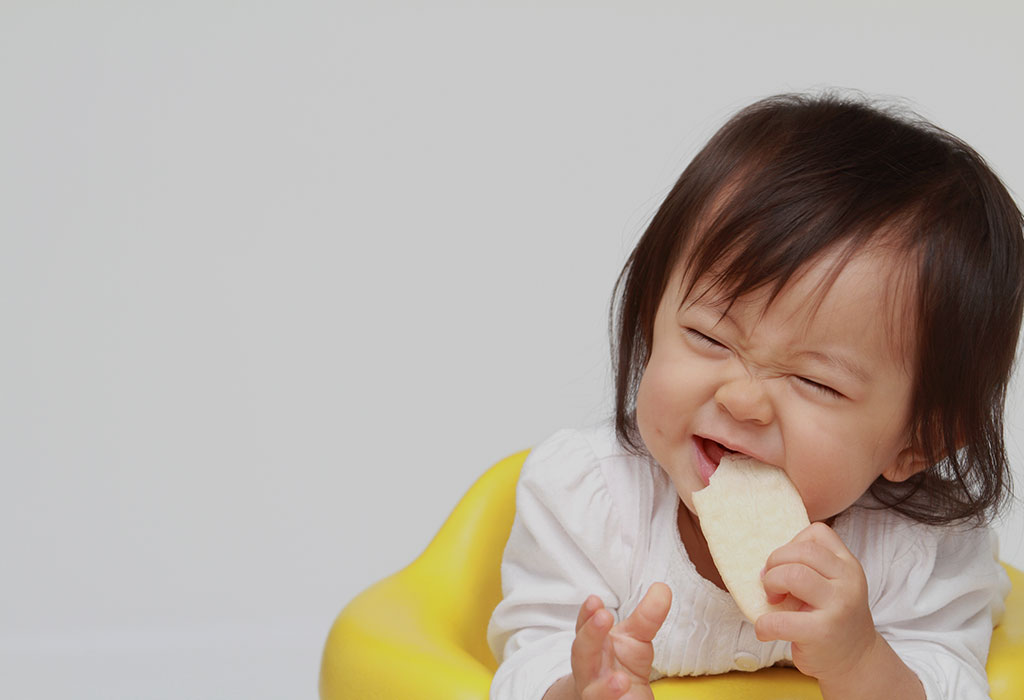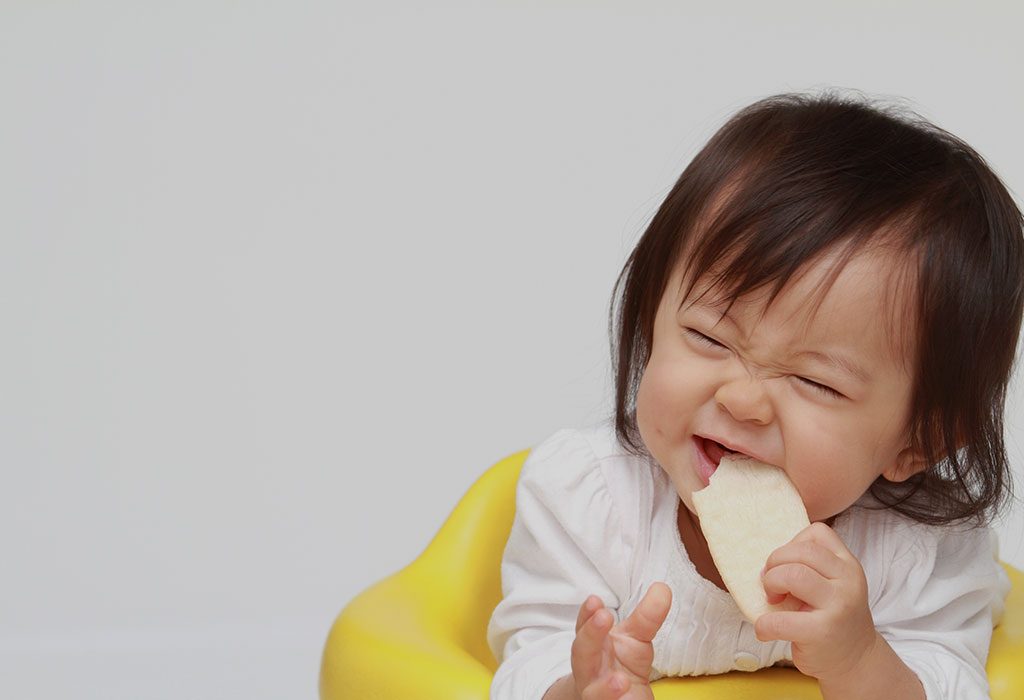 7. Oil
Even a 15-month-old baby requires fat, much more than anybody else. Those are the energy reserves that keep them going. Opt for oils that have no trans fats or go for alternatives like butter.
8. Dairy
A combination of protein and calcium is highly necessary for kids at this age since their bones and muscles need to be strong. Make sure you include whole milk and some yoghurt in your kid's diet.
9. Juices
Although it is best your kids have fruits instead of juices, these still can be a great addition to his diet, but only when pressed fresh and absent of any additions. Don't replace water intake with juices.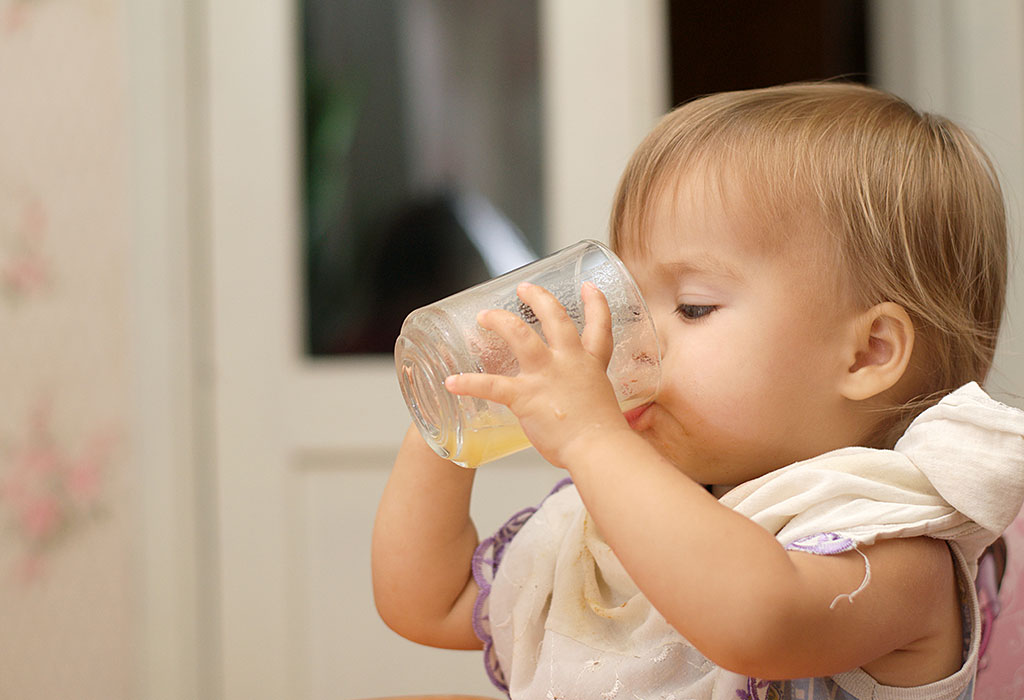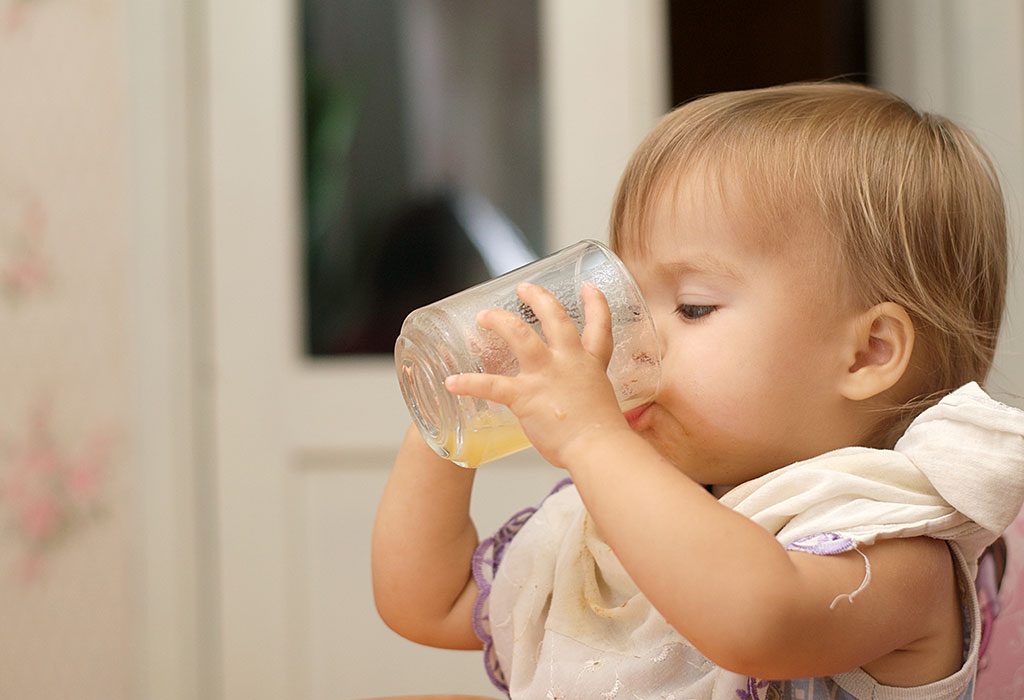 10. Multivitamins
The body constitution or family lifestyle might make a nutrient deficiency possible in a child. Such a scenario needs to be combated with a multivitamin that can supplement any dietary shortfalls.
Video: Diet Plan for 15 Month Old Baby
15 Month Old Baby Food Chart/Meal Plan
Putting together a baby diet chart for 15-month-old kids isn't an easy task. Referring to the one below, you can create your own that suits your child the best.
Diet for a 15-month-old – Week 1, Day 1
Diet for a 15-month-old – Week 1, Day 2
Diet for a 15-month-old – Week 1, Day 3
Diet for a 15-month-old – Week 1, Day 4
Diet for a 15-month-old – Week 1, Day 5
Diet for a 15-month-old – Week 1, Day 6
Diet for a 15-month-old – Week 1, Day 7
Ensure the child has at least half a cup of milk every day.
Diet for a 15-month-old – Week 2, Day 1
Diet for a 15-month-old – Week 2, Day 2
Diet for a 15-month-old – Week 2, Day 3
Diet for a 15-month-old – Week 2, Day 4
Diet for a 15-month-old – Week 2, Day 5
Diet for a 15-month-old – Week 2, Day 6
Diet for a 15-month-old – Week 2, Day 7
Diet for a 15-month-old – Week 3, Day 1
Diet for a 15-month-old – Week 3, Day 2
Diet for a 15-month-old – Week 3, Day 3
Diet for a 15-month-old – Week 3, Day 4
Diet for a 15-month-old – Week 3, Day 5
Diet for a 15-month-old – Week 3, Day 6
Diet for a 15-month-old – Week 3, Day 7
Diet for a 15-month-old – Week 4, Day 1
Diet for a 15-month-old – Week 4, Day 2
Diet for a 15-month-old – Week 4, Day 3
Diet for a 15-month-old – Week 4, Day 4
Diet for a 15-month-old – Week 4, Day 5
Diet for a 15-month-old – Week 4, Day 6
Diet for a 15-month-old – Week 4, Day 7
Video: 15 Month Old Baby Food Recipes
Food Recipes for a 15 Months Old Baby
For parents struggling with unique meals or lunch ideas for their 15-month-old kid, these recipes can provide a quick escape as well as stoke their imagination to make some more.
1. Curd Rice
The quintessential food preparation that works wonders no matter when and where you have it.
Ingredients
Black gram
Curry leaves
Green chilli
Red Chilli
Oil
Mustard seeds
Salt
Cream
Curd
Milk
Cooked rice
How To Prepare
Take the cooked rice and mash it well. Add milk to it and stir it all together. Follow it up with the curd and cream and stir it again.
Take a pan and put some oil in it. Put all the seasoning elements together and heat them well. Add some oil and pour in the rice into this.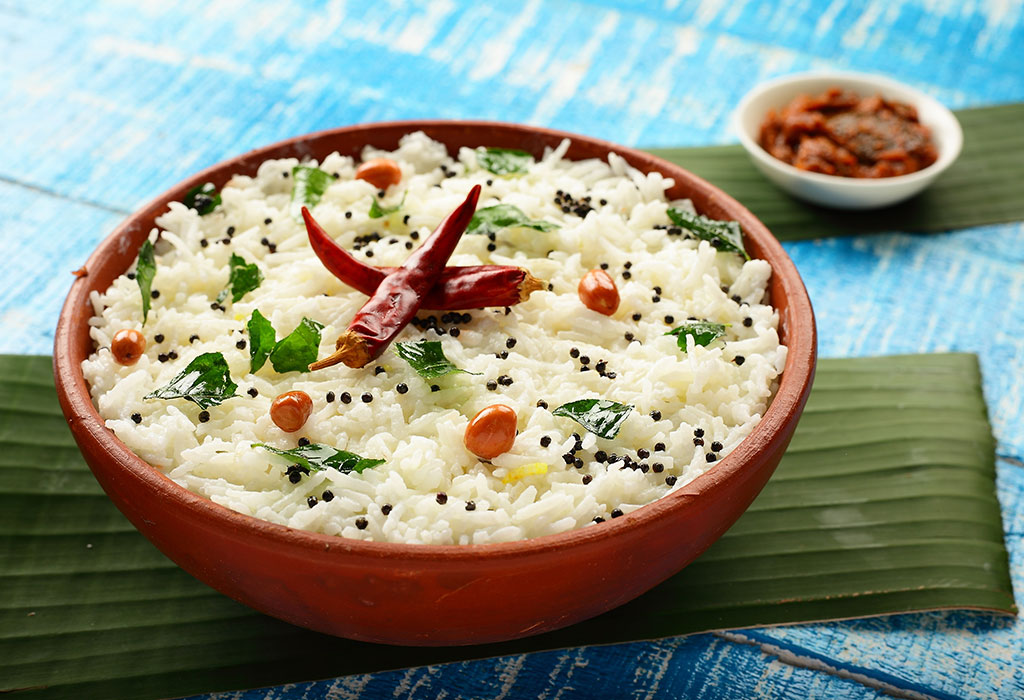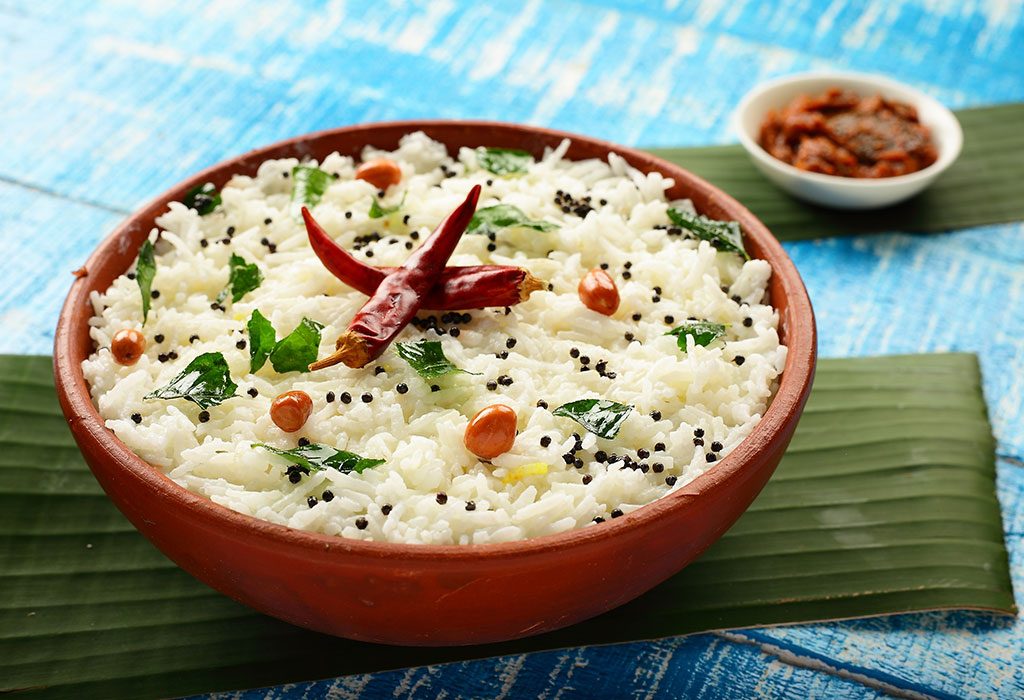 2. Khichdi
What might be comfort food for adults in their illness, is a perfect lunch item for young kids, providing great nutrition.
Ingredients
How To Prepare
Take the rice and dal together and wash them well. Keep them soaked underwater for about 30 minutes.
Until then, take the vegetables and chop them properly. Add these to the rice and dal bowl. Place this inside a cooker and let it sit on medium heat until two whistles.
Release the pressure and check if the rice is cooked.
Take it out in a bowl and mash it with ghee. Add salt, pepper and turmeric for added taste and mix properly.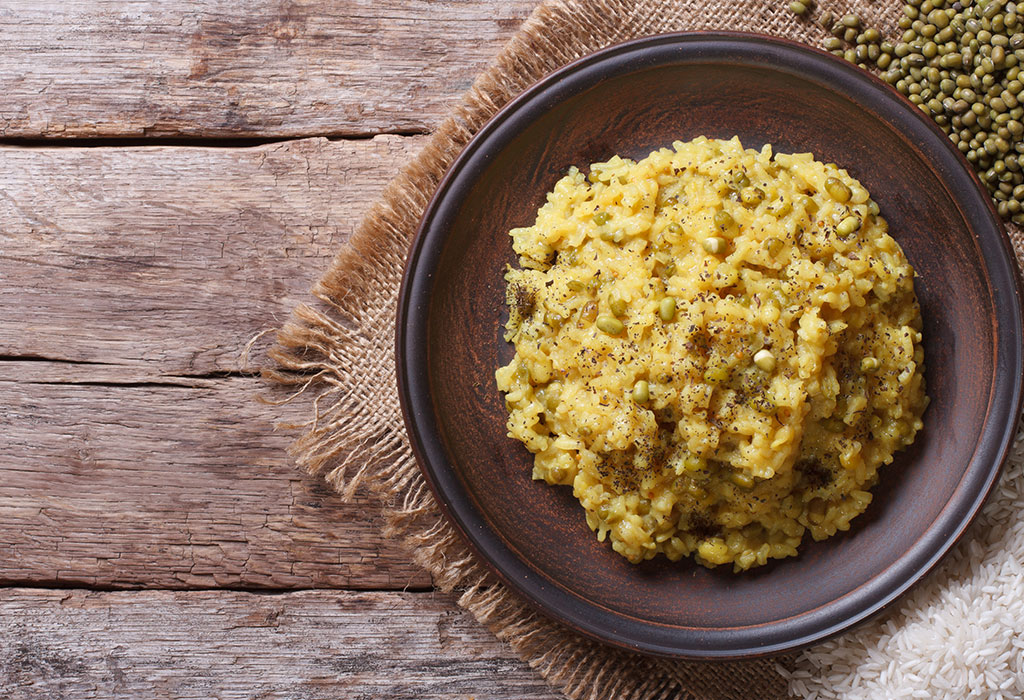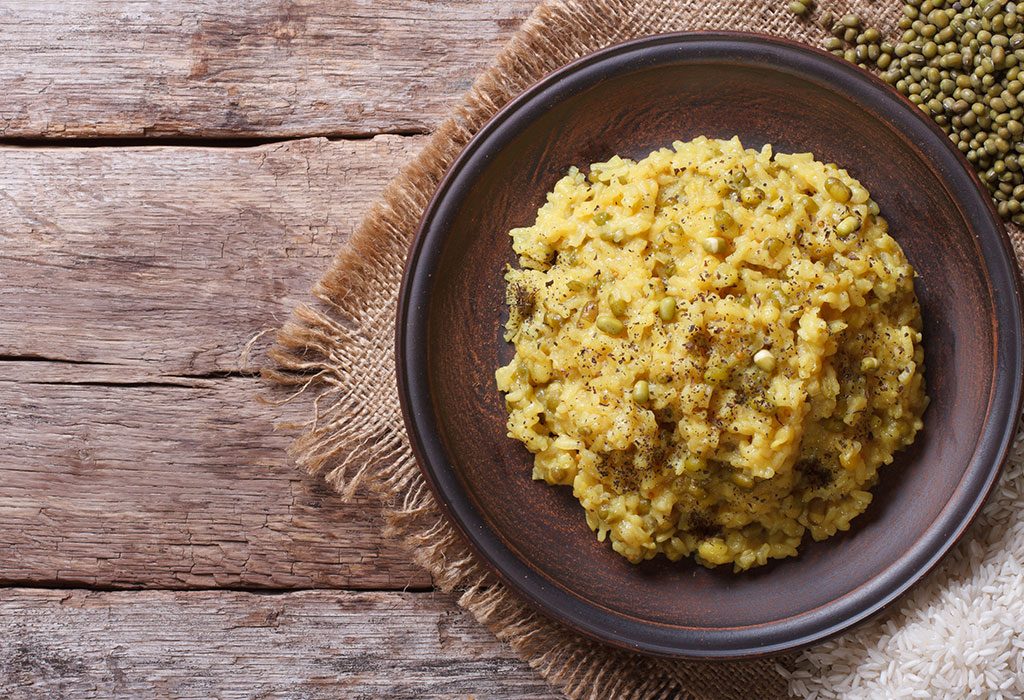 3. Pasta Kheer
Caught you by surprise, didn't it? Let your child revel in delight as well when he comes across this weirdly beautiful recipe.
Ingredients
Milk
Rice flour
Green cardamoms
Jaggery syrup
Pasta
Water
How To Prepare
Take a pan and add water to it. Bring it to a boil, add the pasta to it, cook it, and drain it well.
In another pan, add ghee and butter with some cashews and roast them well. Follow up with milk and let it boil. Add the pasta to it and cook it all together.
In a cup, add milk, water and the rice flour. Mix it all properly till it is smooth. Pour it into the pan and stir continuously.
Once the kheer is thick, add cardamom seeds with jaggery syrup, and serve.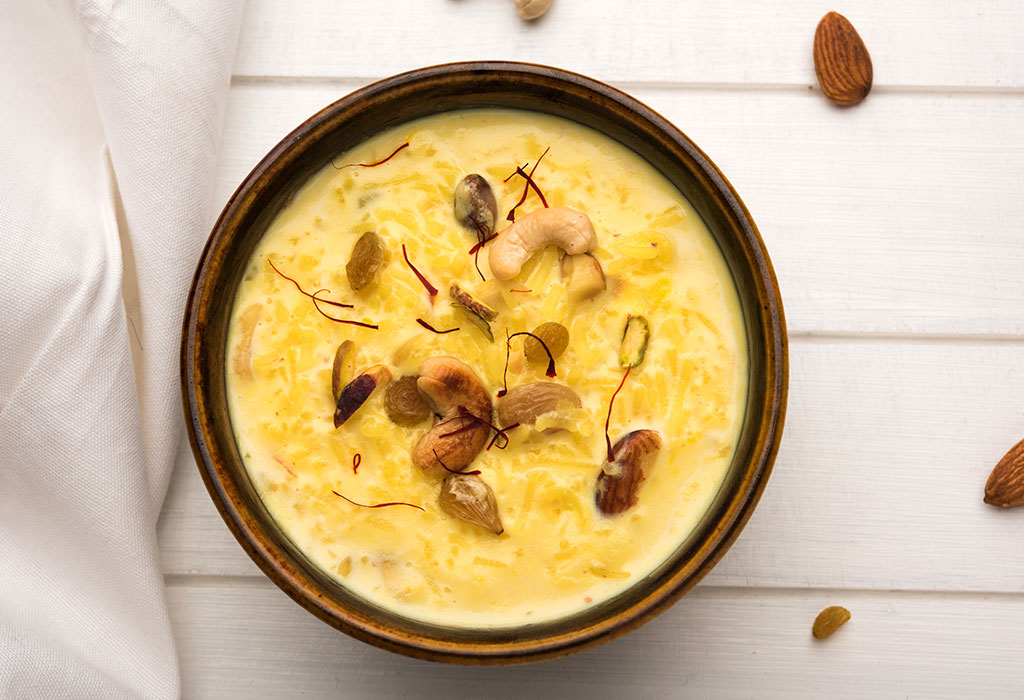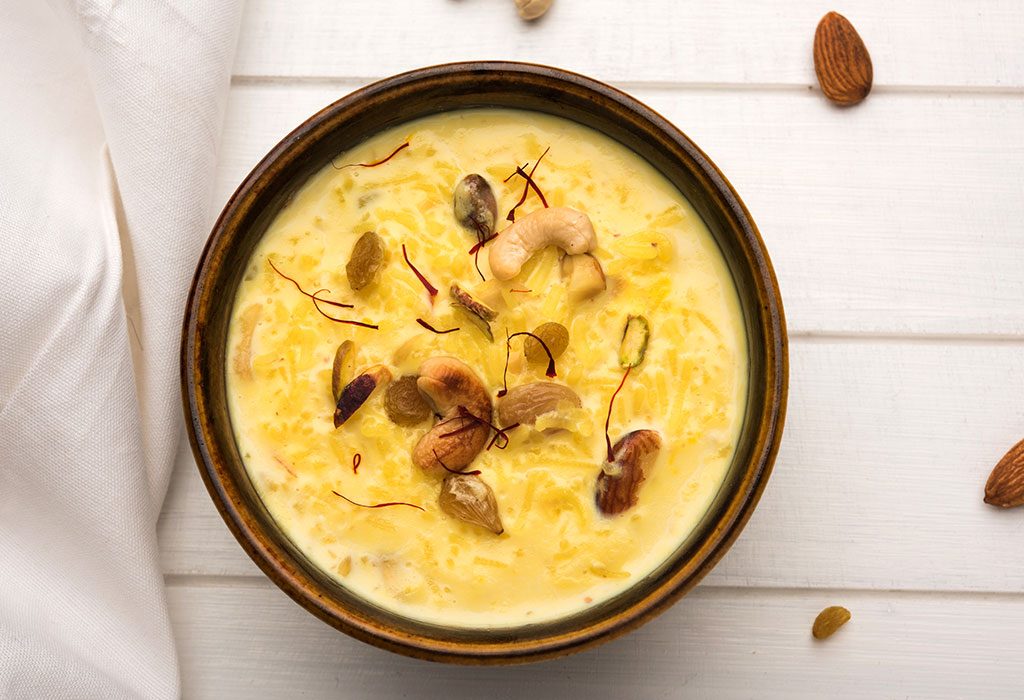 4. Roasted Green Beans
Do away with the usual boring snacks and add a great flavour to this healthy option that will make your child fall in love with greens.
Ingredients
Extra virgin olive oil
Sea salt
Green beans
How To Prepare
Start by heating the oven to a temperature of 425 degrees. Keep a pan inside it for 8-10 minutes.
Add the beans in a bowl and pour a little oil while sprinkling some salt. Toss them all together to mix it well.
Spread these beans on a sheet laid on the tray, without letting them cover each other.
Place them in the oven for around 10 minutes to make them crispy and soft.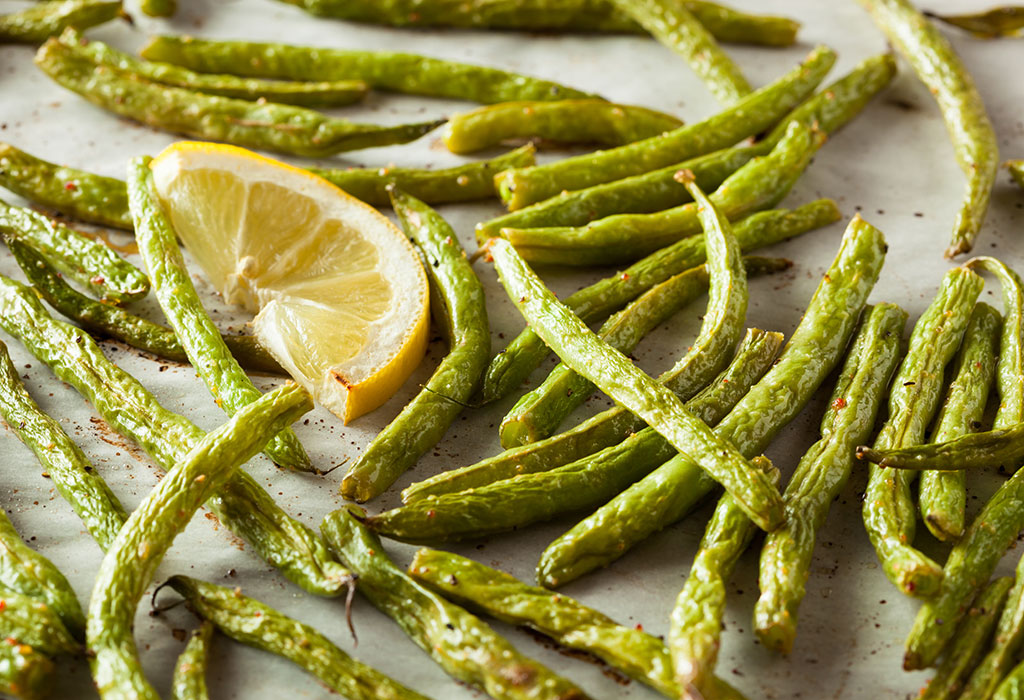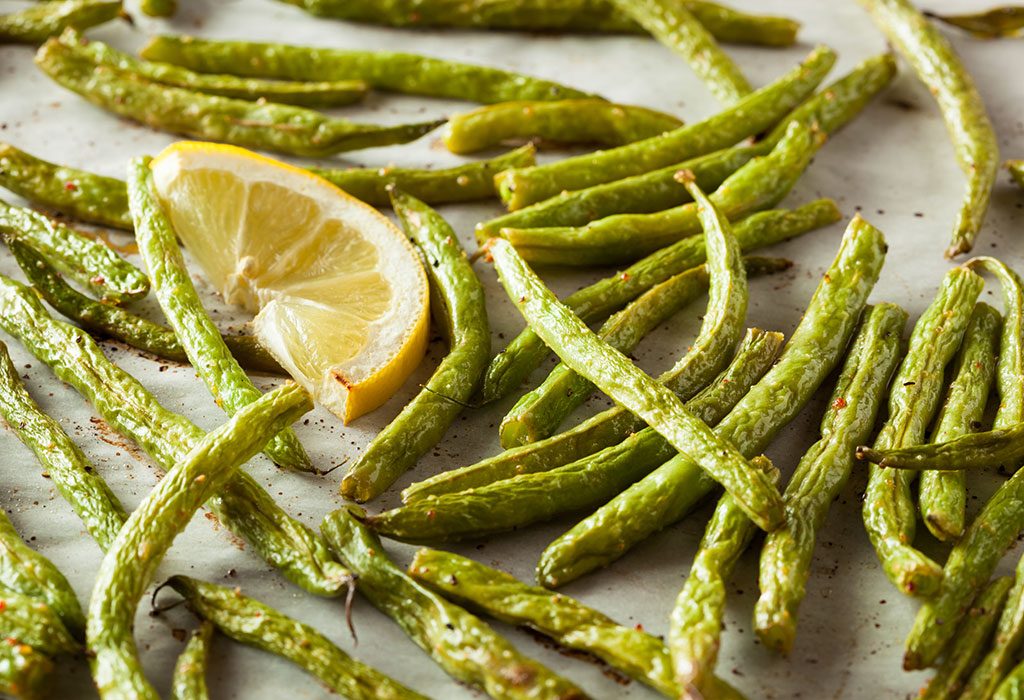 5. Purple Veggie Puree
For kids that are bored with the same old purees, this vividly coloured version will have their eyes light up instantly.
Ingredients
How To Prepare
Take a pan and add water and spinach to it together. Bring it to a boil and let it simmer for 8 minutes.
Drain the water and mash together lemon juice, water, blueberries and spinach to form a nice thick puree.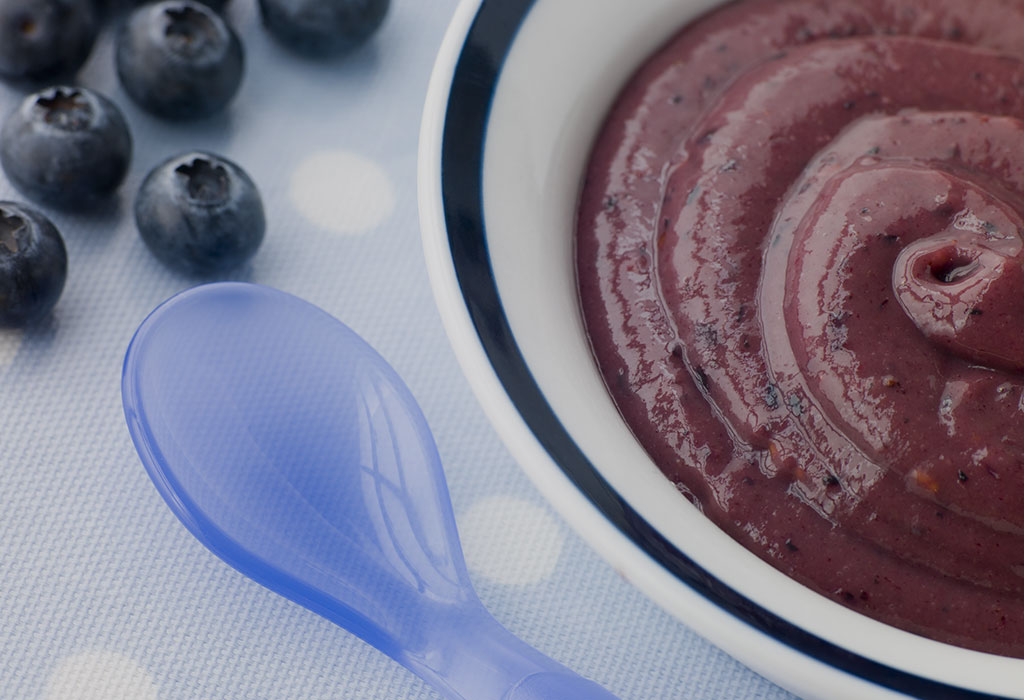 Feeding Tips
With some simple tips, while feeding your kid, you can make the experience easier for you and better for the little ones.
Let your kid eat from the food prepared for your family as well, as long as it isn't spicy
Start teaching your kid to eat certain items with his own hands
Don't force your kid to finish up his food quickly
It is fine for your kid to eat intermittently than sit quietly for a full meal
Don't fuss if your kid suddenly changes his eating habits
Make the entire experience of enjoying food items a fun-filled one
With numerous dinner ideas for your little kid at your disposal, your meals will take a new life of their own in the coming weeks. Observe your child and try to see what he likes and what he doesn't, to balance out his meal schedule accordingly.
Disclaimer:
Each child is different and so use these meal plans as a trusted guide as per your

discretion. You

can modify the meals according to your child's preferences / requirements.

Never force-feed a child.
While preparing formula, please follow the instructions on the box and use the measuring spoon provided with it.

While introducing solid food to a baby, initially, one needs to

prepare

watery gruels/soups. As a child gets older, the caretaker/ mother has to increase the thickness of the liquids slowly according to the child's capacity to swallow. Foods that are too thick can cause stomach upset/ unnecessary load; while excessively watery food might cause the child to remain hungry.

Some kids may eat less on some days and that is absolutely alright. However, if a child eats less for more than 3-4 consecutive days, please visit a doctor to guide further.

A child may eat less during the teething phase or if he/she may not be feeling well. You could increase

breast milk

/formula feeds on those days. Re-introduce the foods once the child is back to normal.

Don't stop feeding if the child is suffering from diarrhoea.

You can alter the taste of the food by adding some natural flavours like cinnamon, jeera powder, lemon juice, curry leaves etc. if the child doesn't accept the food initially.

If your child suffers from an allergy to nuts, gluten or eggs, please consult your doctor before feeding him/her any foods that may contain them.
Also Read: List of 12 Healthy Weight Gain Foods for Babies & Kids