Oats Apple Smoothie Recipe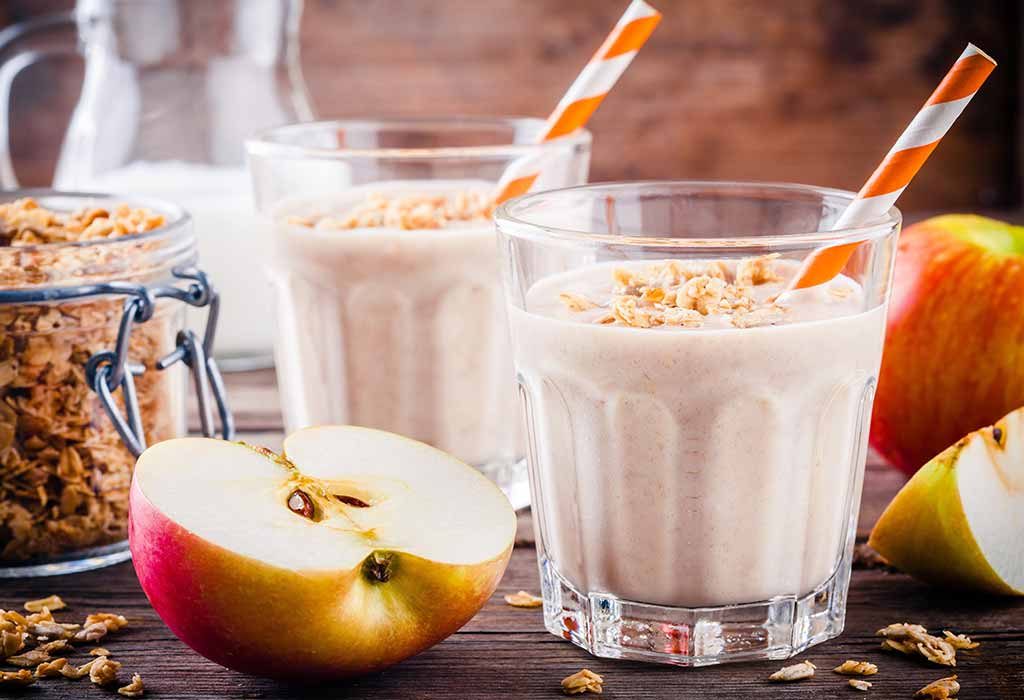 Oats apple smoothie for babies is a perfect blend of nutrition with taste. The goodness of oats and the richness of apple makes it an awesome thing to be fed to babies. Oats are known to be one of the most nutritious grains, but the health benefits of apple in this recipe are the cherry on the cake as there is no denying that "AN APPLE A DAY KEEPS THE DOCTOR AWAY".
Video : Oats Apple Smoothie Recipe for Babies and Toddlers (With Recipe Tips)
This is a tummy-filling, easy to prepare and easy to drink recipe for babies, so, the mothers of fussy eaters now have some relief. Babies have always loved beverages because they are tasty and easy to consume and this nutrition-packed smoothie is the best way to provide good health to your little ones. This recipe is one of the healthiest and easy to feed recipe. Smoothies also get digested easily and increase the metabolism of the little ones.
Cooking Time
The table below gives the total cooking time required to prepare oats apple smoothie for babies:
| | |
| --- | --- |
| Type | Time (hh:mm:ss) |
| Preparation time | 00:10:00 |
| Cooking time | 00:01:00 |
| Total time | 00:11:00 |
Cooking Method
Blender
Type of Meal
Vegetarian
Suitable For
Babies 9 months or older
Meal Schedule
Breakfast or mid-morning snacks
Recipe Type
Snacks
Ingredients
Here are the ingredients required to prepare homemade oats apple smoothie for babies
| | |
| --- | --- |
| Type | Quantity |
| Milk | 1 cup |
| Rolled oats | 1/3 cup |
| Apple | 1 (big) |
| Almond powder | 1 tbsp |
| Sugar(optional) | 2 tbsp |
Instructions
Here are step by step directions to prepare oats apple smoothie:
Add the milk and oats to a blender.
Let the milk soften the oats while you peel the apple and cut it into small pieces.
Add the chopped apple to the blender.
Add almond powder and sugar.
Blend the ingredients well and serve to your little one.
Recipe Tips
This easy to make oats apple smoothie requires few tips to make sure you end up preparing the best for your babies.
Choose good quality oats only. Make sure that they are packed hygienically. Never buy a pack with broken seal.
The apple should be ripe so that it can blend easily.
Almonds should be powdered finely to make sure they blend properly in the smoothie
You can avoid adding sugar for babies less than 12 months of age.
You can even use dates instead of sugar for sweetness for babies less than 12 months of age.
Nutritional Information

(Per 100 gm)
| | |
| --- | --- |
| Type | Value |
| Energy | 228 Cal |
| Carbohydrates | 19 gm |
| Iron | 0.5 mg |
| Protein | 1 gm |
| Fat | 1 gm |
| Sodium | 7 mg |
| Calcium | 11 mg |
Health Benefits
After looking at the details of how to make oats apple smoothie for babies, let us look at the health benefits that this filling smoothie recipe provides. Here is an overview of its nutritional importance for your growing baby:
This smoothie is tasty and filling and can be had for breakfast or morning/evening snacks.
Oats contain more proteins and fats than most of the grains.
Almonds provide energy to keep your child active throughout the day.
Apples, in addition to having an appealing natural sweetness, have a high quantity of proteins and good fats and help in relieving constipation.
They also help in improving the metabolism of the body.
They contain blood-building nutrients.
Oats apart from being loaded with vitamins and nutrients, are also super filling, satisfying and versatile.
Buying Guide
Here are some instructions to be followed at the time of buying ingredients from the market for this super easy and tasty smoothie:
Rolled oats should be of good quality.
Use organic apples if possible and wash them properly.
Almond powder can also be prepared at home but if purchased from the market, it should be good quality and preferably, organic.
If you are using dates make sure they are of good quality too.
Make sure that the package is hygienic and sealed well. Do not buy tampered or unsealed products for your baby.