Tomato Masoor Dal Soup Recipe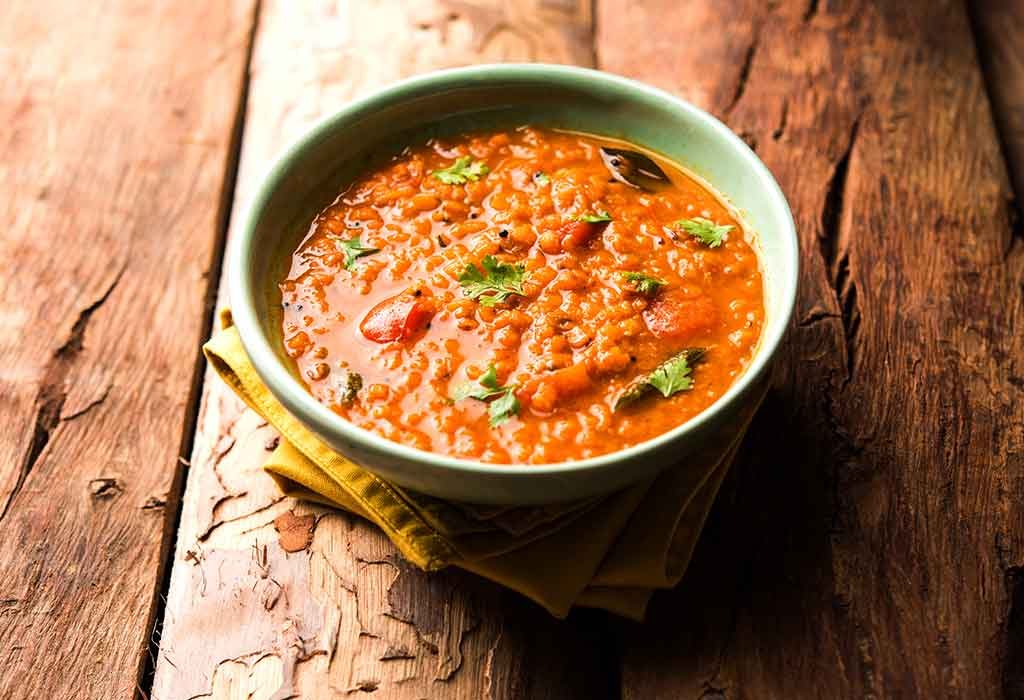 In this Article
An easy to make soup, this tomato and masoor dal (split red lentil) soup is a simple recipe that can be had as comfort food and an appetizer before the main meal. Learn how to make Tomato Masoor Dal Soup – a nutritious food recipe that is loaded with protein, carbohydrates and Vitamin C.
Cooking Time
| | |
| --- | --- |
| Type | Time |
| Preparation Time | 00:10:00 |
| Cooking Time | 00:30:00 |
| Total Time | 00:40:00 |
Total Servings: 3-4
Cooking Method: Gas stove, induction or microwave
Suitable for: Any baby above 7 months of age
Type of Meal: Vegetarian and suitable for vegans
Meal Schedule: Appetizer before the main meal, light evening snack, main meal with rice or chapati.
Recipe Type: Starter/ Appetizer or Main Meal
Ingredients
| | |
| --- | --- |
| Ingredients | Quantity & Volume |
| Masoor Dal | ½ cup dried red lentils |
| Water | 3 cups for cooking lentils |
| Turmeric | ¼ teaspoon |
| Salt | 1 teaspoon |
| Green chillies (small) | 2, slit lengthwise |
| Ripe Tomatoes | 2 medium-sized, chopped finely |
| Ghee | 2 teaspoons |
| Cumin Seeds | 1 teaspoon |
| Coriander | 2 tablespoons, finely chopped |
Instructions
Here is a step-by-step guide on how to make Tomato and Masoor Dal Soup for babies/toddlers.
Rinse the masoor dal in cold water three to four times. Discard the water after every rinse.
Bring the dal to a boil in 3 cups of water in a saucepan or a pressure cooker (2 to 3 whistles).
Add the turmeric, salt, green chillies and cook for about 15 minutes.
While the lentils are boiling, you may see a frothy scum forming on the surface. Remove it gently with a ladle or a spoon.
Once cooked, add the tomatoes. Cook for another 5 minutes. Let the tomatoes become mushy and then mash them in the cooked dal.
Boil the mixture till it gets a nice soup-like consistency which is neither too thin nor too thick.
For the tempering, heat the ghee in a small pan or skillet on medium heat.
Add the cumin seeds and wait for it to splutter.
Pour the ghee along with the cumin seeds over the cooked dal.
Garnish with chopped coriander.
This simple recipe can be made almost every day and can be included in every meal. The recipe tips given below can help you provide the right nutrition to your baby every time he is fed this humble masoor dal recipe.
Recipe Tips
Use only the required amount of salt as babies do not need too much salt in their food.
Wash the dal, tomatoes and green chillies thoroughly before use.
You could use the remaining dal and mix it with rice and serve it for lunch or dinner.
Only use boiled water or treated water to cook the dal.
Wash the coriander thoroughly before chopping them for garnish.
You can cook the dal in the microwave to save time, but it tastes best when cooked on gas or induction
Use a generous amount of ghee for tempering the cumin seeds as it will enhance the taste of the dal.
This easy/simple tomato masoor dal soup recipe is ideal when your baby has a cold or flu.
Nutritional Facts (Per 100 Gram Serving)
| | |
| --- | --- |
| Nutrient | Value |
| Total Calories | 370 |
| Protein | 25.09 gm |
| Total Carbohydrates | 63 gms |
| Sugar | 2.6 gms |
| Dietary Fibre | 1.2 gm |
Health Benefits
Tomatoes are filled with antioxidants to help improve your kid's immunity.
Tomatoes are also full of Vitamin C and are excellent for the skin.
Masoor dal is also very good for the skin.
The dal is also good for nourishing bones and teeth.
As a bonus, here's a buying guide that will help you purchase quality ingredients.
Buying Guide
Make sure you buy firm, but ripe tomatoes as the squishy ones or the raw ones may not taste good. Ripe tomatoes will give the right amount of sourness to the dal.
Buy good quality masoor dal in sealed packs as they will cook quickly. Refrain from buying loose dal which is sold at a cheaper rate as it may be adulterated.
You can buy long green chillies as they are less spicy. It will give the needed dash of spice for your baby and not make the soup very hot!
It is ideal if you use homemade ghee, but if you do not have it, you can use the branded ones from the store.
If you are vegan, then you can use olive oil, refined oil or any other vegetable oil instead of ghee.
?>