Lotus Stem Soup Recipe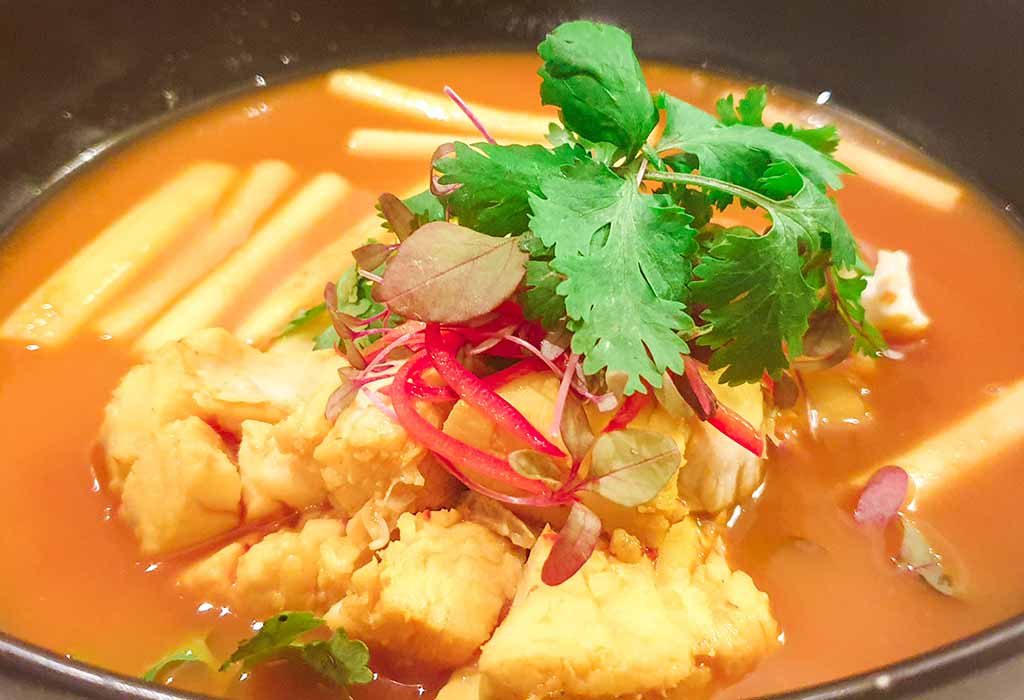 Soups are one of the easiest dishes to feed babies as they are healthy, babies love them and they're also easy to experiment with and add different veggies and flavours. This Cantonese style soup is an Asian delicacy that is famous for its distinct taste and flavour. Usually, the recipe includes pork ribs; however, we are making a vegetarian version of this soup that is very light on your baby's tummy and equally nutritious too! Read on this post to learn this simple Lotus Stem Soup recipe!
Video : Easy and Healthy Lotus Stem Soup Recipe for Toddlers
Cooking Time
You need to have ample amount of time at hand to make this sumptuous soup for your little one:
| | |
| --- | --- |
| Type | Time |
| Preparation Time | 00:10:00 |
| Cook Time | 01:00:00 |
| Total Time | 01:10:00 |
Cooking Method
Gas
Type of Meal
Vegetarian
Suitable For
Toddlers over 17 months of age
Meal Schedule
Lunch or Dinner
Recipe Type
Soups
Ingredients
Here is what goes into making lotus stem Soup for toddlers:
| | |
| --- | --- |
| Type | Quantity/Volume |
| Lotus stem | 2 cups |
| Carrots (cut into cubes) | 1 cup |
| Chinese turnip (cut into cubes) | 1 cup |
| Lotus seeds | 1 cup |
| Goji berries | ½ cup |
| Ginger, chopped | ¼ cup |
| Cilantro leaves, chopped | 2 tablespoons |
| Salt | To taste |
| White pepper | 1 teaspoon |
| Water | 5 to 6 cups |
Instructions
Here is the step by step procedure to make this yummy soup:
Wash the lotus stems thoroughly under running water as sometimes dirt may get into the rhizomes, which can be hard to spot. You may soak the stems in water too. Keep them on a paper towel to dry before slicing them.
Slice the lotus stems into small pieces.
Take a heavy-bottomed pan and put the sliced lotus stems, chopped carrots, chopped Chinese turnip, chopped ginger, lotus seeds, goji berries, salt, and white pepper. Cook covered for at least an hour or until all ingredients cook well.
Mash the contents and strain them.
Serve at room temperature, topped with finely chopped cilantro!
Recipe Tips
Keep in mind the following recipe tips while making homemade Lotus Stem Soup baby food recipe:
If your baby is comfortable with chewing and swallowing chunks of food, do not mash the ingredients!
You can add a non-vegetarian twist to the recipe by adding chicken.
You can add a few dates to the recipe to render some sweetness to it.
You can add a handful of peanuts to add a nutty flavour to the dish.
Nutrition Information (Serving Per 100 Grams)
The table below mentions the approximate nutritional content present in 100 grams of lotus stem soup:
| | |
| --- | --- |
| Type | Value |
| Energy | 320 calories |
| Carbohydrates | 28 grams |
| Protein | 19 grams |
| Fats | 16 grams |
Table Source: https://www.nyonyacooking.com/recipes/lotus-root-soup-with-peanuts~S1dyuPjPGcWQ
The nutritional content mentioned above is for reference purposes only. Actual nutritional content may vary according to the ingredients that you may use for the soup.
Health Benefits
Here are some health benefits of Lotus stem soup for babies:
Goji berries are power-packed with amino acids, vitamin C, and protein. These tiny berries are also loaded with ample iron, zinc, calcium, and selenium. All these nutrients help in the overall growth and development of babies.
Lotus stem is loaded with nutrients that include iron, magnesium, zinc, manganese, copper, etc that help maintain your kiddo's overall health.
Lotus stem contains impressive amounts of vitamin C and thus the regular intake of these roots may help in keeping coughs, colds, flu, and other such infections at bay.
Regular intake of lotus stem helps in ensuring better blood circulation, which helps in keeping your baby's body healthier and more energized.
Pyridoxine in lotus stem is beneficial for the brain's neural receptors, which in turn help in improving your baby's mental health by reducing irritability and anxiety.
Buying Guide
After learning how to make lotus stem soup, also learn about some buying tips when it comes to picking up ingredients for this soup recipe:
Buy lotus stem that looks crisp and firm. Do not buy the ones that look wilted or have brown spots on them.
When buying lotus seeds, do not forget to check the date of packing or the best before date on the label.
Make sure that you buy fresh vegetables for the recipe, preferably organic ones. Refrain from using non-seasonal, frozen, or tinned ones.
This Cantonese style soup is a delicacy and it is enjoyed by people from almost all parts of the world. We have made some changes to make this recipe suitable for young kids. Next time you have some different cuisine in mind for your baby; do give this recipe a try!