Whole Wheat Banana Sheera Recipe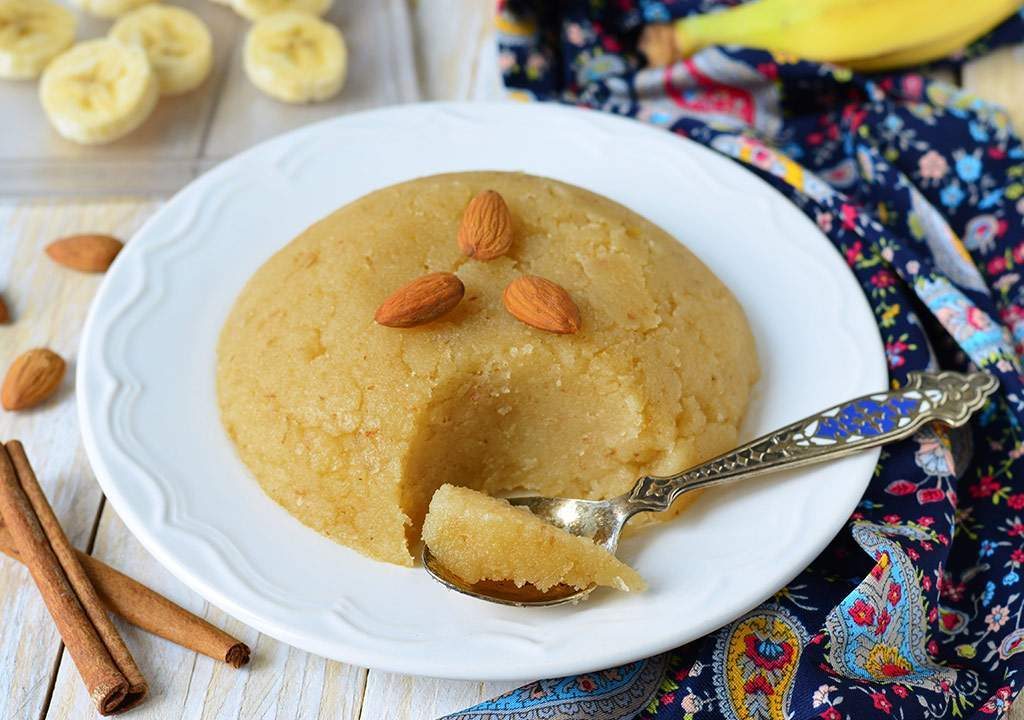 In this Article
Bananas serve as the best food item when you first try to wean off your child. Adding whole wheat flour, a generous amount of ghee and sugar adds nutrition and taste to this recipe. You guessed it right! Yes, we are talking about halwa or sheera. This wholesome food for your child will bring a smile to his/her face and will love having it every day. The nutrient content of this recipe is quite high. Hence, even you as a parent will feel satisfied serving it to your child.
Thinking about how to make whole wheat banana sheera? Follow the recipe below to get the answer to every question of yours:
Cooking Time
| | |
| --- | --- |
| Type | Time (hh:mm:ss) |
| Preparation Time | 00:10:00 |
| Cook Time | 00:30:00 |
| Total Time | 00:40:00 |
Cooking Method
Gas Stove
Type of Meal
Vegetarian
Suitable For
Weaning babies older than 9 months of age
Meal Schedule
Breakfast, Mid Morning Snack, Lunch or Evening Snack.
Recipe Type
Side Dish / Dessert
Ingredients
| | |
| --- | --- |
| Ingredient | Quantity |
| Whole Wheat Flour | ¾ cup |
| Banana Ripe and Mashed | 2 in number |
| Ghee | 3 tbsp |
| Coconut(Grated) | 1 tbsp |
| Sugar | 4 tbsp |
| Green Cardamom(powdered) | 1 tsp |
| Cashew(finely chopped) | 1 tbsp |
| Raisins(finely chopped) | 1 tbsp |
| Water | 1 cup |
Instructions
Below you will find the step by step procedure to prepare whole wheat banana sheera for your little one:
Take 1 tbsp ghee in a pan and add cashew and raisins to it. Roast till golden brown and then keep them aside for later use.
Now add 2 tbsp ghee in the same pan and add whole wheat flour to it. Keep on stirring and roast until golden brown. Take another container and boil 1 cup of water in it.
Add the boiled water to roasted whole wheat flour. Cook the mixture until the water gets absorbed completely.
Once the water gets absorbed completely, add cardamom powder, sugar and mashed banana to cooked whole wheat. Let the sheera cook for few minutes.
After a few minutes of cooking the sheera, add fried cashews, raisins, and grated coconut.
The sheera is ready to be served. It is best served hot.
Recipe Tips
These tips will help you prepare this simple whole wheat banana sheera recipe with ease and full of taste:
To enhance the taste and richness of this sheera, add milk instead of water.
Ghee should be used generously to make it healthy and tasty.
Keep on stirring the whole wheat flour while roasting so that it does not burn.
When water is added to roasted flour, keep on stirring the mixture simultaneously. This is because lumps might form if you do not stir properly.
The amount of sugar can be adjusted as per your child's liking. Sometimes the banana might be very sweet, so sugar should be added accordingly.
Nutrition Information (Per 100 Grams)
| | |
| --- | --- |
| Type | Value |
| Energy | 490 kCal |
| Fat | 15 g |
| Carbohydrates | 83 g |
| Protein | 8 g |
| Dietary Fiber | 5 g |
| Sodium | 83 mg |
| Potassium | 414 mg |
| Vitamin C | 6.8 mg |
| Calcium | 427 mg |
| Iron | 19.7 mg |
Health Benefits
Do note down the health benefits this homemade whole wheat banana sheera baby food recipe offers:
The calorie and carbohydrate content of this recipe keeps the child energetic for longer hours.
A good amount of potassium in this recipe keeps the child hydrated and improves metabolism. It is also known to enhance the electrolytic functions and muscle strength in babies.
The recipe is rich in calcium which is of utmost importance for bones and teeth development.
The recipe helps in maintaining the hemoglobin levels as it is good in iron.
The recipe is known to promote sleep in kids due to the presence of a generous amount of ghee in it.
The recipe also improves bowel movement in kids due to the presence of ghee and bananas.
Buying Guide
Following are the tips you should keep in mind while buying ingredients for the recipe of whole wheat banana sheera for toddlers:
The bananas bought should be ripe enough to be mashed properly. An unripe banana will not taste good and you will have to wait for days for them to turn ripe.
Buy bananas from an organic store. This ensures safer ways of farming.
Try to use homemade ghee. This is because it is free of preservatives.
This sheera is supremely healthy for your child and is easy to prepare. This recipe is worth your time and will benefit your child's growth! Happy Motherhood!