Ragi Porridge Recipe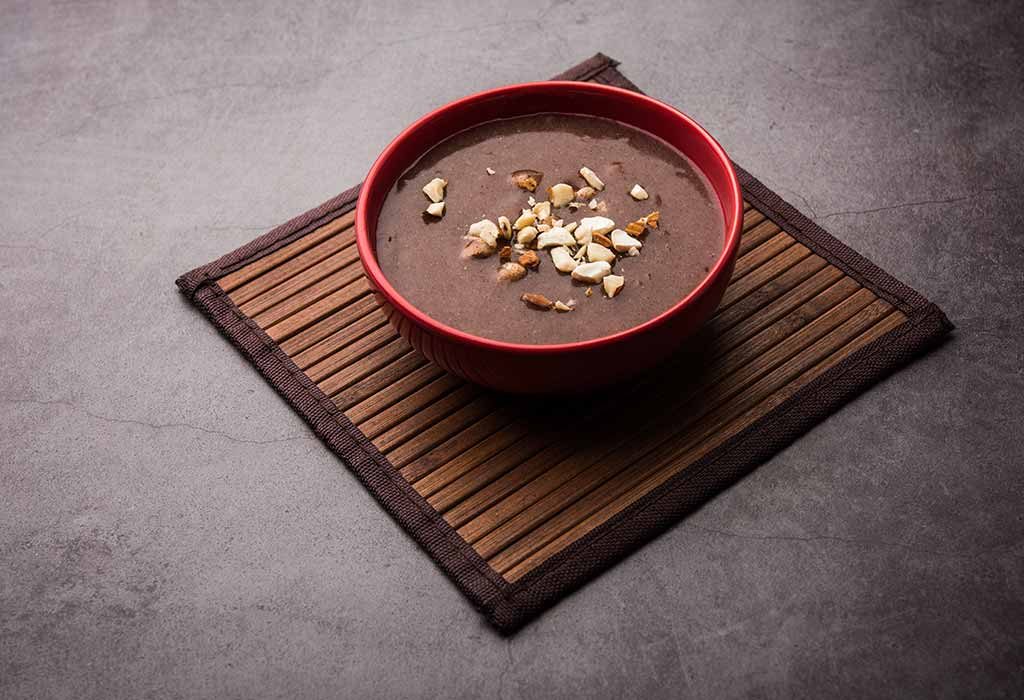 In this Article
Ragi malt and ragi porridge are the same things with different names. Ragi is cooked in either milk or water and it is very healthy for babies and adults alike. Ragi can be given to babies as early as they start on solids because it has high nutritional value; it is a good source of Vitamin B1 and B3, calcium, and iron.
Ragi is also known as finger millet and is widely consumed in southern parts of India. As ragi does not have a taste of its own, its porridge can be made in two ways, either sweet or salty. If you want to know how you can make ragi porridge for your baby, read on. We have a quick recipe for you!
Cooking Time
| | |
| --- | --- |
| Type | Time (hh:mm:ss) |
| Preparation Time | 00:01:00 |
| Cook Time | 00:05:00 |
| Total Time | 00:06:00 |
Cooking Method
Gas stove
Type of Meal
Vegetarian
Suitable For
Any baby above 7 months of age
Meal Schedule
Breakfast or mid-morning snack or evening snack
Recipe Type
Side dish
Ingredients
For Sweet Porridge
| | |
| --- | --- |
| Ingredient | Quantity |
| Ragi flour | 4 tbsp |
| Water | 1.5 cups |
| Sugar or dates or jaggery | 1.5 tbsp |
| Milk (optional) | 1 cup |
| Ghee (optional) | 1 tsp |
| Cardamom powder (optional) | ¼ tsp |

For Salted Porridge
| | |
| --- | --- |
| Ingredient | Quantity |
| Ragi flour | 4 tbsp |
| Water | 1.5 cup |
| Buttermilk | 1 cup |
| Salt | As per taste |
| Cumin powder | 1 tbsp |
| Curry leaves | 1 sprig |
| Coriander leaves (finely chopped) | 1 tbsp |
| Oil or ghee | 1 tsp |
Instructions
Below is a step-by-step guide on how to make both salty as well as sweet ragi porridge.
Sweet Porridge
1. First Method: Heat a pan, and take ragi flour in it. Next, add water to it. Mix it well and let it cook. Keep stirring it constantly to prevent it from burning and until the mixture thickens. Once it turns thick, your ragi malt will be ready. Turn off the heat and serve warm.
2. Second Method:
Mix the ragi flour in ¾ cup of water.
Heat the remaining water in a pan and bring it to a boil. Next, add the ragi mixture to it.
Keep on stirring and cook it on medium heat.
Turn off the flame when the mixture thickens.
Now add dates or sugar or jaggery and milk to adjust the consistency and make it sweet.
Add some ghee and dry fruits to make the recipe more nutritious.
Your sweet porridge is ready to serve.
Salted Porridge
Take ragi flour and water in a pan and cook well. Keep stirring until the mixture thickens.
Now add salt and buttermilk to adjust consistency and bring taste.
Salted porridge is ready to serve.
If you wish to add a tempering then, heat ghee or oil in a pan. Add cumin seeds and curry leaves. Let them splutter. Switch off the flame. Put this seasoning and coriander leaves to the prepare ragi porridge to enhance the taste.
Serve the yummy porridge to your little one!
Recipe Tips
Follow the below tips to enhance the nutrition content and taste of this simple ragi porridge recipe:
It is better if you prepare the porridge without milk. Because adding milk reduces the iron content of ragi.
Adding fruit like apple or banana helps in the absorption of iron from ragi. So you can add fruit to the sweet porridge.
Nutrition Information (Per 100 Grams)
| | |
| --- | --- |
| Type | Quantity |
| Energy | 165 kCal |
| Carbohydrates | 25 g |
| Protein | 5 g |
| Fat | 4 g |
| Dietary Fiber | 11.1 g |
| Vitamin C | 2.3 mg |
| Iron | 0.6 mg |
| Calcium | 143 mg |
| Potassium | 195 mg |
| Sodium | 62 mg |
Note: These values are only for the sweet porridge.
Health Benefits
Following is the list of benefits your child will get out of this homemade ragi porridge baby food recipe:
Ragi is extremely beneficial for your growing child. As you can see from the table above, the calcium content of this recipe is so high. Calcium will help in the development of bones and teeth and avoiding bone-related diseases.
Ragi is a good source of natural iron. When mixed with a fruit, the Vitamin C present in the fruit leads to easy absorption of iron. This helps in increasing the haemoglobin in kids.
Not only iron and calcium, but ragi is also loaded with a good amount of protein, phosphorous and calcium. These minerals also serve as the building blocks in growing children.
Ragi also keeps the child full for long.
Buying Guide
Ideally, you should make ragi flour at home by sprouting the ragi grains and dry roasting them. After this, they can be powdered in the mixer. This serves best for the babies. But if you cannot prepare it at home, buy the prepared ragi flour from the supermarket!
Follow the instructions and prepare this effortless and nutritious recipe for your growing child. This will keep him healthy and energetic. Happy Parenting!
References:
https://www.indianhealthyrecipes.com/ragi-malt-ragi-java-recipe-ragi-recipes/
https://isha.sadhguru.org/in/en/blog/article/7-health-benefits-of-ragi-6-great-ragi-recipes
https://food.ndtv.com/food-drinks/benefits-of-ragi-a-wonder-grain-1400676