Ragi Biscuits Recipe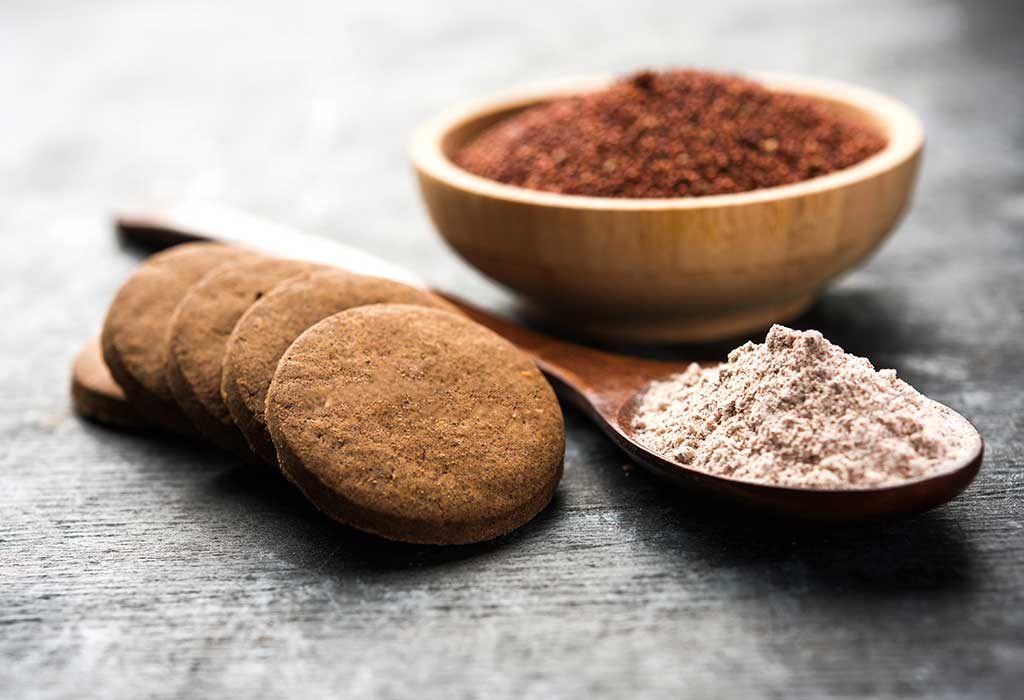 In this Article
Biscuits are one of the favourite snacks that kids like to rejoice over. Most biscuits in the market are made with refined flour which is not good for health. They might also contain sugar and other preservatives that you would not want to feed your child. Ragi biscuits for babies are your perfect solution for a tussle between your child's palate and your determination to give them only healthy food. Packed with the goodness of ragi, these biscuits are rich in iron and calcium. These biscuits can be enjoyed by kids of all ages as the crunchy and tasty biscuits are not limited to only babies or toddlers. This is also a perfect travel-friendly dish to keep your munchkins happy all through the journey. If you combine it with a glass of milk, it could very well serve as a wholesome breakfast.
Cooking Time
| | |
| --- | --- |
| Type | Time (hh:mm:ss) |
| Preparation Time | 00:20:00 |
| Cook Time | 00:25:00 |
| Total Time | 00:45:00 |
Cooking Method
Oven
Type of Meal
Vegetarian
Suitable For
Toddlers above 20 months of age
Meal Schedule
Breakfast, Evening snacks
Recipe Type
Snacks
Ingredients
| | |
| --- | --- |
| Ingredients | Quantity and Volume |
| Ragi flour | ½ cup |
| Whole wheat flour | ½ cup |
| Baking powder | ¼ tsp |
| Maple syrup/Jaggery syrup | 2 tsp |
| Vanilla essence | ½ tsp |
| Butter | ½ cup |
| Milk/Water | 2 tbsp to knead the dough |
| Salt | A pinch |
| Nuts | As required for garnishing |
Instructions
Now let us take a look at the step by step procedure of making this crunchy and healthy Ragi biscuits:
Preheat oven to 180 degrees Celcius.
Sieve ragi flour and dry roast till the raw smell goes away.
Sieve wheat flour and mix it with ragi flour and add baking powder to it.
Add butter, vanilla essence and maple syrup to the flour mix.
Mix all the above ingredients till butter has completely melted.
Add water or milk to the above mix till you get a dough-like consistency.
Keep this dough in the fridge for 20 minutes.
Now take out the dough and start making small balls and flatten them with your palm.
Line a baking tray with parchment paper
Place the cookies on the tray and bake them for 15 minutes.
Cool the cookies on cooling racks.
You can store them in airtight containers for weeks.
Recipe Tips
This is an easy Ragi biscuits recipe for a baby as baking them does not need your dedicated time and you just have to mix the ingredients well.
Make sure butter has come down to room temperature when you mix it in the flour.
The biscuits should not be too thick and be similar in thickness else some might remain uncooked from inside.
Avoid using aluminium foil for lining trays as the aluminium might leech into the food, which is not good for health.
Do check your cookies from time to time else they might burn before the stipulated time.
A fork inserted in the cookie should come out clean, that's how you know cookies are done.
Nutrition Information (Per Ragi biscuits)
| | |
| --- | --- |
| Nutrient | Value |
| Energy | 133 Cal |
| Protein | 2.7 g |
| Carbohydrates | 18.5 g |
| Fibre | 3 g |
| Fat | 5.6 g |
| Sodium | 3.5 mg |
| Calcium | 48 mg |
| Iron | 1.1 mg |
| Potassium | 96 mg |
| Magnesium | 36 mg |
| Phosphorous | 83.8 mg |
| Zinc | 0.6 mg |
| Vit A | 50 mcg |
| Vit B1 | 0.1 mg |
| Vit B2 | 0 |
| Vit B3 | 0.6 mg |
| Vit C | 0 |
| Folic acid | 7.6 mcg |
Health Benefits
This home-made Ragi biscuits baby food recipe is a much better choice for providing your little one with something they would love to eat without you having to worry about any junk going in their delicate tummy.
Ragi flour is rich in many essential vitamins and minerals. It is also a great source of iron and calcium, which are very important for a growing child.
We did not use any sugar in it, so these snacks are free from anything which is not good for the system.
Buying Guide
Buy organic ingredients as you do not want to risk your precious child's health and development with non-organic things.
When buying jaggery look for dark-coloured ones that are aged as they have minimal chemical residue.
We hope you found the steps involved in making Ragi biscuits for a child easy to follow, and this will be the next thing you would want to try for your baby.