Mix Veg Dalia Khichadi Recipe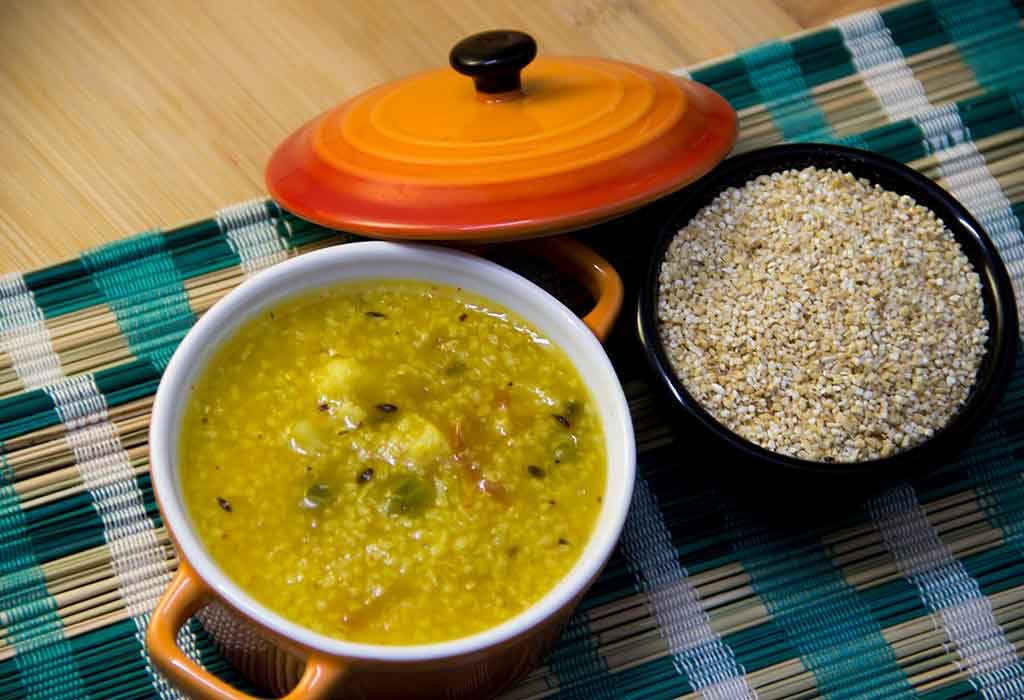 In this Article
Khichdi is a comfort meal for many, as it is both filling and easy to make, provides protein, fibre and carbohydrates, fat and is a balanced meal for all, including the babies. Here we are using Dalia, from wheat as the main ingredient along with dal. The plus point here is the consistency which is just as apt for the babies, as all they can do is swallow. It can be made with vegetables which can add up to its health benefit further. So let us see how easy it is to make Homemade Mix Veg Dalia Khichadi which is such a favourite among all.
Cooking Time:
| | |
| --- | --- |
| Type | Time (hh:mm:ss) |
| Preparation Time | 00:10:00 |
| Cook Time | 00:20:00 |
| Total Time | 00:30:00 |
Cooking Method: Gas Stove
Type of Meal: Vegetarian
Suitable For: Toddlers above 13 months of age
Meal Schedule: Breakfast, lunch and Dinner
Recipe Type: Main course
Ingredients:
| | |
| --- | --- |
| Type | Quantity |
| Dalia | 1 cup (200 gm) |
| Moong Dal/Yellow Lentil/Toor Dal | 1/4 cup (50 gm) |
| Ghee | 1 to 2 tbsp |
| Mixed vegetable- Potato, carrot, peas, onion, Bottleguard, Ridgeguard, Pumpkin | ½ Cup |
| Salt | As per taste |
| Pepper/ Spicemix suitable for kids | As per taste |
| Tadka Seasoning (Mustard, cumin, Hing, curry leaves) | 1 tsp each. |
| Coriander leaves- cleaned and chopped finely | 1 tsp |
Instructions:
Here are step by step directions on how to make mix veg dalia khichdi:
Dry roast dalia and store it.
Wash and soak wheat Dalia, for half an hour, before cooking.
Wash Moong dal and add this to Dalia.
Wash, clean, chop vegetables.
In a pan/ cooker, add Ghee, mustard, cumin, asafoetida/hing, curry leaves, and allow them to splutter.
Then add cleaned chopped vegetables. Sauté well.
Then add dalia and moong dal into it.
Now add salt, spice mix, coriander.
Add water (3.5 cups).
Close the lid on cooker/pan. Allow it to cook thoroughly. (4 whistles on the cooker)
Once cooked, mash it well with a masher and get a uniform and easy to swallow consistency.
Serve with ghee/ Curd.
Recipe Tips:
1. Use garlic if preferred by your baby.
2. If your baby eats spices, add them according to his/her liking.
3. Soaking dalia before cooking can make it soft and easy for the baby.
4. Chop veggies thin, so that it can be mashed to a fine consistency.
Nutrition Information (Per 150 Grams)
| | |
| --- | --- |
| Type | Value |
| Energy | 130 Cal |
| Carbohydrates | 53.3 grams |
| Sugar | 1.5 grams |
| Calcium | 10.6% |
| Iron | 14 % |
| Protein | 17.5 grams |
| Sodium | 147.5 milligram |
| Dietary fibre | 53.3 grams |
| Fat | 6.6 grams |
Health Benefits:
Wondering how healthy these tasty delights are for your baby? Here are some health benefits of Mix Veg Dalia Khichdi for babies:
Dalia is most wean-friendly food and does not have a strong taste hence most suitable for babies along with being a great source of protein.
Since it is packed with energy, it can benefit growing kids.
Being fibre-rich, it can help aid digestion and reduce constipation.
Overall a balanced meal and can blend easily with any dal and any vegetable, hence great for toddlers. Being cooked with vegetables can have the extra nutrient benefit of the vegetables.
It can help build muscle mass.
It can be easily digested and keeps the toddler feeling full for hours.
Dalia is eaten with ghee, which is known for various benefits including better skin, hair, and good for bones and joints, especially for growing toddlers.
Buying Guide:
Here are buying tips that you should keep in mind while picking up ingredients for Mix Veg Dalia khichdi for your baby:
As far as possible, purchase organic dalia obtained from good quality wheat and vegetables for your munchkin as these products are free from any harmful chemicals in the form of pesticides.
Use seasonal and fresh produce of the vegetables that you can find at local stores as it is fresh and taste good too.
Toor dal or moong dal used for the recipe can be brought from an organic store or farm market and washed thoroughly. Prefer a non-polished over polished dal.
Ghee is the most consumed food as all the mothers would love to add it because of the various health benefits it provides. Hence buy ghee which is chemical-free and made and packed hygienically.
This article gave you the simple mix veg dalia recipe along with the various health benefits and how all the weaning babies love it. So do try this Mix Veg Dalia khichdi today for your baby.
?>