Jowar Puff Porridge Recipe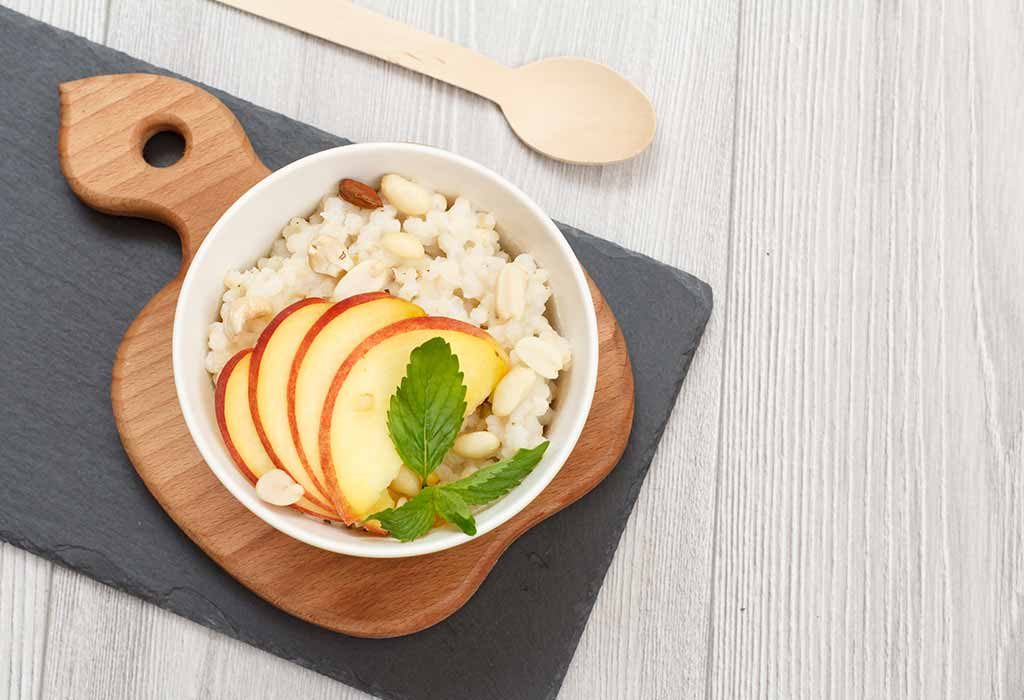 When a baby reaches the age of 11 months, you start planning for a weaning diet which is tasty as well as healthy. Jowar puff porridge for babies is a perfect weaning recipe that is delicious and filling at the same time. The recipe has a high nutrient value and is rich in carbohydrates, protein, and iron. We have added banana also in this recipe to add a naturally sweet and rich flavour. Peaches and apples are some more alternatives for bananas. Or, you can add some jaggery if you have already introduced it to your little one.
Cooking Time
| | |
| --- | --- |
| Type | Time (hh:mm:ss) |
| Preparation Time | 00:05:00 |
| Cook Time | 00:05:00 |
| Total Time | 00:10:00 |
Cooking Method: Gas stove
Type of Meal: Vegan
Suitable For: Any baby above 12 months of age
Meal Schedule: Breakfast
Recipe Type: Main Dish
Ingredients:
| | |
| --- | --- |
| Ingredients | Quantity and Volume |
| Jowar puffs (sorghum) | 1/4th cup |
| Ghee | 1 tsp |
| Banana | 1 |
| Powdered rice | 2 tbsp |
| Water | 2 cups |
| Jaggery | 1 tsp chopped (optional) |
Instructions:
We have the following step-by-step procedure to prepare Jowar puff porridge. This simple recipe can be made within ten minutes.
Grind puffed jowar puff to make a fine powder.
Heat ghee in a pan; add the ground jowar puff and sauté on a medium flame for 2 minutes. Stir continuously.
Add the powdered rice and whisk it so that it mixes well.
Now start adding water in small amounts while stirring continuously to ensure there no lumps are formed.
Cook the above mix for a couple of minutes and make sure it is mixed well and cooked properly.
Remove the vessel from the heat and keep it aside.
Mash the banana and add it in the jowar flour mix.
This dish can be sweetened using jaggery for babies over one year. For babies under one year, the natural sweetness of banana will suffice.
If you wish to add some jaggery, here's the recipe for making jaggery syrup:
Grate a small block of jaggery (about 60 gms) or 3 to 4 tbsp of loose jaggery and put it on a pan.
Add a teaspoon of water to this and let it come to a boil.
Stir until the jaggery melts.
Filter this into a different pan and heat once again till it is slightly thick.
You may add this syrup a few minutes before you take the porridge off the heat. Don't forget to mix well.
Recipe Tips
This is an easy porridge recipe for babies who have just begun eating solids. Here are some tips for making jowar puff porridge that will help you make sure it is perfect for your munchkin:
You can use milk instead of water. However, cow's milk should be used only for kids above one year. For the younger ones, you can use formula, breast milk or coconut milk.
It is essential to stir the jowar puff flour constantly and vigorously; else you will end up with lumps that remain raw and tasteless even after cooking the porridge till the end.
Do not overheat the jaggery syrup in the last step as it might turn very thick.
Ensure that the jowar's raw smell goes away when you are cooking it.
Banana is a good sweetener, so add jaggery only if your child is not happy and wants the porridge a tab bit sweeter.
Serve the porridge lukewarm and do not let it sit for long as it might become lumpy and seem unappetizing to your baby.

For kids under a year, ensure the banana is mashed well with a spoon or a fork. You may also use a blender instead.

If you've introduced textures to your baby, you may leave the banana/fruit mash a little lumpy.
You can twist the recipe by omitting banana and jaggery and adding steamed veggies to the jowar puff flour instead. The steamed vegetables can be ground to a consistency that suits your baby's age, chewing and swallowing capacity.
Nutrition Information (Per 1/2 cup)
| | |
| --- | --- |
| Nutrient | Value |
| Energy | 227 cal |
| Protein | 3.4 grams |
| Carbohydrates | 40.1 grams |
| Fat | 5.7 grams |
| Cholesterol | 0 |
| Sodium | 2.6 grams |
| Fibre | 3.8 grams |
| Calcium | 15.4 mg |
| Iron | 1.4 mg |
| Potassium | 277 mg |
| Magnesium | 61.6 mg |
| Phosphorous | 69.9 mg |
| Zinc | 0.5 mg |
| Vit A | 92.4 mcg |
| Vit B1 | 0.1 mg |
| Vit B3 | 1.1 mg |
| Vit C | 5.5 mg |
| Vit E | 0.2 mg |
| Folic acid | 17 mcg |
| Vit B2 | 0.1 mg |
Health Benefits
A home-made Jowar puff porridge baby food recipe is a great way to ensure your baby gets a healthy dish. Here are some more health benefits of this recipe.
The iron in jowar is excellent for a baby since it helps maintain the level of haemoglobin and prevents anaemia.
The recipe can be made without milk; great for kids who are lactose intolerant.
There is no sugar which is, excellent, and jaggery is just an optional ingredient that can be avoided if your child is happy with the banana.
Buying Guide
Buy organic jowar and jaggery. Organic produce has fewer contaminants, is safer and healthier for your baby.
While purchasing jaggery, search for the dark-coloured version. The colour signifies the jaggery has minimal chemical residue.
Make sure the banana is fully ripe.
We hope you like this simple, healthy, yet delicious recipe. Add it to your child's diet as another delicious main, and watch your child gulp down every morsel of it happily.