Banana Oats Milkshake Recipe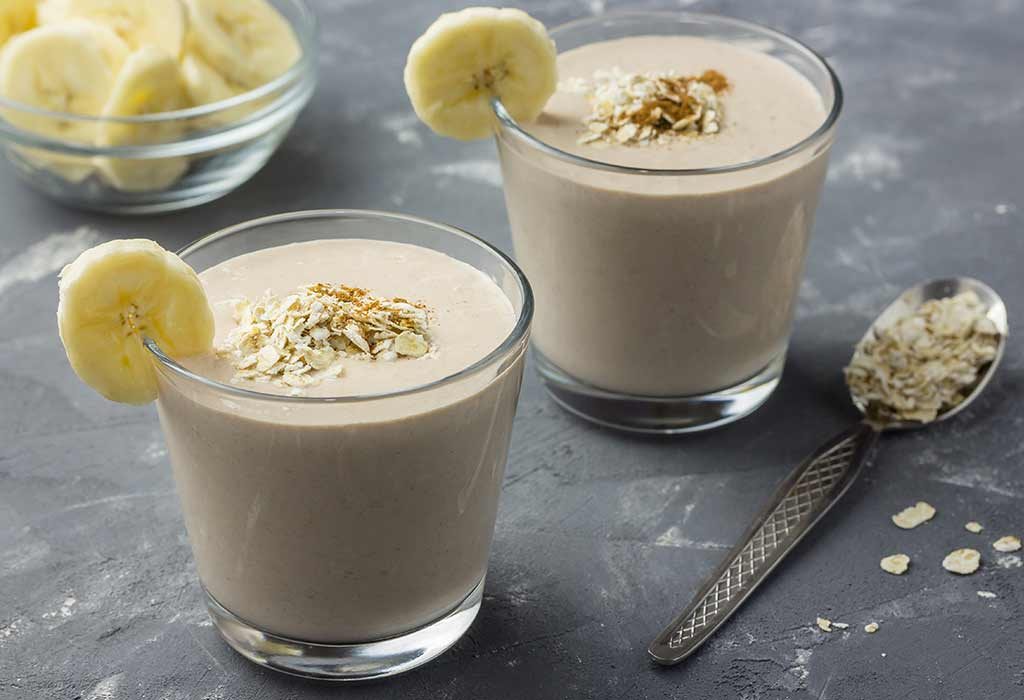 When you introduce cow's milk to your toddler, chances are that he will most likely resist drinking it. Breastfed babies generally dislike the formula milk or cow's milk. Babies do get used to formula milk a lot quicker. But when cow's milk is introduced, mothers find it hard to include it in their daily diet. This simple banana oats milk recipe can be served as an alternative to plain milk. The combination of bananas and oats makes it perfectly healthy and serves as a distraction to the taste of plain, unflavoured milk.
Video :
Banana Oats Milkshake Recipe for Toddlers
Cooking Time
| | |
| --- | --- |
| Type | Time (hh:mm:ss) |
| Preparation Time | 00:05:00 |
| Cook Time | 00:10:00 |
| Total Time | 00:15:00 |
Cooking Method
Gas Stove, Induction, Blender or Mixer
Type of Meal
Vegetarian
Suitable For
Toddlers older than 19 months of age
Meal Schedule
Breakfast or Mid-day Snack
Recipe Type
Main Dish
Ingredients
| | |
| --- | --- |
| Type | Quantity |
| Banana | 1 |
| Oats | 1 tablespoon |
| Full fat milk | 1.5 cups |
Instructions
This milkshake makes for a perfect breakfast for babies as it includes milk, fruits, and the goodness of oats. And learning how to make banana oats milkshake for babies is no rocket science. Just follow this simple step-by-step guide:
Chop the bananas and add them in a mixer jar or blender.
Add in the oats and blend.
Now add the milk and blend again until the oats and bananas have combined well with the milk.
Transfer the milkshake in a glass and serve it to your baby.
Recipe Tips
This homemade banana oats milkshake baby food recipe is simple but the below tips could get it perfect:
Chop the bananas finely so that they blend well with the drink.
You can also powder the oats separately and add them so that they mix well with the drink.
Use cold milk while blending as hot milk will tend to blow the mixie jar.
Do not add any sugar as babies do not need any added sugar in their drinks. The sweetness of the banana is enough to make the smoothie taste nice.
Nutrition Information (Per 100 Grams)
| | |
| --- | --- |
| Type | Value |
| Calories | 490 kCal |
| Carbohydrates | 19.5 grams |
| Protein | 3.8 grams |
| Fat | 2.1 gms |
| Salt | 0.1 gms |
| Fibre | 1.9 gms |
Health Benefits
Banana oats milkshake is packed with a whole load of nutrients. The combination of oats, milk, and banana packs in a punch of nutrients that will give your toddler the much-needed batch of nutrition for their daily needs:
Oats are of the most nutritious whole grains and packed with fibre. Slowly digestible and perfect for a healthy bowel movement, they are ideal to keep the tummy full for longer.
Bananas are high in potassium and rich in fibre. They also contain essential vitamins and minerals. The fibre in bananas can help in digestion.
Bananas contain magnesium, iron, folate, niacin, Vitamin B6, calcium, manganese, and other essential nutrients that a child needs.
Bananas are good for bones and improving vision.
Bananas also fuel the development of your baby's brain.
Milk is full of calcium that is essential for the development of bones and the growth of strong teeth.
Milk also contains protein and serves as a source of energy and repairs muscle tissue.
Milk contains healthy fats and antioxidants that regulate the immunity levels of the body.
The calcium in milk helps to fight childhood obesity.
The Vitamin D content in milk helps to prevent conditions like osteoporosis in the toddler's later years.
Buying Guide
Sourcing ingredients for banana oats milkshake may seem easy. But you do need to exercise some care and precaution when buying the ingredients. Follow the below tips:
Buy bananas that are just ripe do not use over-ripe bananas. Try to buy organic bananas as they are free from chemicals and pesticides.
Buy oats that are sold in packaged form in supermarkets. Make sure to check the expiry date on the packaging.
Buy full-fat milk as it contains the cream and fat needed for your baby's growth. Avoid buying skimmed or semi-skimmed milk as your child needs proper nutrition in their growing years. You can choose to buy organic milk if you wish.
Milkshakes, smoothies are a great way to pack a wholesome breakfast for your toddler. It is also a great way to introduce fruits into their diet. The addition of oats introduces them to a grainy and nutty flavour and you can make several other dishes that include oats in them!