Grilled Paneer Recipe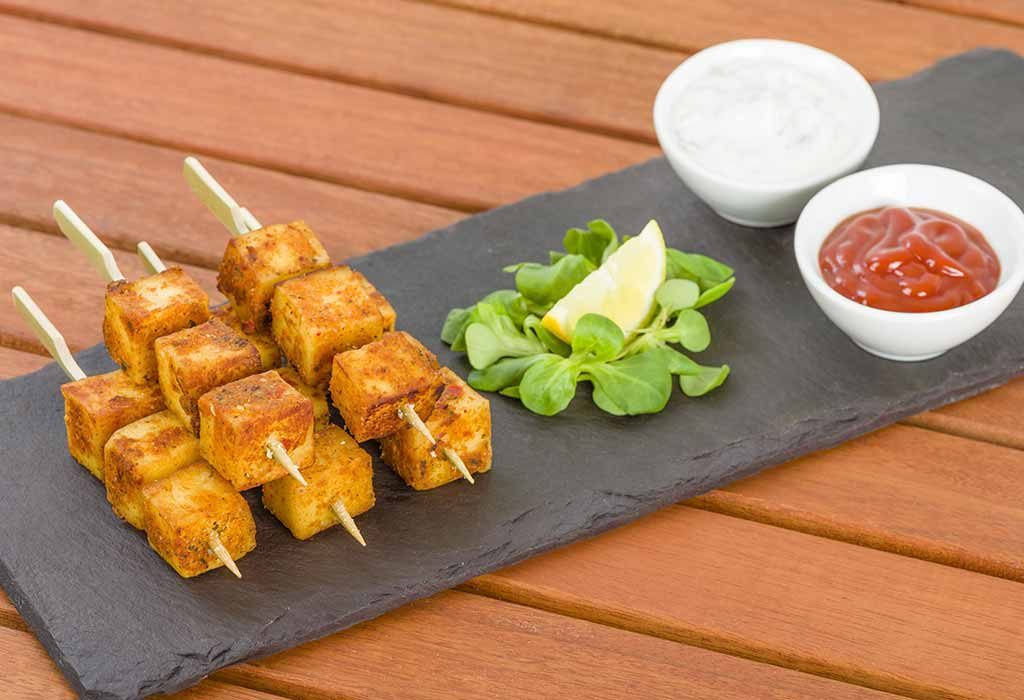 In this Article
Paneer is one of the most loved vegetarian dishes in almost all Indian households. Paneer is great for your munchkin too because it is loaded with the goodness of calcium, protein, and various other important nutrients. If you are looking for ways to incorporate paneer in your little one's diet, we have just the right recipe that you can begin with! Our recommendation is a homemade Grilled Paneer baby food recipe that can be made instantly! Try this recipe and see how it becomes your baby's favourite in no time!
Cooking Time
| | |
| --- | --- |
| Type | Time (hh:mm:ss) |
| Preparation Time | 00:05:00 |
| Cook Time | 00:10:00 |
| Total Time | 00:15:00 |
Cooking Method
Microwave or Gas
Type of Meal
Vegetarian
Suitable For
Any Toddlers above 16 months of age
Meal Schedule
Mid Morning Snack or Evening Snack
Recipe Type
Appetizers
Ingredients
Here is the list of ingredients that you need to make Grilled Paneer for toddlers:
| | |
| --- | --- |
| Ingredient | Quantity and Volume |
| Paneer | 100 g |
| Lemon juice | 1 tbsp |
| Cumin powder | ½ tsp |
| Salt | To taste |
| Butter or oil | 1 tbsp |
Instructions
Following are the step by step directions to make yummy grilled paneer for kids:
Take paneer, cut into cubes. Put the pieces in a bowl.
Mix salt, lemon juice and cumin powder in another bowl.
Put paneer cubes in the masala mix and give a gentle mix to coat the paneer cubes with the masala.
Preheat the grill mode of microwave at 160 degrees.
Melt butter in a bowl by microwaving it for a minute.
Place the paneer cubes on skewer sticks.
Brush the cubes with butter and grill for 6 to 7 minutes or until they turn golden brown.
You can also place the paneer cubes on a greased baking tray to grill the cubes. Make sure you keep turning the pieces in between.
Once done, let grilled paneer come to room temperature before offering it to your baby.
Serve grilled paneer with dahi chutney or any homemade dip.
Recipe Tips
This simple Grilled Paneer recipe can be mastered if you keep these following tips in mind.
You can use hung curd to marinate the paneer cubes to enhance the flavour.
Alternatively, you can grill paneer on a stove grill too. However, make sure that you keep tossing the cubes to avoid overcooking or burning it.
While grilling paneer in a baking tray, make sure the pieces are evenly spread and are not overlapping.
You can slice paneer lengthwise or in the shape of fingers as this shape is easier to hold for babies.
You can store leftover grilled paneer in an airtight box in the refrigerator for a day or two. However, make sure you heat it before serving. Leftover grilled paneer can be shredded and can also be used for making sandwiches, parantha, and other such delicacies.
Nutrition Information (Serving Per 100 Grams):
| | |
| --- | --- |
| Nutrient | Value |
| Protein | 20 g |
| Carbohydrates | 12 g |
| Phosphorus | 250 mg |
| Calcium | 240 mg |
| Fat | 14 g |
| Folates | 84 mcg |
| Energy | 240 Cal |
This table shows approximate nutritional values present in 100 grams of Grilled Paneer. The actual values may sometimes differ.
Health Benefits
Now, that you are thorough with the recipe or you know how to make Grilled paneer, but do you know how can your munchkin benefits from this yummy dish? Well, the following section talks about some of the health benefits of including paneer in your baby's diet:
Loaded with protein, paneer or cottage cheese is great for muscle building, growth, and development of your little one.
Phosphorus, calcium, folate and other essential vitamins and minerals present in paneer help in ensuring better brain, bone and teeth development in kids.
Paneer is also a high source of B group of vitamins that aid several important functions in the body, which includes muscle and tissue repair, formation and strengthening of bones, etc.
Buying Guide
Make sure you keep the following tips in mind when buying ingredients to make grilled paneer for your munchkin:
Buy paneer from a renowned brand and refrain from picking it up from your local dairy. This is because you should be sure of the date of packaging. After all, paneer is highly perishable and can go bad easily.
Always buy paneer that is stored under refrigeration and not kept out in open.
Next time you are struggling to make a yummy snack for your little one, do try out this easy to make Grilled Paneer recipe!