Banana Walnut Milkshake Recipe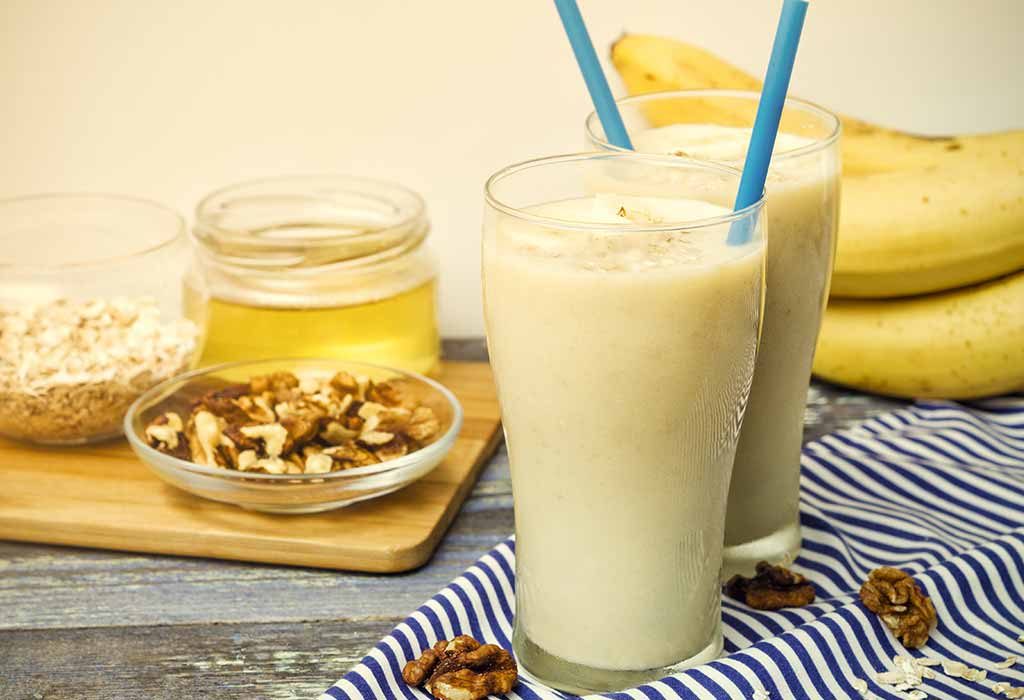 In this Article
Banana Milkshakes are easy to make, healthy, nutritious and delicious and loved by mostly all babies and toddlers. This Banana Walnut Milkshake for babies is one of the easiest recipes and all the moms can make without any hassle. It helps in weight gain and does not require any additional sugar, ice cream or artificial sweeteners. It fulfils the nutritional requirements of the baby and keeps her tummy full for a longer period.
Cooking Time
| | |
| --- | --- |
| Type | Time (hh:mm:ss) |
| Preparation Time | 00:05:00 |
| Cook Time | 00:05:00 |
| Total Time | 00:10:00 |
Cooking Method
Blending
Type of Meal
Vegetarian
Suitable For
Any baby above 17 Months of age
Meal Schedule
Mid-Morning Snack, Evening, Snack
Recipe Type
Beverages
Ingredients
| | |
| --- | --- |
| Ingredients | Quantity/Volume |
| Banana | ½ cup |
| Walnut crushed | 2 Tbsp. |
| Honey (optional) | Few drops |
| Milk | 1 cup |
| Ice cubes(optional) | 2-3 |
Instructions
It has all the goodness of banana and walnuts and proves to be a perfect choice to give to your baby in between lunch and dinner times. It can be given to babies above 12 months of old and is packed with proteins, carbohydrates, minerals, and fibers. So, why wait, follow our step by step instructions to make this healthy recipe for your baby
Pick ripe bananas, peel, and break into small pieces.
Boil milk and cool it.
Add all the ingredients into a blender jar and blend for 1 minute or until it is smooth and without chunks.
Add more milk if the consistency is too thick.
Pour it in a Sippy cup and add few drops of honey only if your baby is above one year and likes it.
Feed this drink to your baby immediately you prepare as its taste and colour changes if you keep it for long.
This is a complete food for your babies and toddlers and good for the nerves, muscles, and brain. It also boosts immunity and helps in fast recovery.
Recipe Tips
Now, all you mommies know how to make Banana Walnut Milkshake but you need to keep in mind a few points before starting making this healthy drink.
Always wash your hands well before cooking any meal for babies. All of the utensils should also be properly washed and cleaned before using them for babies.
Peel bananas just before you start making this milkshake.
You can use banana slices to garnish the milkshake only if the babies can chew the slices properly.
Keep the thickness of the milkshake as per the liking of the baby.
Use only good quality and fully ripe bananas for making this drink.
If you are preparing this recipe for the babies less than a year old, use formula milk or breast milk instead of buffalo/cow milk, as it is advisable to not use cow/buffalo milk till the baby turns one.
Though there is no need to add sugar to this dish, as banana itself adds sweetness but if your kid demands and likes the taste of honey, you can add a little amount of honey after preparation.
Add honey only if the kid is above one year.
Walnuts pose allergy risk and must be given to babies after a 3-day rule and it is advisable to best try them once the baby is 12 months and tested other nuts too.
Nutrition Information (Per 100 Grams)
| | |
| --- | --- |
| Nutrient | Value |
| Energy | 0.11 Kcal |
| Protein | 9.23 g |
| Carbohydrates | 9.32 g |
| Fiber | 6.7 g |
| Fat | 3.46 g |
| Calcium | 98 mg |
| Potassium | 441 mg |
Health Benefits
Here are some of the health benefits that this yummy and simple Banana Walnut Milkshake recipe has:
Bananas being a rich source of fibre keeps baby full for a longer duration and helps in digestion too.
The presence of essential nutrients like calcium and potassium in banana makes it good for weaning babies.
Bananas are complete with essential vitamins and minerals and help babies in gaining weight.
Walnuts are full of essential nutrients like minerals, vitamins (A, C, E, K), folate, Omega 3 and helps in brain development, baby's weight gain, growth, and sound sleep.
Buying Guide
Choose only ripe bananas as they are best for making a tasty milkshake.
If you are using dairy milk always boil it and then cool it as unboiled milk can curdle while making a milkshake.
Always choose (if possible) organic fruits and vegetables for your babies as these products are free from any harmful chemicals, pesticides, and insecticides. Such products are tastier, healthier and also safe for your little one.
This homemade Banana Walnut Milkshake baby food recipe is not only quick to make but is a high energy drink too. So, mommies do not wait, prepare this healthy drink and let your baby savour it.