Palak Soup Recipe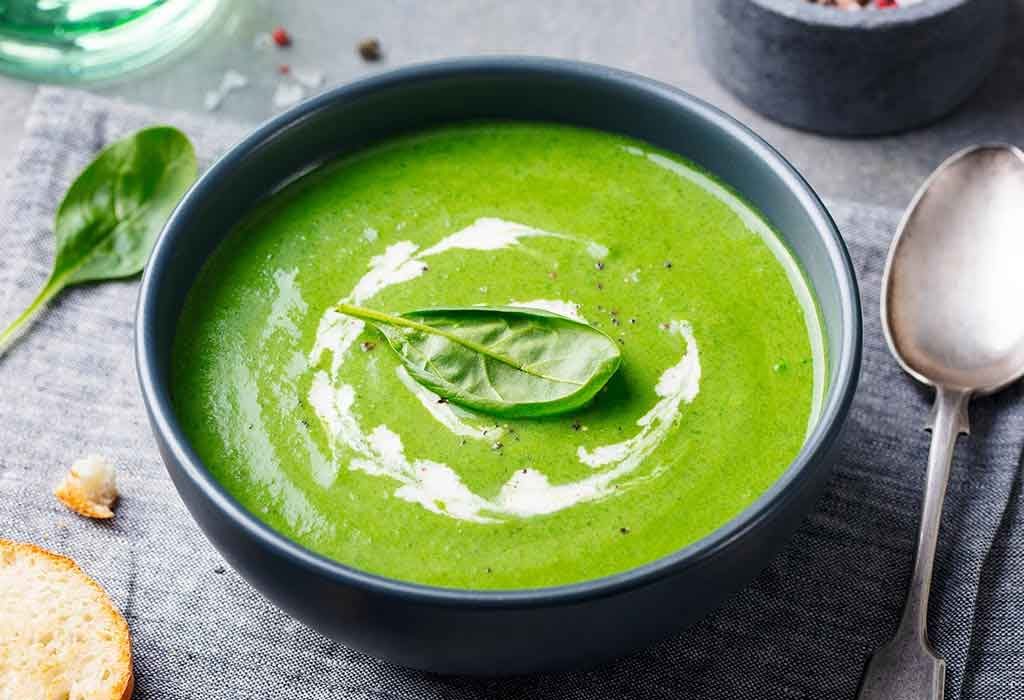 In this Article
Do you wish to feed your little one green vegetables but don't know how to, as they won't stop throwing tantrums about eating? As a parent, we understand the importance of green vegetables for kids, and always searching for ways to feed them to our children. Spinach is one such vegetable that offers numerous health benefits for kids.
Do you know what's an easy way to introduce spinach to your weaning baby's diet? Well, this Palak Soup recipe for toddlers is packed with the richness of spinach in a consumable form. Your growing toddler will love the taste and won't stop asking for more. This recipe is easy, tasty and healthy, and an excellent way to introduce greens to their diet.
Cooking Time
| | |
| --- | --- |
| Type | Time (hh:mm:ss) |
| Preparation Time | 00:10:00 |
| Cook Time | 00:15:00 |
| Total Time | 00:25:00 |
Cooking Method
Gas Stove, Mixer/Blender
Type of Meal
Vegetarian
Suitable For
Weaning babies older than 7 months of age
Meal Schedule
Breakfast, Appetizers, Main Course
Recipe Type
Main Dish
Ingredients
| | |
| --- | --- |
| Type | Quantity |
| Spinach (blanched and finely chopped) | 1 cup tightly packed |
| Onions (finely chopped) | 1 tbsp |
| Garlic (finely chopped) | 3 cloves |
| Turmeric powder | 1/8 teaspoon |
| Salt | As per taste |
| Butter/Ghee | ½ teaspoon |
| Cumin seeds | ½ teaspoon |
| Pepper Powder | ¼ teaspoon |
| Water | 2 cups |
Instructions
Read these step by step instructions to learn how to make spinach soup for babies:
Wash the spinach leaves in running cold water at least twice.
Chop the onions and garlic finely.
Heat oil in a pan and splutter the cumin seeds
Now add the chopped onions and garlic. Fry them until golden brown. Now add the chopped spinach along with turmeric powder and the necessary salt. Mix well.
Add 2 cups of water and boil on low flame for 7-10 minutes. Keep checking to see if the spinach is cooked thoroughly.
Once done, let the mixture cool down completely.
Grind the cooked spinach in a blender to a smooth puree without any chunks.
Strain the soup with a strainer to leave the tiny bits aside.
Serve warm with a little bit of pepper.
Recipe Tips
This homemade Palak Soup baby food recipe can quickly become your toddler's favourite. Just a few things to keep in mind:
Always use ghee as toddlers love the taste of ghee more than oil.
When you introduce it, strain the spinach and serve the water. It will build taste gradually.
This soup can be given as an appetizer to the main meal.
Clean the spinach thoroughly. It should be free from any dirt or mud before cooking.
You can use any spinach leaves- amaranth/palak/baby spinach for this recipe.
Use fresh garlic and only in adequate quantities. Too much of garlic could result in diarrhoea and vomiting.
You can eliminate the pepper powder if you think it will make the dish spicy.
Nutrition Information(Per 100 Grams)
| | |
| --- | --- |
| Type | Value |
| Calories | 57 kCal |
| Carbohydrates | 9.3 gm |
| Protein | Four gm |
| Fat | 0.4 gm |
| Sodium | 21.5 mg |
Health Benefits
This simple Palak Soup recipe is packed with several health benefits. Read to know more about the nutrient profile:
Spinach is rich in iron, folate, Vitamin A, potassium, calcium. It helps in the production of haemoglobin and aids in the development of the brain.
Spinach supplies the body with Vitamin A, C, E and thiamin. All these vitamins improve immunity and maintain a healthy body.
With its ample amount of fibre, spinach is a natural laxative.
Spinach has antimicrobial elements that help to treat urinary infections that are common in babies.
Spinach helps to relieve the gastric disorders caused in babies by their developing gut and stomach.
Spinach is rich in water content as almost 90% of it is water. So it helps your baby stay hydrated.
Onions are also rich in folic acid and help in digestion.
Garlic is rich with medicinal properties. It is known to have anti-bacterial and anti-fungal properties. It regulates the body and protects it from infections.
Buying Guide
There are a few things to bear in mind while sourcing ingredients for Palak Soup.
Spinach is a winter vegetable and is fresh during that season. Buy fresh spinach leaves and make sure to check the quality of the leaves thoroughly. The leaves should not be wilted. Most importantly check if the leaves have any holes as it is a sign of being infected by worms.
Buy onions that are fresh and firm.
Garlic should also be fresh. Since you are making it for babies, it is best to buy fresh ingredients.
FAQs
1. What Kind of Spinach Is Best for Babies?
The following are the best varieties of spinach for a baby:
Palak
Baby Spinach
Mulai Keerai (Amarantus Blitum
Arai Keerai (Tricolor Amaranthus)
Siru Keerai (Tropical Amaranthus)
2. Can I Give Spinach to My Baby Every Day?
Babies younger than six months of age should not be given spinach. Babies older than six months can be given spinach in moderation every day.
Great food for weaning babies, this palak soup for babies is packed with nutrients that will help in the healthy development of your growing toddler. It is a perfect addition to your baby's diet and can be served regularly.
References/Resources:
1. How Good Is Spinach For You? A Closer Look At The Health Benefits; plantbasednews.org; https://plantbasednews.org/opinion/health-benefits-spinach/
2. Food of the Month: Spinach; beaumont.org; https://www.beaumont.org/health-wellness/blogs/food-of-the-month-spinach
3. Spinach, raw; nutritionvalue.org; https://www.nutritionvalue.org/Spinach%2C_raw_nutritional_value.html
4. Spinach: Benefits and Nutrition Facts; lettuceinfo.org; https://lettuceinfo.org/spinach-faq/
5. Nourishing a Growing Baby; westonaprice.org; https://www.westonaprice.org/health-topics/childrens-health/nourishing-a-growing-baby/#gsc.tab=0
6. Spinach, raw; fdc.nal.usda.gov; https://fdc.nal.usda.gov/fdc-app.html#/food-details/168462/nutrients
Also Read:
Bean Soup Recipe for babies and toddlers
Ragi Moong Dal Soup Recipe for babies & toddlers
Ragi Wheat Pumpkin Soup Recipe for babies and toddlers