Spinach for Babies – Benefits and Recipes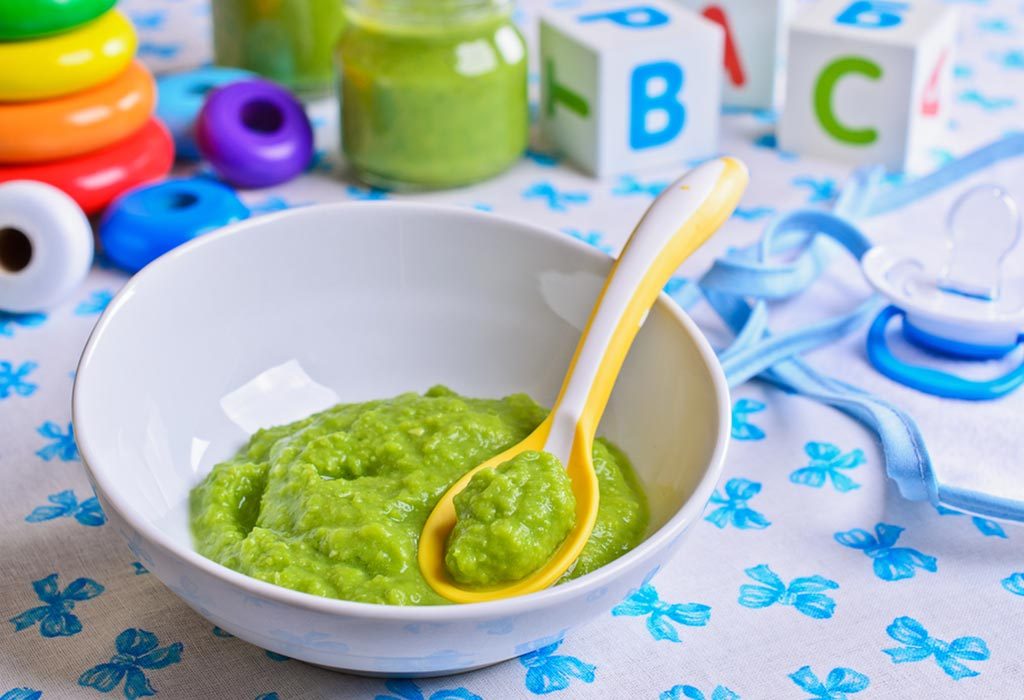 Spinach is one of those food options that literally has the best nutrients, and it is so good because it has a little of everything. This balances the nutrients in the body.
Video: 5 Healthy & Easy Spinach Recipes for Babies
When Can You Give Spinach to Infants?
This is a common question that most mothers have when they introduce their little ones to a new diet. In the case of spinach, you can actually give it to your little one after eight-nine months of age. Start with a small volume and gradually increase.
Nutritional Value of Spinach
Some of the vital nutrients that can be found in spinach are seen below. This is the list of nutrients that can be found in 100g of spinach.
| | |
| --- | --- |
| Nutrients | Amount (Per 100 grams) |
| Fibre | 2.2 grams |
| Proteins | 2.9 grams |
| Carbohydrates | 3.6 grams |
| Fats | .4 grams |
| Omega 6 | .03 grams |
| Calories | 23 |
| Calcium | 10% |
| Potassium | 558 mg |
| Vitamin C | 47% |
| Vitamin A | 188% |
| Iron | 15% |
Source: Healthline
So, if you were wondering "Is spinach good for babies?", now you know the answer!
Health Benefits of Spinach for Baby
Some of the health benefits include:
1. Keeps the Body Hydrated
Spinach has a high amount of water in it which keeps the baby hydrated.
2. Protects the Liver
Spinach is a smart option to help the liver from different infections.
3. Can Kill Worms
Spinach is a real superfood as it helps the body fight parasitic worms that actually attack the baby and make her weak.
4. Helps with Gastric Problems
Babies struggle with gastric problems because their bodies don't have a fully matured system. This can even cause uneasiness in the child. Eating spinach is a great way to help with gastric issues in your little one.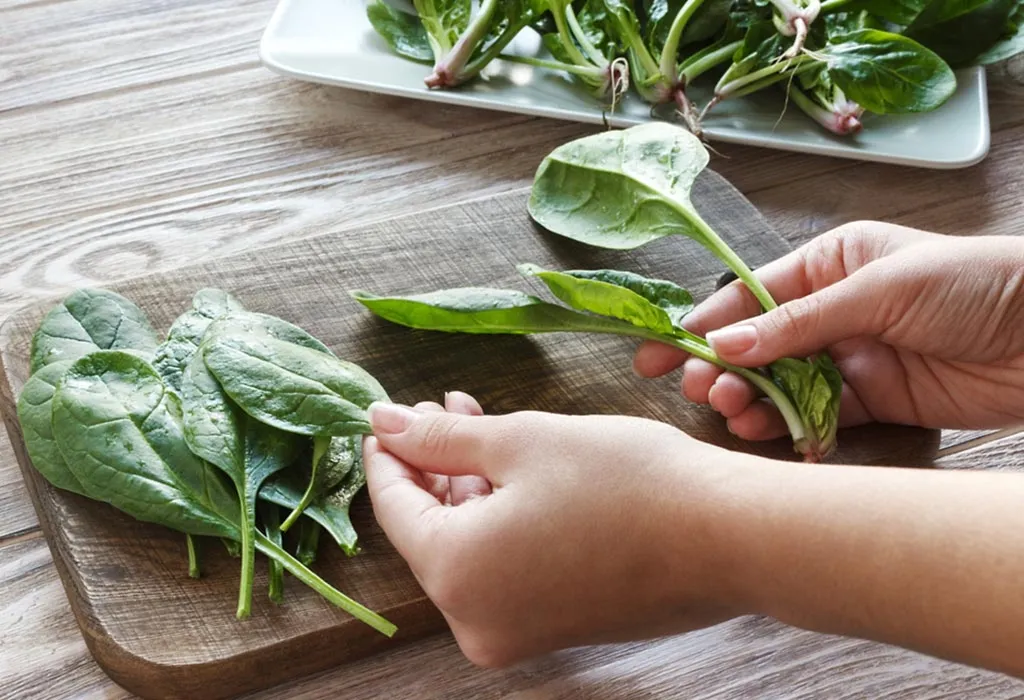 5. Good for Bones
The calcium and vitamins that are present in spinach is a great source of strength for the bones.
6. Good for Muscles
Spinach has a good amount of proteins in it which helps in building the muscles in the body.
7. Keeps Immunity High
Spinach has Vitamin K and all other nutrients that really builds the body with a high tolerance to many sicknesses and parasites. It is a great source of immunity and keeps children safe from many health issues.
8. Natural laxative
Spinach has a high amount of dietary fibre which helps the baby's digestive system in many ways. The different elements that are found in spinach even help the baby to get a smooth bowel movement and also fights constipation. Spinach is a great way to help your child if she is struggling with uneasiness that comes with indigestion.
Tips for Selecting and Storing Spinach
The one drawback that comes with spinach is that most spinach that is bought in the market is infected with chemicals like pesticides.
This is quite disappointing especially when you are considering buying it for your baby. Here are some tips to buy and storing of spinach:
Make sure to buy spinach that has tender and crisp leaves. These are the fresh ones.
Always check the stem when you buy spinach. When the stem is thin and flexible, you know it is fresh.
When picking spinach, try to avoid the yellow and brown leaves.
While storing spinach, you can choose to keep it in the vegetable crisper of your refrigerator.
Try not to freeze the spinach when you store but make sure it is kept in the refrigerator.
Make sure that there is no space for water to seep into spinach that is stored for
Don't wash the spinach before you store it or refrigerate it. Rather wash it before you cook it.
Storing it in a ziplock or plastic cover is the safest.
Buy organic spinach or locally grown spinach. This might just be the safest option
How to Cook Spinach for Babies
Spinach can be cooked the way your baby likes it. Just make sure that she is able to chew it well, and the leaves don't cause choking.
Healthy and Delicious Spinach Recipes for Babies
Below are some lip-smacking recipes you can make for your baby:
1. Spinach Puree
Spinach puree baby is a great recipe and can be customized the way you like it.
Ingredients:
How to Cook:
Cut spinach and wash it under running water.
Wash spinach.
Steam spinach for about five minutes.
Drain the water.
Allow the spinach to cool for three minutes to stop the cooking process.
Take the spinach and puree it in a blender.
Add a little water based on the consistency you want.
You can even mix the puree with carrots, sweet potatoes or chicken.
2. Sweet Potato, Spinach and Tomato Curry
Get a tasty tang along with spinach and eat with rice.
Ingredients:
Onion – 1 small
Ground coriander – 1 pinch
Ground cumin – 1 pinch
Ground turmeric – 1 pinch
Crushed garlic clove – 1
Gresh peeled and finely grated ginger – 1 tsp
Olive oil – 2 tbsp
Peeled and diced sweet potato – 1 cup
Ripe quartered tomatoes – 2
Chopped spinach leaves – around 1 1/2 cups
Water – 1/2 cup
How to Cook:
Start by sautéing the onion in some oil. Wait till it's tender.
Next, add the spices, ginger.
Let it cook for 5 minutes.
Keep stirring it.
Cook gently for 5 mins.
Stirring often.
Add the sweet potatoes and tomatoes.
Pour the water.
Bring the mix to boil and then put the flame on simmer.
Wait for a mushy consistency.
Add the chopped spinach, and stir it.
Take it out of the flame and allow the heat to come down.
3. Spinach Apple Puree
This combination tastes great and is great for digestion.
Ingredients:
Peeled, cored and chopped apples – 6
Fresh spinach – 2 cups
Water – 1/2 cup
Cinnamon – 1/2 tsp
Ginger powder – 1/8 tsp
Cloves – 1/8 tsp
How to Cook:
Add the apples, water, cinnamon, ginger, and cloves in a saucepan over medium.
Allow it to cook for 15 minutes. During this time, keep it covered.
Stir occasionally.
Now add spinach to the apples.
Cook for two more minutes. Let cool slightly.
Add all the ingredients into a mixie and puree for a minute.
Serve the puree.
4. Baby's Souffle of Spinach
This soft Italian dish will have your baby yearning for more!
Ingredients:
Fresh or frozen spinach – 10 -16 oz
Ricotta or cottage cheese – 1/3 cup
2 eggs or 4 yolks
Garlic – 1 pinch
Basil – 1 pinch
How to Cook:
Mix all ingredients and spoon them into an oiled baking dish.
Bake the mix at 375 F for 15 minutes till you see it golden.
Check whether the insides are done before taking it out and serving.
5. Oats, Avocado, Spinach
This combination capitalises on the buttery texture of avocados which are loaded with healthy fats.
Ingredients:
Dried old-fashioned oats – 1/4 cup
Avocado – 1/4
Spinach – 1/4 cup
Water, breast milk or stock – 1/2 cup
How to Cook:
First, take oats and water in a saucepan and heat it on low flame for 10 minutes.
Keep stirring it.
Add spinach to the mix and continue to cook for a couple of minutes.
Mix all the ingredients in a blender till puree.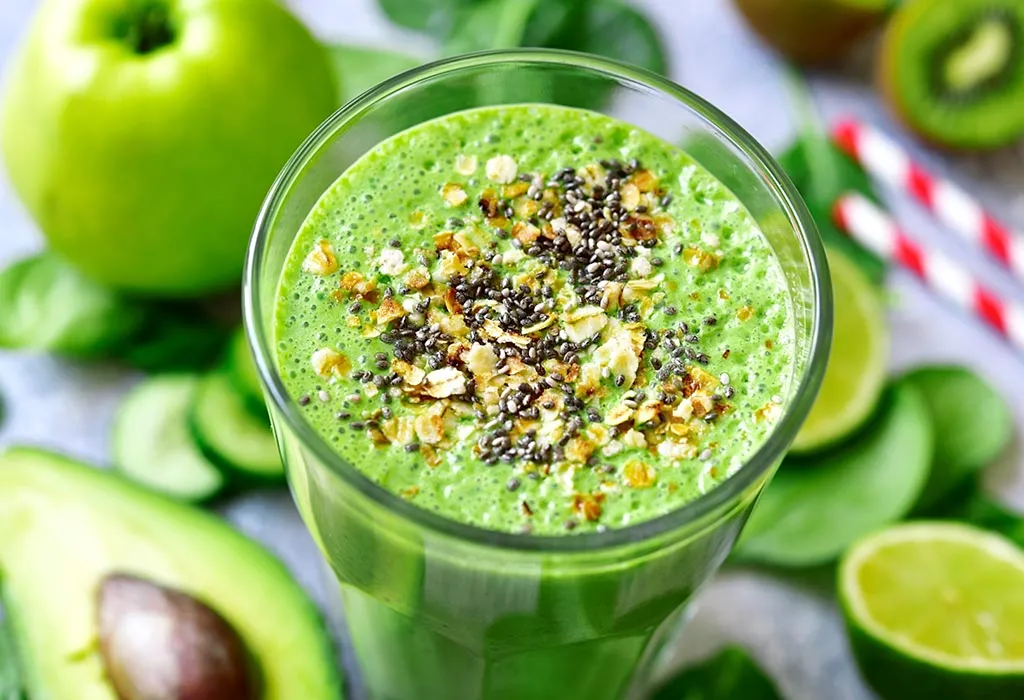 Different Spinach Baby Food Combinations
Here are some yummy combinations that your baby is sure to love.
1. Lasagna + Spinach
Chopped spinach along with vegetable lasagna is a healthy and tasty combination.
2. Parmesan + Spinach
You can mix spinach with little olive oil, garlic after which you can serve it with grated parmesan.
3. Spinach + Soup
You can add a little bit of spinach that is chopped to vegetable soup. Spinach soup for baby is extremely healthy.
4. Spinach + Cream Cheese
Chopped spinach can be cooked and serves with cream cheese as a dip.
Precautions to Be Taken While Giving Spinach to Babies
1. Able to chew
The first thing you must be sure of is that your little one must be able to chew the dish well.
2. Pick fresh leaves
It is important to pick fresh ones for your baby as it has all the nutrients.
3. Wash it well
It is good to wash spinach really well before cooking as spinach is prone to a lot of chemicals.
4. Right quantity
There is no hard and fast number. You will need to experiment and see how much they can eat. Start with one teaspoon but avoid going more than one cup.
Can Infants Be Allergic to Spinach?
Some babies have an allergic reaction to spinach. It is extremely important to watch out for these signs and make sure to avoid giving spinach baby food to your little one at any cost.
Symptoms of Spinach Allergies
Small rashes in cluster form can appear. They are quite itchy as well.
The baby will experience pain in the abdomen, and also experience diarrhoea.
Swelling is seen around nose, eyelids, and eyes.
Baby struggles with breathing and has shortness of breath.
Well, you might find it a little challenging to feed your child spinach, because a lot of children do not enjoy the taste of spinach. One trick to that is to make them watch the cartoon "Popeye the Sailor Man", and you know they might just pop it in their mouth for the love of Popeye!
Also Read: Vegetable Purees for Babies