Dal Pakoda Recipe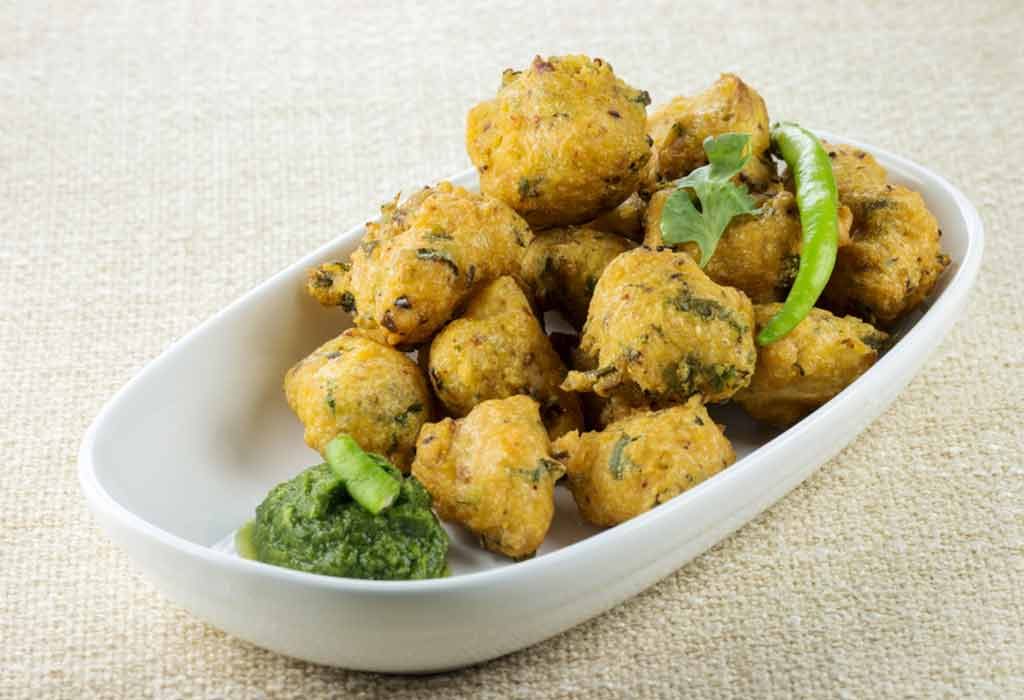 In this Article
Dal pakoda is easy to make and tastes delicious. Made with soaked moong dal, masoor dal, and urad dal and gram flour, this recipe is a yummy snack option for kids as well as adults alike. Dal pakoda is a perfect option when your munchkin craves for some mid-day snack. The crispy outer layer and the soft texture inside with a delicious taste make it a wonderful snack option for babies. So, let's get started with how to make dal pakoda for your little one.
Cooking Time
| | |
| --- | --- |
| Type | Time (hh:mm:ss) |
| Preparation Time | 00:10:00 |
| Cook Time | 00:15:00 |
| Total Time | 00:25:00 |
Cooking Method
Gas or Induction
Type of Meal
Vegetarian
Suitable For
Toddlers above 15 months of age
Meal Schedule
Mid-morning snack or evening snack
Recipe Type
Snacks
Ingredients
| | |
| --- | --- |
| Type | Quantity |
| Moong dal, masoor dal and urad dal (washed and soaked) | ¼ cup (each) |
| Coriander leaves | 1 to 2 teaspoons |
| Chopped spinach leaves | 1/4 cup |
| Coriander powder | ½ tablespoon |
| Cumin powder (optional) | ½ tablespoon |
| Onion (finely chopped) | ¼ cup |
| Garlic cloves | 2 |
| Salt | A pinch |
| Baking soda | A pinch |
| Cooking oil | ½ cup |
| Gram flour (besan) | ½ cup |
| Curd | 2 tbsp |
| Oil for deep frying | |
Instructions
Here are the step-by-step directions to make dal pakodas:
Grind the soaked dals and garlic together to make a thick paste.
Transfer the batter in a separate bowl; add to it baking soda, gram flour (besan), spinach leaves, onions, coriander powder, and salt.
Heat some oil in a frying pan.
Take a scoop of the batter and drop it into the preheated oil pan and fry until it turns light brown. Repeat this step to make more pakodas.
Drain out excess oil and put the pakodas on a paper napkin to let it absorb the oil from the pakodas.
Add 2 tablespoons of curd on top of it and garnish with coriander leaves.
Serve hot with green chutney, tomato chutney, or freshly grounded mango chutney.
Recipe Tips
Follow the simple tips to make tasty dal pakodas.
This simple dal pakoda recipe is very easy to make and tastes best when consumed warm.
For homemade dal pakoda baby food recipe choose all the ingredients that are fresh and organic.
Adding garlic and cumin powder to this recipe is optional, but it can be added to add the flavour.
For very small babies you can use pure ghee or coconut oil instead of mustard oil.
Make sure the pakodas are not very crunchy as they will be hard to chew and might hurt the baby's gums.
Nutrition Information (Per 124 Grams)
| | |
| --- | --- |
| Type | Value |
| Carbohydrates | 23.5 grams |
| Calcium | 44.3 milligrams |
| Iron | 1.6 milligrams |
| Protein | 9.4 grams |
| Fat | 8.2 grams |
| Fibre | 4.3 grams |
| Magnesium | 50.3 milligrams |
| Phosphorous | 86.1 milligrams |
| Potassium | 370.2 milligrams |
| Vitamin A | 159.4 milligrams |
| Vitamin C | 2.4 milligrams |
| Folic acid (Vitamin B9) | 54.7 milligrams |
Health Benefits
This easy to make and delicious dal pakoda snack recipe offers immense health benefits to babies:
Moong dal is rich in protein and is considered as one of the plant-based sources of protein. It is easy to digest and best for babies.
Masoor is filled with protein, dietary fibre, and iron which are necessary nutrients for the growth of babies.
Gram flour is rich in protein, fibre, and micronutrients, and has a very low amount of carbohydrates and calories, which is good for the heart.
Coriander leaves are filled with Vitamin C and K as well as dietary fiber that relieves constipation and helps maintain a healthy digestive system in babies.
Buying Guide
Below mentioned are certain buying tips that you should keep in mind when you go shopping for the ingredients required for making dal pakoda:
Choose lentils that are good for health, like masoor, moong and urad dal for making pakodas.
Buy organic ingredients and vegetables as they do not contain harmful chemicals and pesticides.
Now you know how to make dal pakoda for your toddler at home, so give it a try. This popular recipe can be made with little effort and can be served as a snack or appetizer for kids as well as adults!