Baked Pumpkin Soup Recipe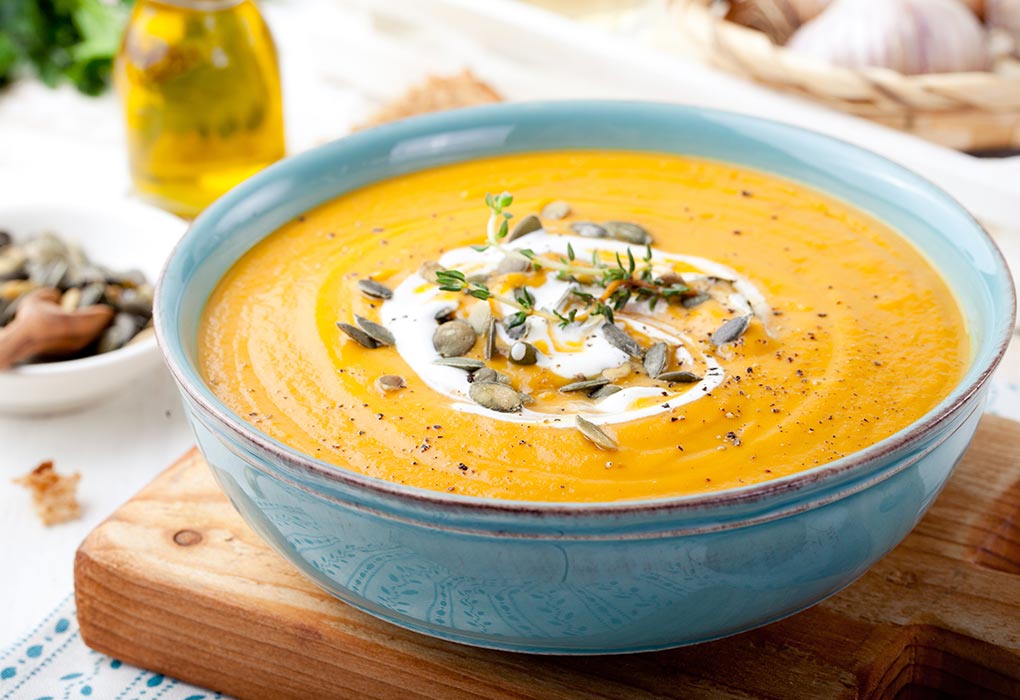 Baked pumpkin soup for babies/toddlers is a dish that can be eaten by a child in any age group as it has that creamy flavour which all kids love. Pumpkin is a super healthy vegetable that also fits any diet you are following for your child. Whether it is gluten-free, auto-immune protocol recipe or dairy-free recipe, the pumpkin would find its way in any restrictive diet you have chosen. Pumpkin has a sweet and savoury taste which mixed with mild spices makes a perfect dish for even those munchkins who are picky eaters.
Video : Baked Pumpkin Soup Recipe for Babies and Toddlers (For Babies Above 11 Months of Age)
Cooking Time
| | |
| --- | --- |
| Type | Time (hh:mm:ss) |
| Preparation Time | 00:15:00 |
| Cook Time | 00:60:00 |
| Total Time | 00:75:00 |
Cooking Method
Gas stove and oven
Type of Meal
Vegan
Suitable For
Any baby above 11 months of age
Meal Schedule
Breakfast, Dinner
Recipe Type
Main Dish
Ingredients
| | |
| --- | --- |
| Ingredients | Quantity and Volume |
| Pie pumpkin | 1 large weighing 1.5-2 kgs |
| Extra virgin olive oil | 4 teaspoons |
| Onion | 1 large |
| Garlic cloves | 3-4 |
| Ground cinnamon | ½ teaspoon |
| Ground nutmeg | ½ teaspoon |
| Cloves | 1/8 teaspoon |
| Ground pepper | ½ teaspoon |
| Vegetable broth | 4 cups |
| Coconut milk | ½ cup |
Instructions
Let us see how to make baked pumpkin soup to fulfil the nutritious needs of a child and also be gentle on the stomach. Being appetizing is a must for the kids, so this recipe is going to take care of that too.
Preheat oven to 425 degrees. Heating should be done for 20 minutes.
Halve the pumpkin and remove the seeds.
Make 4 quarters with the sliced pumpkin.
Grease the fleshy side of the pumpkin with 1 tbsp of olive oil.
Line a baking tray with parchment paper.
Put the pumpkins, cut side down, on the baking tray.
Keep it in the preheated oven and bake for 35 minutes.
Set it aside to cool.
Heat oil in a heavy-bottomed pot and add onion, salt and garlic to it.
Cook by stirring for 8-10 minutes till onion is translucent.
Now discard the hard part of roasted pumpkin and scoop out the flesh.
Put pumpkin flesh, cinnamon, nutmeg, and black pepper to the pan.
Pour in the broth and bring the mixture to a boil.
Reduce flame and let it simmer for 15 minutes.
Add coconut milk and blend.
Remove it from flame and let it cool to a point it can be blended.
Blend it with a hand mixer or a grinder.
Recipe Tips
In spite of a hoard of ingredients, this is an easy baked pumpkin soup recipe to make. Babies and toddlers would love it alike as it has the sweetness of pumpkin and the aroma of spices with a tinge of creamy texture.
If roasting a pumpkin is something you find cumbersome or time taking then you can always buy canned pumpkin puree which tastes equally good.
This can be refrigerated for a week or kept in the freezer for months, so one can always reuse it to save time.
If you are non-vegetarian, you can replace the vegetable broth with chicken broth too.
Wash off the pumpkin with filtered water thoroughly before roasting it.
When you remove the seeds from the pumpkin, you could save it later to roast and garnish the soup for slightly older kids, above 18 months.
To make sure pumpkin is roasted well, press with a thumb and it should feel soft to touch.
Nutrition Information (per bowl)
| | |
| --- | --- |
| Nutrient | Value |
| Energy | 309 kCal |
| Protein | 4.1 g |
| Carbohydrates | 31.7 g |
| Fat | 21.2 g |
| Sodium | 839.6 mg |
Health Benefits
This home-made Baked pumpkin soup baby food recipe is going to last many days and taste as good even later with all the nutrition intact; hence this is likely to rate high on your frequently used dish with your little one:
Pumpkins are one of the highest sources of Vitamin A, which are good for the eyes.
They are also packed with many essential minerals like potassium, copper, manganese, iron which your child will benefit hugely from.
Zinc in pumpkins is needed for the brain to grow.
It is packed with many vitamins; vitamin B2 is one of the important vitamins needed by kids.
Nutmeg in the recipe is good for digestion and also cures cold and cough along with bettering immunity.
Buying Guide
One cannot stress more on buying organic products; your tiny tots do not need to feed on anything hazardous like pesticides.
Look for a pie pumpkin which is small and has thin skin.
We hope this recipe clearly explained cooking this dish in its step by step procedure. The soup can be kept in the fridge up to 4 days, and you will find it tasting even better when you reuse it.