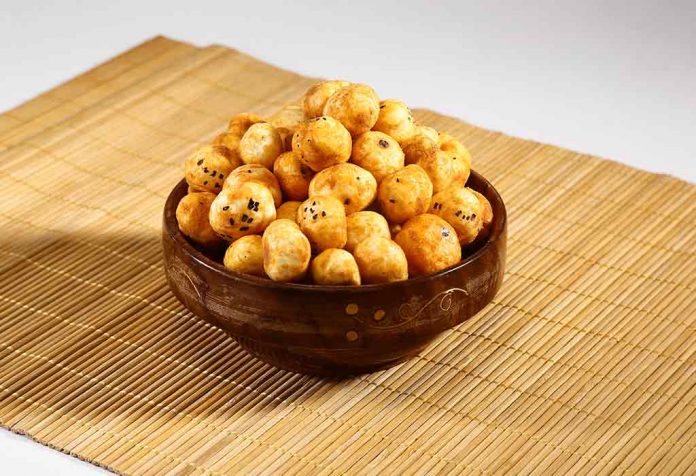 Last Updated on
Growing babies need something to munch on. You must have planned a menu for breakfast, lunch, and dinner for your baby, but what about snacks? Yes, your little one will need something to munch on just like you do. As it is about your little one, we know you won't give him store-bought snacks, you will look for something healthy for him, won't you? So what can you give to your baby? How about roasted makhanas? Roasted makhanas taste delicious and are healthy too. If you want to know how can make it, here's a simple roasted makhana recipe that you can try!
Cooking Time
| | |
| --- | --- |
| Type | Time (hh:mm:ss) |
| Preparation Time | 00:05:00 |
| Cook Time | 00:15:00 |
| Total Time | 00:20:00 |
Cooking Method
Gas
Type of Meal
Vegetarian
Suitable For
Toddlers older than 22 months of age
Meal Schedule
Snack or mid-day meal
Recipe Type
Snack
Ingredients
| | |
| --- | --- |
| Ingredients | Quantity |
| Phool makhana (fox nuts) | 2 cups |
| Ghee | 3 tablespoon |
| Turmeric powder | ¼ teaspoon |
| Black pepper powder | ¼ teaspoon |
| Salt to taste | |
Instructions
This homemade roasted makhana baby food recipe is the answer to your snack woes. Follow these step-by-step instructions to make a snack that can be stored and consumed every day.
Heat two tablespoons of ghee in a deep bottomed pan or skillet.
Roast the makhanas in ghee on low flame.
Keep the spice powders and salt ready on a plate.
Once the makhanas turn crispy, add the remaining ghee and mix well.
Add in the turmeric and black pepper powder, mixing them well.
Turn off the flame immediately and transfer the roasted makhanas in a plate, allowing them to cool.
Once cool, store them in an air-tight container.
Recipe Tips
A few tips that will help you learn how to make roasted makhana are given below:​​
Sauté the makhanas on a low flame to prevent them from burning.
Make sure you check the crispiness of the makhana before adding the spice powders. Taste a makhana to see if it is crispy and not chewy.
If you want to roast more than 2 cups of makhana (in large quantities), then divide it into small batches.
You can adjust the spice levels as per your child's taste.
Cut the makhana into small pieces so that your baby can eat them comfortably.
Use homemade ghee if possible. It enhances the taste of the dish and also stays fresh for longer.
Nutrition Information (Per 100 Grams)
| | |
| --- | --- |
| Type | Value |
| Calories | 350 kCal |
| Carbohydrates | 77 gms |
| Protein | 9.3 gm |
| Dietary Fibre | 7.6 gms |
| Potassium | 500 mg |
| Iron | 1.4 mg |
| Calcium | 60 mg |
Health Benefits
Check these health benefits of roasted makhana for toddlers:
Makhana is high on dietary fibre content. It is commonly consumed for treating diarrhoea.
As makhana is a rich source of calcium, it can help in the bone development of a child. It can also help in the formation and maintenance of the teeth and gums.
With its high protein content, it proves to be an energy-rich food. As a mid-day snack, it can keep your baby's tummy full for long.
Fox nuts are also detoxifying agents and flush the toxins out of the body.
Makhanas have antibacterial properties and strengthen the immunity levels of the body.
Makhanas contain omega acids that are needed for the healthy growth of the body.
Makhanas are gluten-free foods, hence ideal for babies with allergies.
Fox nuts are also very beneficial for the health of the kidneys.
Buying Guide
As a mother, you want the best for your baby. So when you are sourcing the ingredients for this wonder food, the following tips will come in handy:
Try to opt for the organic makhana as they are free from chemicals and pesticides and are a healthier option.
Buy sealed packets available in supermarkets and check the expiry date.
If you do not plan to use the makhana seeds immediately then store them in an airtight container. Any contact with moisture will make them soggy.
Chop the makhanas to check if there are any worms in them.
You can introduce makhana to your baby once he turns six months of age. However, at six months, you could start by introducing it in powder form and adding it to his food. Once they show no signs of allergy and get used to the taste, you can increase the amount gradually. It is advisable to give the roasted makhana in small quantities as makhana are known to increase body heat.