Mini Roti Pizza Recipe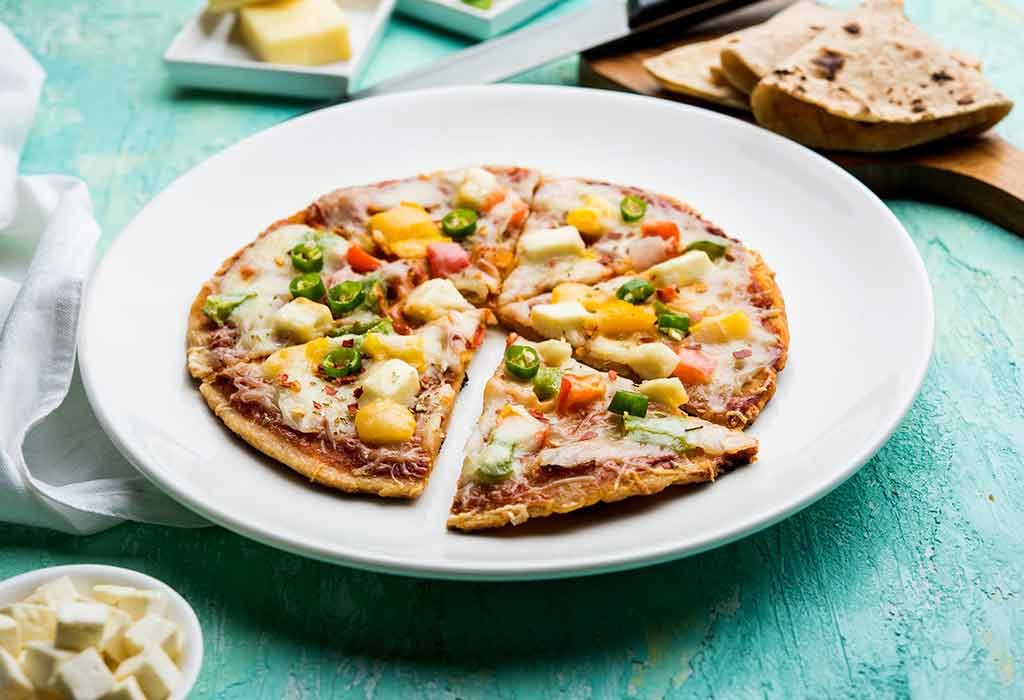 In this Article
Are you struggling with feeding roti to your kid? If the answer to that question is a big yes, then we are here to give you a tasty solution for your problem! We have whipped an easy to make homemade roti pizza recipe that your munchkin will love to relish! Read this post to learn the recipe!
Cooking Time
| | |
| --- | --- |
| Type | Time |
| Preparation Time | 00:10:10 |
| Cook Time | 00:10:00 |
| Total Time | 00:20:00 |
Cooking Method
Gas or Microwave
Type of Meal
Vegetarian
Suitable For
Toddlers above 19 months of age
Meal Schedule
Breakfast, Lunch or Dinner
Recipe Type
Main Dish
Ingredients
Here is what you need to make this super nutritious, simple mini roti pizza recipe for your kiddo!
| | |
| --- | --- |
| Type | Quantity/Volume |
| Roti (small size) | 3 to 4 |
| Mozzarella cheese (grated) | 2 to 3 tbsp |
| Pasta sauce | 1 to 2 tbsp |
| Cheese spread | 1 to 2 tbsp |
| Oregano seasoning | As required |
| Capsicum (finely chopped) | 2 tbsp |
| Onion (finely chopped) | 1 tbsp |
| Tomato (chopped) | 1 tbsp |
| Corn (boiled) | 1 tbsp |
| Salt | To taste |
| Oil | 2 tbsp |
Instructions
Here are the step by step directions to make this yummy recipe.
Heat one tablespoon oil in a wok.
Add chopped onions, capsicum, tomatoes and corn.
Add salt and cook the veggies on medium flame until the vegetables turn slightly tender. Turn off the flame and keep aside.
Take a roti and place it on a plate. Spread cheese spread and pasta sauce on it.
Take a spoon of cooked vegetables and spread it over the cheese and pasta sauce mix.
Top it with grated mozzarella cheese and sprinkle oregano on top.
Preheat microwave oven at 180 degrees and grease the baking dish with some oil. Bake the roti pizza for 4 to 5 minutes or until the cheese melts.
Remove the pizza from the oven and let it cool down a bit before you serve it to your kid.
Recipe Tips
Follow some of these handy tips to make a perfect mini roti pizza for toddlers.
You can use regular roti also for making the pizza and cut it into smaller sizes after baking.
You can add more vegetables like mushrooms, olives, etc. to make the recipe more wholesome for older kids.
Adding boiled shredded chicken or paneer will add an extra punch of protein to the roti pizza.
Make sure you do not over bake the roti pizza as it may turn too crispy and may become difficult for your kiddo to eat.
You can also cook the pizza on a flat pan by greasing and covering with a lid for the cheese to melt.
Do not overcook the vegetables as they may lose their crunchiness.
Nutrition Information (Serving Per 100 Grams)
After learning how to make mini roti pizza, learn about its nutritional content too!
| | |
| --- | --- |
| Type | Value |
| Energy | 270 calories |
| Carbohydrates | 30 grams |
| Protein | 6 grams |
| Calcium | 60 milligrams |
| Vitamin A | 600 IU |
| Fats | 18 grams |
| Sodium | 390 grams |
| Fibre | 3 grams |
| Potassium | 300 milligrams |
| Vitamin C | 56 milligrams |
| Iron | 0.9 milligrams |
The mentioned values are approximate nutritional values present in 100 grams of homemade mini roti pizza baby food recipe. Actual values may vary slightly!
Health Benefits
Loaded with the goodness of vegetable, cheese, and wheat, mini roti pizza is power-packed with many health benefits for your little one. Here are some health benefits of mini roti pizza for your kiddo.
Capsicum or bell peppers are loaded with antioxidants and vitamin C, which helps in keeping the body cells healthy.
Lycopene present in tomatoes is an effective antioxidant that helps in managing the free radicals in the body.
Cheese is loaded with calcium and protein. Both these nutrients are essential in the optimum growth of bones and teeth in kids.
All vegetables provide ample fibre, which is great for promoting good digestive health.
Buying Guide
Here are some points that you should keep in mind when buying ingredients to make mini roti pizza.
Buy fresh and seasonal vegetables for toppings. Do not buy vegetables with any marks, spots or the ones that look stale.
It is recommended to pick up organic vegetables when using vegetables to make any dish for your kiddo.
Also, when buying mozzarella cheese, do not forget to check the manufacturing and the expiry date.
Try this simple and highly nutritious mini roti pizza recipe for your kid and let your kid enjoy a host of flavours and nutrients in one single recipe!