Tomato Pumpkin Masoor Dal Soup Recipe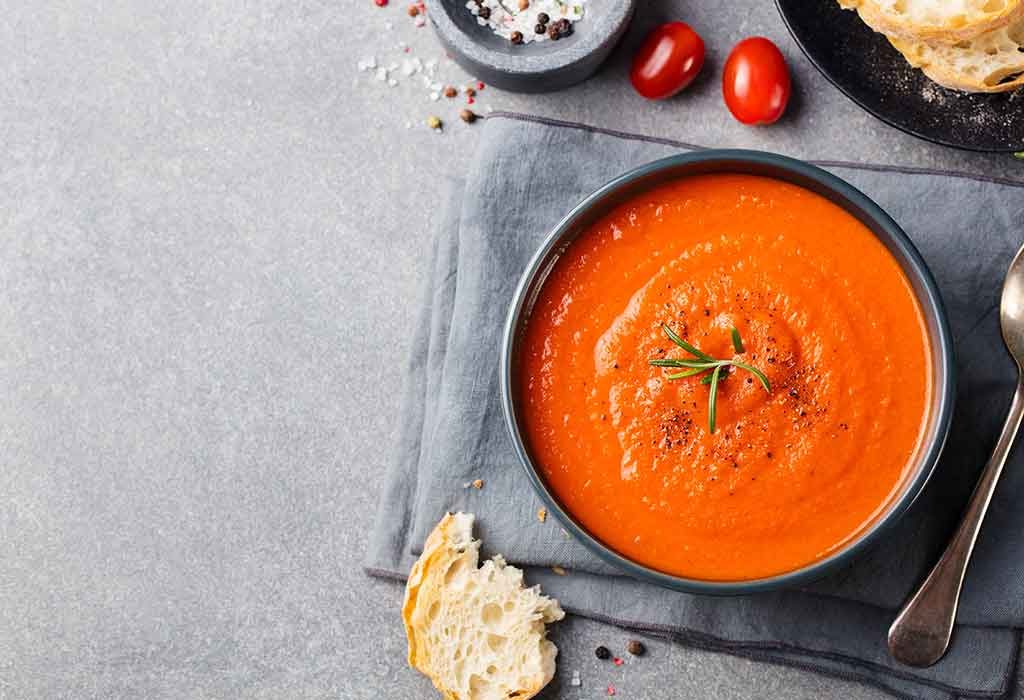 In this Article
Tomato and pumpkin are the most nutritious vegetables and have many health benefits. Tomato is rich in antioxidants, Vitamin C, potassium, folate, and Vitamin K whereas pumpkin is a great source of Vitamin A, C, and E, antioxidants, potassium, iron, fibre, and folate. Masoor dal, also known as red lentils, is packed with nutrients and has many health benefits. It is rich in protein, fibre, calcium, magnesium, Vitamin A, C and E. With these ingredients, we can prepare a nutritious and tasty soup for small babies and toddlers. Since it doesn't require them to chew, it is easily digestible and safe for babies. Tomato pumpkin masoor dal soup for babies is easy to prepare and takes very little time to cook. It is the healthiest food which, apart from babies, can be served to all.
Cooking Time:
| | |
| --- | --- |
| Type | Time (hh:mm:ss) |
| Preparation Time | 00:15:00 |
| Cook Time | 00:25:00 |
| Total Time | 00:40:00 |
Cooking Method
Gas Stove
Type of Meal
Vegetarian
Suitable For
Any baby above 13 months of age
Meal Schedule
Breakfast, Mid-morning snack, Lunch, Evening snack, Dinner.
Recipe Type
Soups
Ingredient
| | |
| --- | --- |
| Ingredients | Quantity and volume |
| Yellow pumpkin | ¼ Kg |
| Masoor dal | 2 tbsp. |
| Tomato | 1 no. |
| Ginger | 1 inch, finely chopped |
| Salt | As required |
| Black pepper, freshly ground | As required |
| Jeera powder | ½ tsp. |
| Oil | 2 tsp. |
Instructions
Wondering how to make tomato pumpkin masoor dal soup? The recipe is easy and doesn't require much time to prepare. Here are the step by step directions to prepare tomato pumpkin masoor dal soup.
In a pressure pan, heat oil. Add ginger and fry for a few minutes.
Add pumpkin and tomato cubes and fry for a few minutes.
Add masoor dal and jeera powder. Mix it well.
Add sufficient water and close the pressure pan. Once the steam starts to escape, place the whistle and cook for three whistles.
After the steam is released, mash the mixture using a stick blender when it is hot. If you don't have a stick blender, wait till the cooker cools completely and then do it in the mixer grinder.
Heat the mashed soup again. Add the required salt and pepper powder.
Switch off the flame when the soup has thickened to the required consistency.
Serve this tasty soup when it is hot.
Recipe Tips
Make sure that you keep in mind the below mentioned vital points before you start preparing the healthy and simple tomato pumpkin masoor dal soup recipe for your baby.
Wash tomato and pumpkin thoroughly. Peel off pumpkin before cutting.
Half cooked dal can cause uneasiness in the stomach. Therefore, cook the dal thoroughly.
Nutritional Information (Per 100 Grams)
| | |
| --- | --- |
| Nutrient | Value |
| Energy | 132.3 kcal |
| Carbohydrates | 24.46 g |
| Dietary fibre | 4.133 g |
| Proteins | 0.433 g |
| Fats | 8.966 g |
| Vitamin A | 0.156 mg |
| Vitamin B1 | 0.319 mg |
| Vitamin B2 | 0.113 mg |
| Vitamin C | 9.166 mg |
| Vitamin E | 0.363 mg |
| Vitamin B9 | 0.187 mg |
| Calcium | 31.66 mg |
| Iron | 2.533 mg |
| Magnesium | 23.33 mg |
| Potassium | 418 mg |
| Zinc | 1.87 mg |
Health Benefits
Here are few health benefits of home-made tomato pumpkin masoor dal soup baby food recipe
Tomatoes are a great source of the antioxidant lycopene, which has many health benefits, namely reduced risk of heart disease and cancer.
It is also rich in Vitamin C, K, and folate. These vitamins play a major role in our body. Vitamin C is an antioxidant. Vitamin K is useful in blood clotting and improves bone health. Folate is useful for normal tissue growth and cell function.
It also has potassium, which is essential to prevent heart disease and maintain blood pressure.
It is also essential for skin health and it gives protection from sunburn.
Pumpkin is packed with many vitamins and antioxidants which improves immunity.
It is highly rich in Vitamin A and improves eyesight.
It is also essential for heart health.
It is rich in many nutrients, which helps to improve skin health.
Masoor dal has many health benefits. It helps to maintain blood sugar levels.
It is loaded with antioxidants and helps to improve cell growth.
It is loaded with calcium and magnesium, which are essential for teeth and bones.
It also plays a major role in maintaining eye health.
Buying Guide
Here are a few buying tips that you should keep in mind while purchasing ingredients for tomato pumpkin masoor dal soup for your baby.
Buy organic and best quality products from a well-known store.
The tomato used in the soup should be naturally and fully ripened.
Check for the expiry date of masoor dal before purchasing it.
Prepare this awesome and mouth-watering recipe for your baby. It tastes excellent and babies love it.