Sweetlime Juice Recipe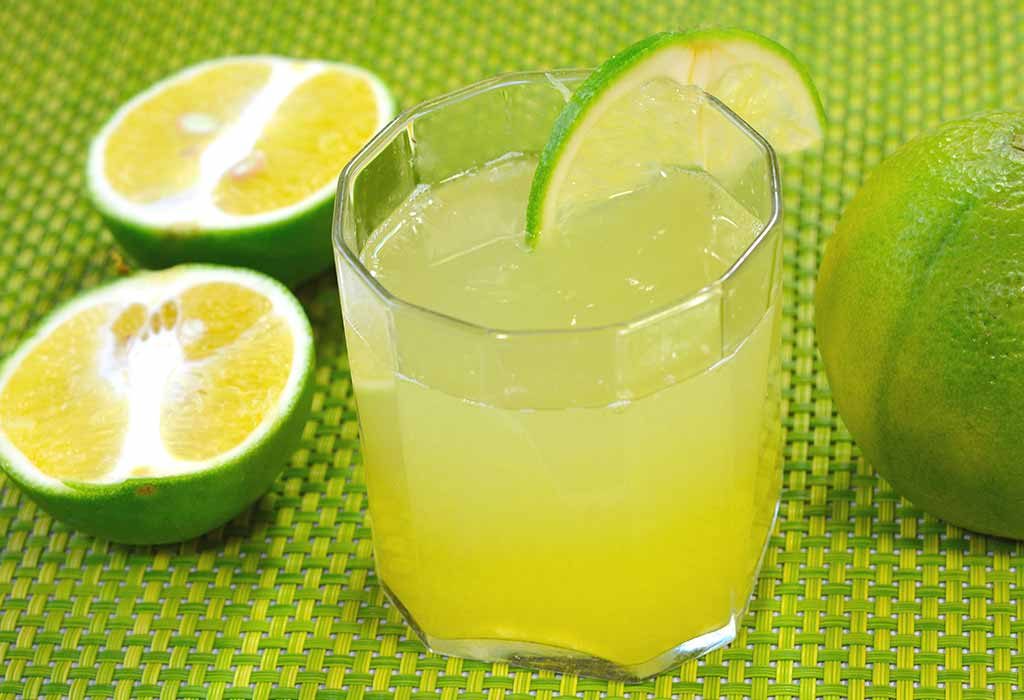 In this Article
Once your baby has started solid food, you would need to offer them enough liquids to help digest the intake of food. It is good to introduce juices when they start solids as it will complement the meal. Try this easy Sweet lime juice recipe to give enough hydration for their growing bodies.
Cooking Time
| | |
| --- | --- |
| Type | Time (hh:mm:ss) |
| Preparation Time | 00:10:00 |
| Cook Time | 00:10:00 |
| Total Time | 00:20:00 |
Cooking Method
Blender or Mixer Jar
Type of Meal
Vegetarian
Suitable For
Any toddlers above 22 months of age
Meal Schedule
Drink post breakfast, lunch or dinner
Recipe Type
Drink
Ingredients
| | |
| --- | --- |
| Type | Quantity |
| Sweet Limes | 2 |
| Water | 1 cup |
| Sugar or Honey | 2 teaspoons |
| Salt or Rock Salt | ½ teaspoon |
Instructions:
Once you follow this step-by-step guide on how to make Sweet lime juice you can make it to be consumed at any time of the day:
Rinse and wash the sweet lime. Chop the sweet lime into two halves.
Peel the skin and chop the sweet lime into small pieces.
Deseed each piece and remove every seed.
Put the pieces into a blender and add sugar and water.
Blend well until all the ingredients mix together.
Use a sieve to extract the juice.
Mash the pulp to extract the juice.
Add a pinch of black salt and mix well.
Pour into glasses and serve.
Recipe Tips
A few simple tips to perfect this homemade Sweet lime juice baby food recipe :
Wash the sweet limes and chop them. Once you chop them it will be easier for you to peel.
Make sure you remove all the seeds from the pieces. Even if a tiny piece is included in the juice, it will make it bitter.
You can substitute sugar with honey if you do not wish to give your child sugar.
Use black salt instead of normal salt as it will aid in digestion.
Nutrition Information (Per 100 Grams)
| | |
| --- | --- |
| Type | Value |
| Calories | 20 Kcal |
| Carbohydrates | 7 gm |
| Protein | 0.5 gm |
| Fiber | 1.9 gm |
| Fat | 0.1 gm |
Health Benefits
Sweet lime juice for toddlers is a great refreshing drink that is packed with a load of health benefits:
Sweet lime is extremely rich in flavonoids. Flavonoids strengthen the digestive system and also secrete the digestive juices and bile. Sweet lime is used to cure bouts of indigestion and neutralizes all the digestive juices owing to its acidic content.
The acidic nature of sweet lime helps to flush out all the toxins out of the body.
Loaded with Vitamin C and satisfies the daily intake of Vitamin C in your child. It strengthens the immunity system and counters diseases like scurvy.
During the summer season, sweet lime juice is sufficient to keep your toddler's body hydrated.
Rich in phosphorus and calcium, it helps to keep the bones strong and reduces inflammation of tissues and joints.
Sweet lime has antibacterial and antioxidant properties which help to improve the condition of the eyes. It helps to prevent the degeneration of the tissues of the eyes.
The number of vitamins, nutrients, and minerals present in sweet lime and acts as a natural coolant and boosts energy levels.
Sweet lime contains potassium, calcium, phosphorus, and iron and helps to maintain the natural balance of the skin and hair.
Buying Guide
A few things to bear in mind while shopping for :
When buying sweet lime make sure they are ripe. Sweet limes must be firm and juicy before making the juice. If they are not ripe then keep it for a day or two and then use them for making the juice.
Buy organic sweet limes as they are free from chemicals and pesticides.
If you are using sugar, make sure you use good quality ones. It is advisable not to offer sugar to babies as it could be harmful to their teeth and digestive system.
If you are substituting sugar with honey, then buy honey in bottled form or sealed form available in supermarkets. Make sure you check the expiry date on the packaging before use.
Offering the right fruits and vegetables to your child is the right start to a healthy life ahead. Sweet lime is a fruit that is filled with nutrients that improve the overall health of the child. It is a wonder fruit of the summer as it acts as a natural coolant and must be regularly included in your child's diet. Sweet lime juice regularly will contribute to the healthy development of your baby.