Pumpkin Paratha Recipe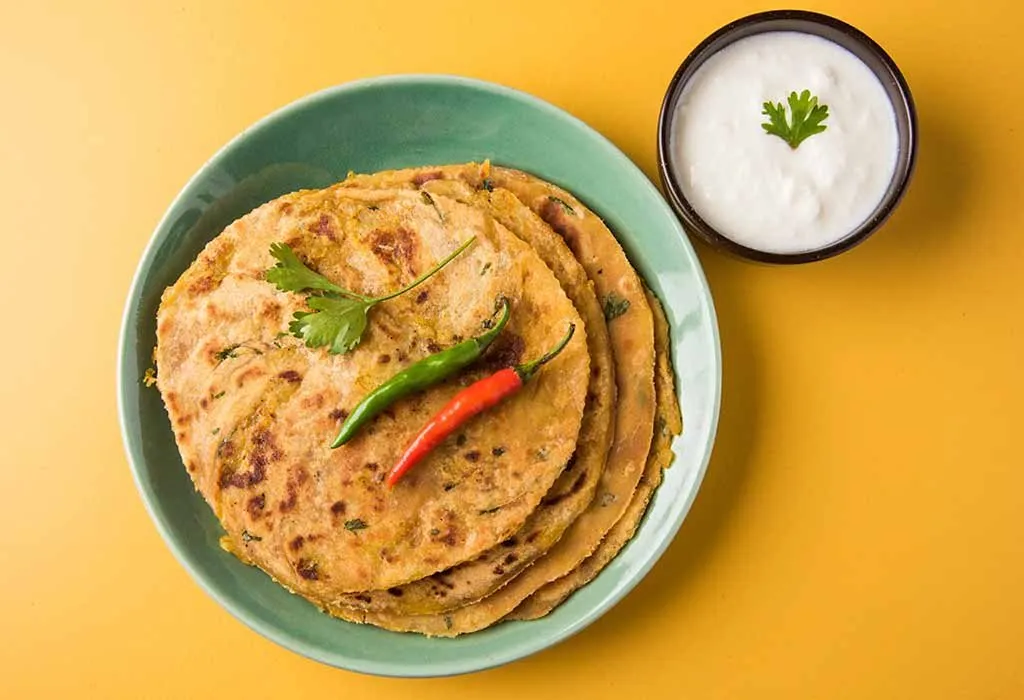 In this Article
Which child doesn't like tasty parathas for breakfast? Parathas can be made healthier by stuffing it with a grated pumpkin that has amazingly stomach-friendly properties for your child. The recipe is made with alkaline flours, pleasantly sweet pumpkin, and a hint of spices that your child wouldn't resist. One of the best ways to secretly sneak in the goodness of vegetable in your baby's diet is feeding him stuffed parathas. A serving of pumpkin parathas is a great way to start your little one's day. This finger food can be given in your kid's lunch box or carried while travelling too. This is how you can make pumpkin paratha quickly. Don't forget to serve it with some fresh curd, mint chutney or a favourite side dish.
Cooking Time
| | |
| --- | --- |
| Type | Time (hh:mm:ss) |
| Preparation Time | 00:10:00 |
| Cook Time | 00:20:00 |
| Total Time | 00:30:00 |
Cooking Method: Gas
Type of Meal: Vegetarian
Suitable For: Babies above 11 months of age
Meal Schedule: Breakfast, Lunch or Dinner
Recipe Type: Main Dish
Ingredients
Type
Quantity
Pumpkin
¾ cup, grated
Wheat Flour
1 cup for the dough.

¼ cup for dusting the dough

Cumin Seeds
¼ teaspoon
Ajwain (Carom seeds)
¼ teaspoon
Salt
As per taste
Oil/Ghee (for kneading the dough & roasting)
1 tbsp
Cumin Powder
¼ teaspoon
Garam Masala
¼ teaspoon
Water
1 cup
Ginger
½ inch, grated
Coriander Leaves
¼ cup, finely chopped
Turmeric Powder
½ teaspoon
Fennel Seeds
1 tsp
Instructions
The step-by-step directions given here are very useful for making the perfect pumpkin paratha that your child would relish as a quick snack, breakfast or any meal.
Add 2 tbsp of cooking oil in a frying pan and heat it on the gas stove.
Add cumin seeds, ajwain, fennel seeds, grated ginger into the hot oil and fry till they turn golden brown.
Add the grated pumpkin and stir it on a medium flame.
After 5 minutes, add turmeric powder and salt. Give it a good mix.
Cook it till the pumpkin becomes soft.
Now throw in the coriander leaves and season it with garam masala. Turn off the gas flame.
The stuffing for the paratha is ready.
Now, add some water into the wheat flour and make a soft sough.
Divide it into equal portions and roll out the dough into round chapatis.
Now place the filling at the centre of the chapatti.
Bring all the sides of the chapati together in the centre to form a stuffed ball.
Roll the paratha gently with a rolling pin.
Heat a tawa and put the paratha on it.
Dry roast it on a medium flame for a while.
Add a spoonful of ghee or oil to the paratha and roast on both sides equally.
Cook till it turns golden brown.
Serve hot parathas with some raita, curd or chutney.
Recipe Tips
This simple pumpkin recipe can be used to make the most delicious paratha for your child.
You can also add green chilli paste or red chilli powder to the dough for making the parathas spicier.
Use finely chopped mint leaves to add a fresh flavour to your parathas.
You can add some jowar flour while kneading the paratha dough to increase its nutritional value.
Infuse in warm spices like cardamom, cinnamon and nutmeg powder to this homemade pumpkin paratha recipe and make your them more appealing for your kid.
You can also increase the sweetness quotient by adding grated jaggery to your paratha stuffing.
Parathas drizzled with powdered sugar can be very tempting for children.
Nutrition Information (Per Paratha)
| | |
| --- | --- |
| Type | Value |
| Carbohydrates | 32 gram |
| Calories | 269 gram |
| Sugar | 2 gram |
| Sodium | 331 mg |
| Fibre | 5 gram |
| Fat | 15 gram |
| Cholesterol | 17 mg |
| Potassium | 349 gram |
| Vitamin C | 7 mg |
| Magnesium | 59 mg |
| Iron | 2 mg |
| Phosphorous | 161 mg |
| Protein | 6 gram |
| Vitamin A | 5392 IU |
| Zinc | 1 mg |
| Protein | 6 gram |
| Vitamin E | 4 mg |
| Calcium | 26 mg |
| Vitamin B1 | 1 mg |
| Vitamin B2 | 1 mg |
| Vitamin B3 | 2 mg |
| Vitamin B6 | 1 mg |
Health Benefits
If you're looking for a nourishing meal, pumpkin parathas can be a good choice. It is not only nourishing but meets the energy requirement for the entire day. :
As breakfast is the most important meal of the day, pumpkin parathas can be a good choice for breakfast.
Spices like ajwain, cumin seeds, and fennel seeds help improve digestion.
Pumpkin is a good source of nutrition for babies. Its calcium, phosphorous, Vitamin C, A, E, K, folate and riboflavin content helps in preventing anaemia, builds strong bones, teeth, boosts immunity, helps in better functioning of the brain and helps in good eyesight.
Pumpkins are low in fat and calories. Its high fibre content eases bowel movements for babies.
Buying Guide
The guidelines given here can help you make smart decisions while buying the ingredients required for pumpkin parathas.
Check for the expiry date of the spices if you're buying packaged products.
Organic pumpkins bought from an organic store have better health benefits.
Small pumpkins are sweeter to taste.
It is always better to buy smaller quantities of spices that have a strong aroma.
Choose firm, brightly-coloured pumpkins that are free from bruises.
Homemade Pumpkin paratha for babies can be an easy and healthy choice for mothers with a busy lifestyle. You can make a batch of dough, refrigerate and roll them for making parathas whenever your kids get hungry. These hot, flaky flatbreads filled with high nutritive value would certainly make a wholesome meal for your entire family.