Pear And Papaya Chaat Recipe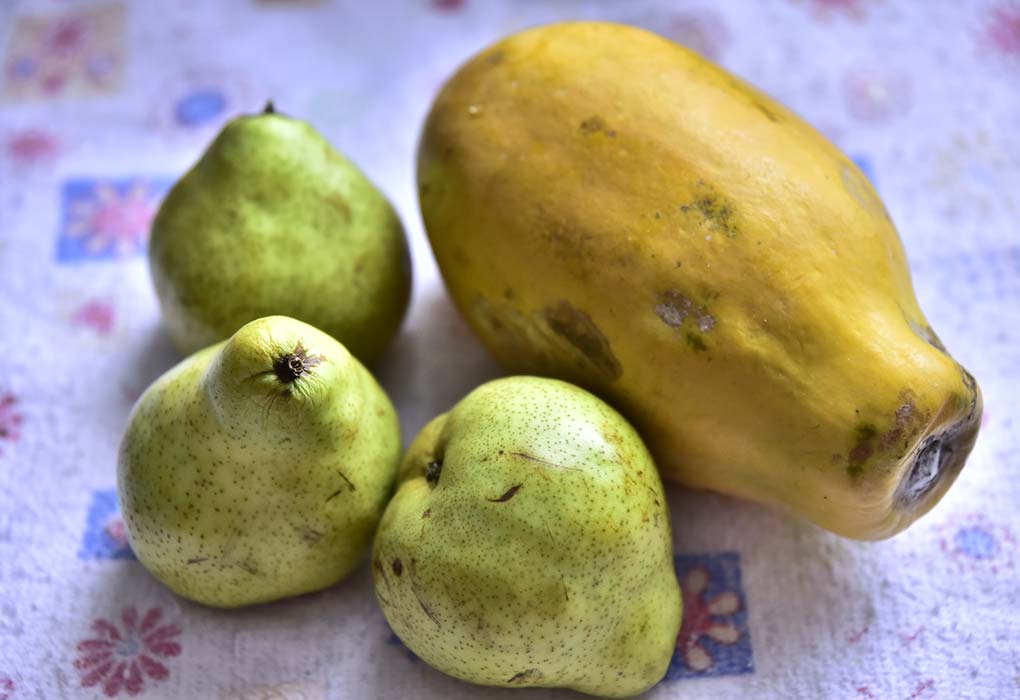 In this Article
It is always tough to feed kids some fruits. When it comes to fruits, they become fussy eaters. Especially fruits like papaya, pear, apples. It takes some time to chew these fruits and kids generally prefer fruits like melon, grapes with more water content. Slyly whip up this easy Pear and Papaya Chaat recipe and watch them lap it all up in a jiffy.
Cooking Time
| | |
| --- | --- |
| Type | Time (hh:mm:ss) |
| Preparation Time | 00:10:00 |
| Cook Time | 00:00:00 |
| Total Time | 00:10:00 |
Cooking Method
No cooking required
Type of Meal
Vegetarian
Suitable For
Weaning toddler older than 16 months of age
Meal Schedule
Mid-day Snack or Desserts.
Recipe Type
Snacks, desserts
Ingredients
| | |
| --- | --- |
| Type | Quantity |
| Pear finely chopped ( preferably peel the skin) | 1 cup |
| Papaya finely chopped | 1 cup |
| Chaat Masala | One teaspoon |
| Salt | As per taste |
Instructions
You may be wondering about how to make Pear and Papaya Chaat which tastes good. Then read on. The combination seems funny, but with this step-by-step guide, you have your solution to your fruity woes:
Wash the pear and peel the skin. Chop the pear into tiny pieces. The pieces should be large enough for your baby to chew.
After chopping, put the pear into a large mixing bowl.
Peel the papaya and deseed it. Chop the papaya into tiny pieces.
Now add the chopped papaya into the bowl along with the pear.
Sprinkle some salt and give the fruits a gentle mix.
Lastly, sprinkle the chaat masala and gently mix it all.
Serve in a bowl garnished with some mint leaves.
Recipe Tips
A few tips to make the homemade Pear and Papaya Chaat baby food recipe a sure success with your little one:
Rinse the fruits thoroughly before peeling and deseeding them.
Chop the pear into very tiny pieces so that your baby can chew it easily.
Chop the papaya into tiny pieces too so that it can be eaten quickly.
Make sure you add the chaat masala as it will enhance the flavour of the pear and papaya.
Do not add any additional sugar to the chaat as the sweetness from the fruits will balance the tanginess of the chaat masala to render the dish a lovely taste.
Nutrition Information (Per 100 Grams)
| | |
| --- | --- |
| Type | Value |
| Calories | 221 kCal |
| Carbohydrates | 57.1 gm |
| Protein | 15 gm |
| Fat | 0.27 gm |
| Fibre | 10.52 gm |
Health Benefits
This Pear and Papaya Chaat for toddlers is loaded and packed with health benefits that can do wonders to the overall health of your baby. Read on to find out:
Pear is rich in Vitamin C and fibre. Vitamin C helps to strengthen your muscles, blood vessels, bones and teeth. The fibre helps to stabilise bowel movements in your kids.
Pear is also helpful in solving breathing problems in children.
Pears are rich in Vitamin A, B1, niacin, B2, folate and Vitamin E and Vitamin C. They are in a nutshell nutrient-rich food that enriches the body with essential minerals and vitamins.
Papaya is rich in antioxidants, carotenoid, Vitamin C and flavonoid. Papaya is also rich in Vitamin B and folate.
A powerful antioxidant, papaya helps to keep the free radicals at bay and increase the oxygen level in the blood.
Vitamin B in papaya boosts the immunity system.
Papaya is also known to be a good source of fibre, thereby aiding the digestive tract and keeps the colon healthy.

Buying Guide
A few things to remember when you buy ingredients for this recipe:
Buy fresh pears that are not very ripe. Very ripe pears tend to be very mushy and will make the chaat into a mush consistency.
Papayas must be ripe and must be ready to eat. Raw papayas are not advisable to be given to kids as it is unsuitable.
Buy chaat masala from supermarkets and in sealed form. Make sure you check the expiry date on the packaging.
An easy to whip up snack, Pear and Papaya Chaat is a healthy dish to serve your kid between meals or as a dessert. It is the best to replace any junk food or finger food that is made of oil or flour to fill the gaps between meals. By introducing fruits in their diet, you will be opening the doors to healthy eating for your kid at a very young age and that will soon become a norm.