Pear Date Milkshake Recipe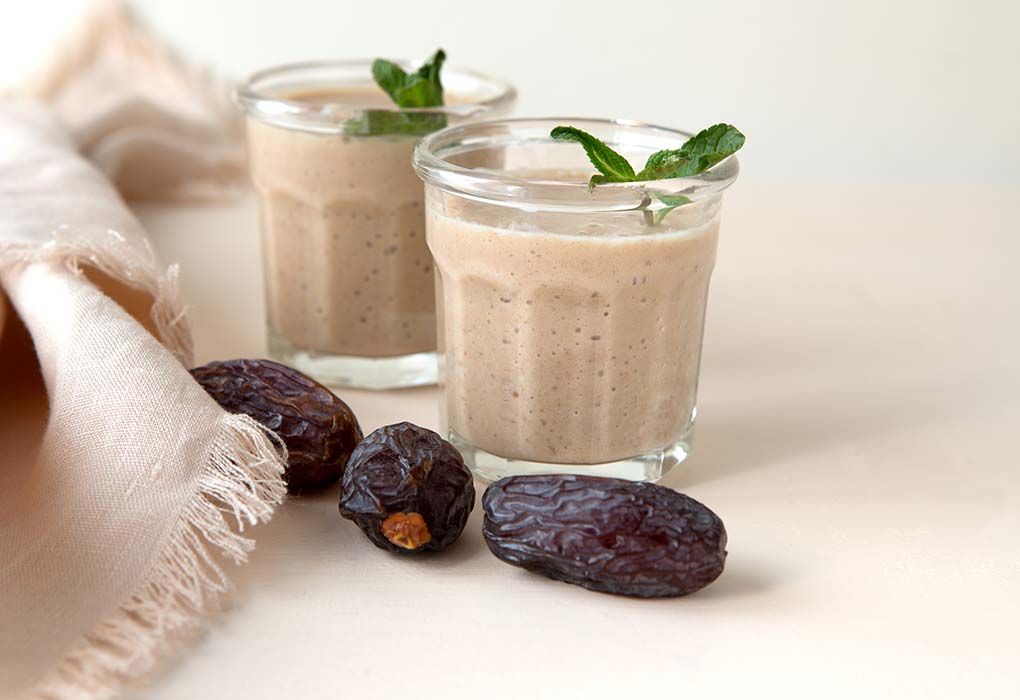 In this Article
Fruits must be an integral part of your toddler's meal. Fruits give the necessary nutrients that your toddlers growing body needs for overall well-rounded growth. Milkshakes are a great way to combine the goodness of fruits and milk and this Pear Date Milkshake for babies is an excellent addition to your toddler's diet chart.
Cooking Time
| | |
| --- | --- |
| Type | Time (hh:mm:ss) |
| Preparation Time | 00:10:00 |
| Cook Time | 00:10:00 |
| Total Time | 00:20:00 |
Cooking Method
Blender or Mixer Jar
Type of Meal
Vegetarian
Suitable For
Any Toddlers above 19 months of age
Meal Schedule
Breakfast, Mid Morning or Evening.
Recipe Type
Snacks, desserts
Ingredients
| | |
| --- | --- |
| Type | Quantity |
| Pear finely chopped ( preferably peel the skin) | 1/2 cup |
| Dates finely chopped | 1/4 cup |
| Milk | 1 cup |
Instructions
Keep reading to know how to make Pear Date Milkshake, and follow this simple step-by-step instruction to get a perfect consistency.
Wash the pear and peel the skin. Chop the pear into pieces and empty them into the blender.
De-seed the dates if they are seeded and chop them into tiny pieces.
Now add the chopped dates into the blender jar along with the pear.
Give a quick whip and let the pear and dates combine well.
Add the milk little by little and keep whipping it continuously.
Once you find the pear and dates have blended well with the milk, you can empty the milkshake into a jug.
Pour in glasses and serve.
Recipe Tips
Now that you don't need any added flavours to include in your baby's milk, all you need to do is follow these tips to get the perfect homemade Pear Date Milkshake baby food recipe:
Rinse the pear before peeling and chopping them.
Make sure you de-seed the dates before you add them to the blender. Even if you buy dates without seeds, a few of them may contain seeds.
Boil the milk before you add it to the milkshake.
Always use cold milk when whipping in the blender as hot milk may cause the mixture to come out of the jar.
You need not add any sugar to the mixture as the natural sugar in the pear and dates will suffice to make the milkshake sweet.
Nutrition Information (Per 100 Grams)
| | |
| --- | --- |
| Type | Value |
| Calories | 121 kCal |
| Carbohydrates | 31 gm |
| Protein | 15 gm |
| Fat | 0.27 gm |
| Fibre | 5.7 gm |
| Sugar | 21 gm |
Health Benefits
This easy Pear Date Milkshake recipe is not just a milkshake but a drink packed with loads of nutrients and benefits:
Pears help regulate breathing problems as they melt the phlegm.
Pears are rich sources of fibre, and Vitamin C. Vitamin C helps to build immunity against cold and flu symptoms. It is also useful to strengthen muscles, bones, teeth and blood vessels.
Pears are rich in fibre and aid in easy bowel movements.
Dates are rich in antioxidants, fibre, calcium and magnesium.
The calcium and magnesium in dates help in the healthy development of bones.
Dates given in moderate quantity is good for the teeth.
Dates are full of fibre and help indigestion.
Milk is also packed with calcium and needed for the healthy development of teeth and bones.
Buying Guide
There are a few things to bear in mind while sourcing ingredients for this recipe:
Make sure you buy pears that are just ripe. If you find that the pears are a bit raw, then let them ripen for a day.
Try to buy organic pears. Organic fruits are free from chemicals and pesticides.
Buy dates in packaged form. Buy seeded dates and de-seed them before using it. Make sure you check the expiry date on the packaging to make sure they are within their perishable date.
Buy full-fat milk as kids will benefit only from full-fat milk.
Milkshakes are a healthy option for kids of all ages. Kids love the slightly thick consistency and find it easy to finish. There is not much chewing involved as kids with developing teeth prefer food that is easy to swallow. Milkshakes are a perfect substitute for toddlers who are fussy eaters. Serve this Pear Date Milkshake in between meals or even for breakfast. With its combination of milk, whole fruit and dried fruit, it makes a great dish to serve to your baby. It is a must on your toddler's diet chart.