Mango Oats Milkshake Recipe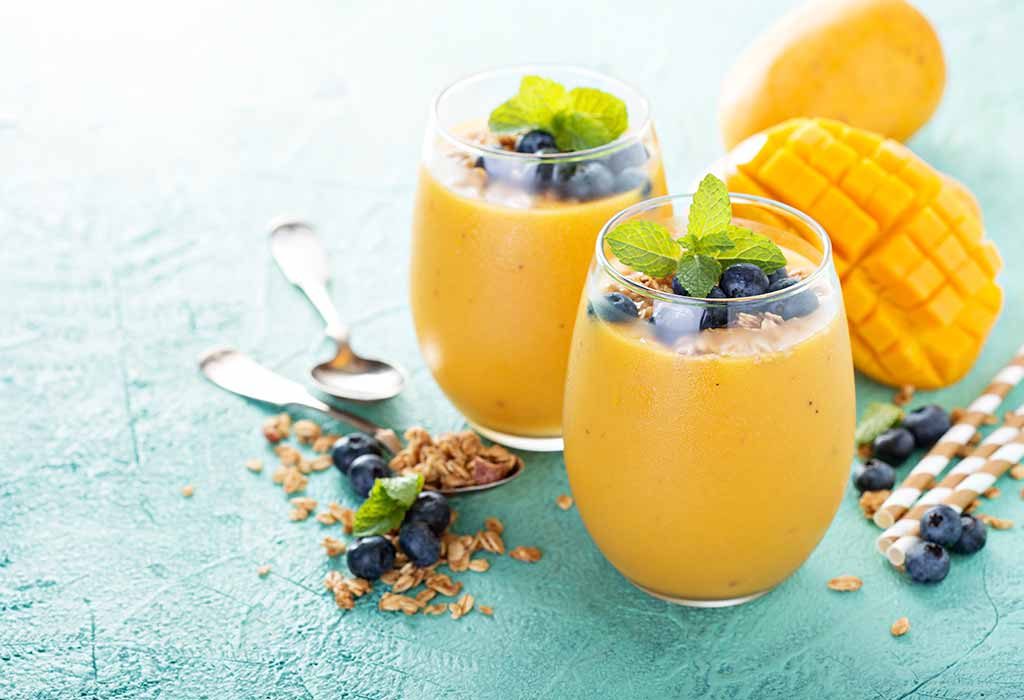 In this Article
There are more than one ways to enjoy the summer and a breakfast milkshake using mangoes and oats is a delicious option. The gradual process of weaning becomes easy when you introduce complementary food like mango and oats that are incredibly healthy for your baby. This wholesome beverage can be a refreshing drink that can be relished at any time of the day. The oatmeal lends it a smooth texture to this already creamy treat that is simple to whip up. Wondering how to make mango oats milkshake? Read on to master the art of making the perfect recipe for this drink to treat your baby and the entire family.
Cooking Time:
| | |
| --- | --- |
| Type | Time (hh:mm:ss) |
| Preparation Time | 00:05:00 |
| Cook Time | 00:01:00 |
| Total Time | 00:06:00 |
Cooking Method: Blender
Type of Meal: Vegetarian beverage (Contains Milk)
Suitable For: Babies above 12 months of age
Meal Schedule: Breakfast, Mid-Morning Snack, Evening Snack.
Recipe Type: Side Dish / Beverage
Ingredients
| | |
| --- | --- |
| Type | Quantity |
| Mango | 1 (ripe) |
| Quick-cooking oats | 4 tsp |
| Milk | ¼ cup |
| Almonds | 10 |
| Sugar/Honey | 2 tsp |
| Yoghurt/Curd | ¾ cup |
| Water | ½ water |
Instructions
Here are step by step directions to make the best mango oats milkshake that would power your child's body throughout the day:
Peel the mango and slice it into cubes.
Boil the milk in a pan, add sugar or honey to it and stir well. Let it cool down completely.
Grind the almonds coarsely in a blender.
Put oats in a blender and blend it at high speed till it turns into a powder.
Transfer the mango cubes, yoghurt and oatmeal powder into a blender and blend until smooth.
Add a splash of milk for desired consistency.
Gently pour out the milkshake into a tall glass and check for the sweetness.
Add more honey or sugar if needed.
Serve chilled or at room temperature.
Recipe Tips
You can use this simple mango oats milkshake recipe to prepare a chilled smoothie that will be your child's favourite drink after playtime. Make sure the mangoes are ripe enough, and you can use chilled yoghurt and frozen mango cubes to make the smoothest milkshake.
This homemade mango oats milkshake baby food recipe can be made using sweetener like maple syrup instead of sugar depending upon the sweetness of the fruit.
For older babies, you can use flax seeds, sunflower seeds instead of almonds for making it more nutrient-rich.
Add water for a thinner consistency of the milkshake.
Soak the oats overnight for making them more digestible.
Sprinkle chia seeds or almonds for some crunch.
Use soya milk or almond milk if you wish to keep your smoothie dairy-free.
Nutrition Information (Per 1 serving)
| | |
| --- | --- |
| Type | Value |
| Energy | 240 kCal |
| Carbohydrates | 65.9 gm |
| Sugar | 35 gm |
| Calcium | 44 mg |
| Iron | 0.5 mg |
| Protein | 5.8 gm |
| Sodium | 139.4 mg |
| Fibre | 5 gm |
| Fat | 4.6 gm |
| Potassium | 598 mg |
| Vitamin A | 1785 IU |
| Vitamin C | 66.8 mg |
Health Benefits
Here are some health benefits of a glassful of the superfood – Mango Oats Milkshake for babies:
Packed with plenty of protein, fibre and flavour, the mango oats milkshake will keep your baby's tummy full until lunchtime.
Oat bran is high in fibre that provides polyunsaturated fats and protein.
Mangoes are low in calories and loaded with nutrients. Its Vitamin C, Vitamin K and Vitamin E content helps in boosting immunity, iron absorption, growth and repair of the body. Its Vitamin A content is essential for good eyesight while the amino acid present in mangoes is critical for brain development.
The high level of carotenoids helps in warding off a common cold for babies.
Including mangoes in any form in your baby's diet as it offers a delicious alternative saving you from feeding time tantrum.
The calcium content of yoghurt or milk is essential for healthy bones and teeth in babies. Calcium prevents childhood obesity, while its protein content in milk serves as the best source of energy for children.
Almonds contain healthy fat, fibre, magnesium and Vitamin E that reduce hunger and lowers blood sugar levels.
Buying Guide
Here are buying tips that you should keep in mind while picking up ingredients for mango oats milkshake for your baby:
Ripe mangoes have a fruity aroma at their stem ends. The red colour is not the right indicator of a mango's ripeness.
Buy organic fruits (if possible) from an excellent vendor to ensure its optimum quality.
Check the expiry date of the milk carton before buying.
Rolled oats cook faster than steel-cut oats, but Quick oats are creamier and are over-processed. Steel-cut oats retain all the nutrients of whole oats.
This quick mango oats milkshake for babies is a tempting summertime bliss that will make your baby happy and recharge their energy for the entire day.