Soya Curry Recipe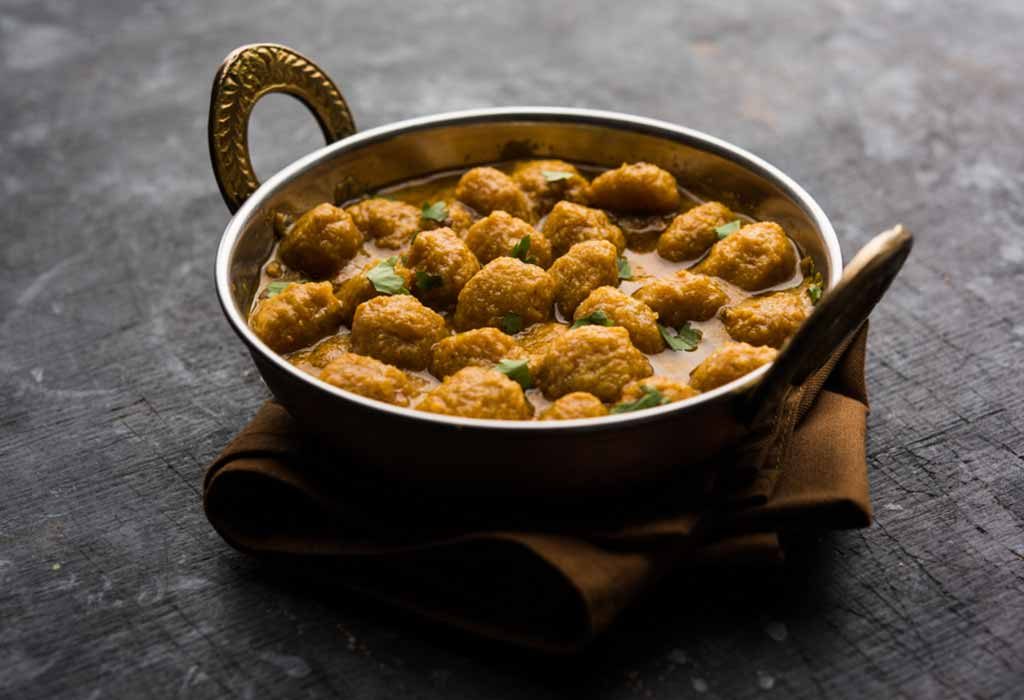 One of the best sources of protein after breast milk is poultry and soya! Children, during their growth years, need a protein-rich diet for their overall growth, development, and energy requirements. Soya nuggets or soya chunks are one of the best sources of protein especially for kids as they would love the texture and taste of a well-cooked soya bean. Including soya bean in the everyday diet of kids will make sure that they get the required amount of protein and essential nutrients. This soya chunks curry is easy to cook and is enriched with delightful flavours! Read on to find out how to make soya curry at home for your baby.
Cooking Time
| | |
| --- | --- |
| Type | Time (hh:mm:ss) |
| Preparation Time | 00:20:00 |
| Cook Time | 00:20:00 |
| Total Time | 00:40:00 |
Cooking Method
Gas
Type of Meal
Vegetarian
Suitable For
Toddlers older than 20 months of age
Meal Schedule
Breakfast, Lunch or Dinner
Recipe Type
Main Dish
Ingredients
| | |
| --- | --- |
| Type | Quantity |
| Soya chunks | 1 Bowl |
| Oil | 1 tablespoon |
| Onions | 1 medium-sized |
| Tomato | 1 medium-sized |
| Ginger garlic paste | 1 teaspoon |
| Garam masala powder (optional) | ½ teaspoon |
| Turmeric powder | 1 teaspoon |
| Water | 2 cups |
| Salt | As required |
| Coriander leaves | A handful |
Instructions
Below mentioned are the step by step directions to make Soya curry:
Get all the ingredients ready for a hassle-free cooking experience. Soak the soya chunks in a bowl of water for about 1.5 to 2 hours. Once soggy, squeeze out the excess water from the soya chunks and keep it aside.
Heat oil in a pan and add onions. Cook on medium flame until the onions turn translucent.
Next, add the ginger-garlic paste and cook for another 1-2 minutes until the raw smell goes away.
Once the onions and ginger garlic paste is done, add the tomatoes. Cook till the tomatoes soften and turn mushy.
Now, add turmeric powder, salt and garam masala powder, and mix well.
Add water to the pan and then the soya chunks. Cook on low flame for about 10-12 minutes until the soya chunks have absorbed all the flavour.
Open the lid and stir occasionally. Once done, add the coriander leaves and serve hot with chapati or rice.
Recipe Tips
This simple soya curry recipe can also be made with some veggies of your choice.
The homemade soy curry baby food recipe is best served hot along with chapati or rice.
For toddlers and very young babies, you may skip the garam masala powder or reduce the quantity accordingly.
Adjust water according to the consistency that you prefer.
It is highly recommended to consult with your paediatrician before introducing any new recipes to young babies.
Nutrition Information (Per 200 Grams or 1 cup serving)
| | |
| --- | --- |
| Type | Value |
| Carbohydrates | 7.5 grams |
| Calcium | 86.4 milligrams |
| Iron | 3.7 milligrams |
| Protein | 15.6 grams |
| Fat | 7 grams |
| Fibre | 8.3 grams |
| Magnesium | 63 milligrams |
| Phosphorous | 248.4 milligrams |
| Potassium | 646.9 milligrams |
| Sodium | 0.7 milligrams |
| Zinc | 1.2 milligrams |
| Folic acid Vitamin B9 | 36 micrograms |
| Vitamin A | 153.4 micrograms |
| Vitamin C | 2.2 milligrams |
| Vitamin E | 0.3 milligrams |
| Vitamin B1 | 0.3 milligrams |
| Vitamin B2 | 0.1 micrograms |
| Vitamin B3 | 1.1 milligrams |
Health Benefits
Soya chunks are considered to be vegetarian's meat! But did you know that this simple to make and super tasty soya bean chunk is loaded with so many health benefits:
Soya beans are a great source of protein and a decent source of carbohydrates and fats.
Research shows that soya beans may help lower cholesterol, it helps reduce the LDL cholesterol and also helps in raising the HDL cholesterol.
Soya beans also boost fertility in women, it is considered beneficial for women trying to conceive and undergoing fertility treatment. It helps boost ovulation and menstrual cycles in women with PCOD and hormonal imbalances.
The isoflavones in the soya beans aid in reducing the menopause symptoms in women.
Soya beans are the best source of plant-based protein and also an excellent source of many nutrients and phytochemicals.
Soya contains prebiotic fibre and also provides a small amount of vitamin E, niacin, vitamin B6, and pantothenic acid.
Buying Guide
Below mentioned are certain buying tips while choosing the ingredients for baby food recipes:
Always buy the soya chunks from a trusted source or brand.
If including veggies in the recipe then make sure that you buy organic veggies and wash them thoroughly before cooking.
Soya curry for babies can be made in a variety of different styles at home. It is an easy to cook recipe, that will be loved by kids and adults both!