Ragi Tomato Soup Recipe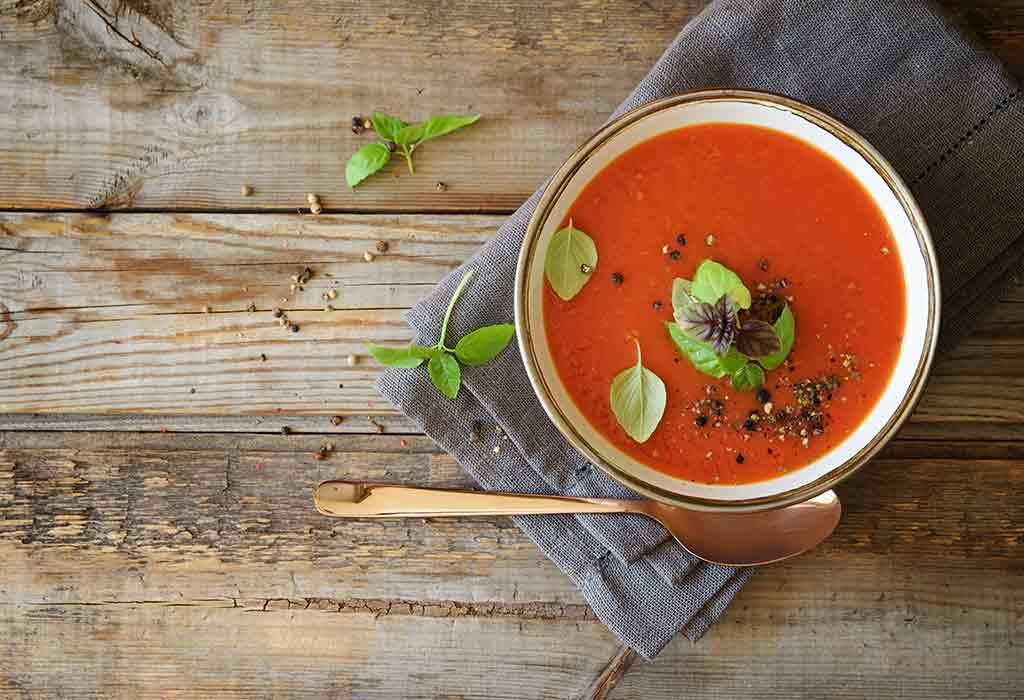 In this Article
If you are looking for a filling meal recipe that is loaded with nutrients, then this easy ragi tomato soup recipe will satisfy all the criteria. The delectable combination of ragi ( finger millet), onions, peas, tomatoes and carrots is an apt dish for your toddler. A perfect dish to start your baby on solids, try this to make it a dining table staple.
Cooking Time
| | |
| --- | --- |
| Type | Time (hh:mm:ss) |
| Preparation Time | 00:10:00 |
| Cook Time | 00:25:00 |
| Total Time | 00:30:00 |
Cooking Method
Gas, Blender or Mixer Jar
Type of Meal
Vegetarian
Suitable For
Any toddlers above 17 months of age
Meal Schedule
Appetizers and Main Course.
Recipe Type
Main Dish
Ingredients
| | |
| --- | --- |
| Type | Quantity |
| Ragi or Finger Millet flour | Three tablespoons |
| Onion | One medium |
| Carrots finely chopped | ½ tablespoon |
| Peas | ½ tablespoon |
| Tomato | ½ tablespoon |
| Green Chilli (optional) | ½ |
| Salt | ½ teaspoon or as per taste |
| Black Pepper Powder | One teaspoon |
| Water | As required |
Instructions
You must be wondering about how you would whip up this combination of ragi and vegetables as a soup. Well, this homemade ragi tomato soup baby food recipe is your step-by-step guide to success:
To start with peel and chop the onions in a bowl.
Wash the green chillies(optional), tomatoes, carrots and peas and coriander under running water.
Once done, chop the chillies(optional), tomatoes, carrots and coriander finely and place them in small bowls separately.
Boil the carrots, tomatoes and peas and keep aside.
Next, add the ragi flour along with the green chilli (optional)and onion. Add some water and grind this into a thick paste. Once it is done, transfer the paste into a bowl and add water to mix well.
Sieve the mixture using a strainer and keep it aside.
Take a deep bottomed pan and add this ragi flour paste. Add the tomatoes, carrots and peas boiled mixture and salt. Mix everything well and let the mixture come to a boil. This procedure will take about 8-10 minutes.
Once done, transfer the soup into serving bowls. Add salt and black pepper powder. Garnish with coriander and serve hot.
Recipe Tips
Now that you know how to make ragi tomato soup, these tips will help you to perfect it:
Blend the ragi flour with the onion and green chilli(optional) into a thick paste. It should not be too thin, and the onions and green chillies must mix well with the ragi flour.
Try to use freshly ground pepper. It enhances the taste of the soup. You can use the pepper grinder or just the mortar and pestle and crush the peppercorns.
Boil the carrots, tomatoes and peas together with a pinch of salt.
Nutrition Information (Per 100 Grams)
| | |
| --- | --- |
| Type | Value |
| Calories | 150 kCal |
| Carbohydrates | 70 gms |
| Protein | 50.9 gms |
| Fat | 15 gm |
| Fibre | 3 gms |
| Cholesterol | 11.8 mg |
| Sodium | 33.5 mg |
Health Benefits
One cannot negate the following health benefits of Ragi Tomato Soup for toddlers.
Ragi flour is rich in nutrients and iron that help indigestion. The high density of calcium and iron helps in the development of bones and overall development of the organs.
Carrots are loaded with Vitamin A and good for the eyes. They are also a rich source of fibre and are powerful antioxidants for boosting immunity.
Peas are a rich source of Vitamin C, folate and fibre. Peas pack in loads of nutrition and help in the developments of brain, eye and bone health.
Tomatoes are rich in Vitamin A and C. They help prevent cold and flu-like symptoms.
Buying Guide
Things to keep in mind while buying ingredients for ragi tomato soup:
You can use frozen peas if you do not have fresh ones. It is good to use fresh ones as this will enhance the flavour of the soup.
Ragi flour can be made at home. You will have to buy the seeds, soak them in water and then dry them on a towel. Once it is thoroughly dried, you will need to grind them finely in a mixer jar. Alternatively, you could also powder it in a mill.
Pick only ripe tomatoes. Only ripe tomatoes will cook quickly along with the carrots and peas.
You can choose to pair this healthy soup with a piece of wholemeal bread or roti to relish the flavours. A super- delicious soup suited for both monsoon and winter seasons, it is sure to become a hit with your growing baby.