Jowar (Sorghum) Roti Recipe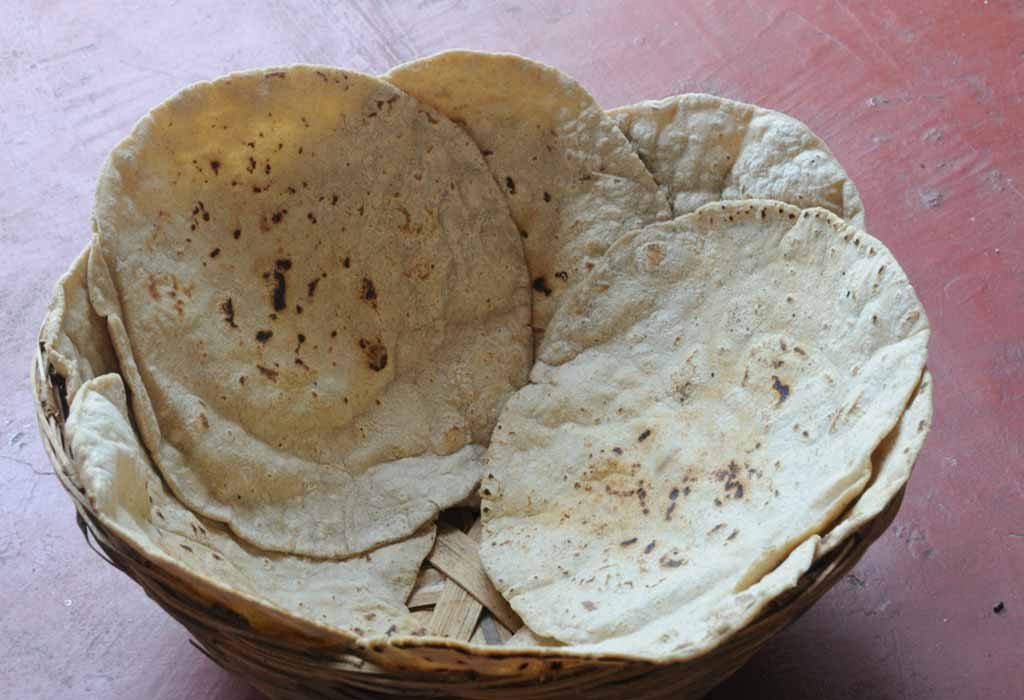 In this Article
At around 10 to 12 months of age, your baby needs added nutrition to fulfil his growing developmental needs. This is the right age to include different kinds of flours in your baby's diet and jowar or sorghum flour can help your baby get the much-needed dose of calcium, phosphorus, iron, and potassium.
Cooking Time
| | |
| --- | --- |
| Type | Time |
| Preparation Time | 00:10:00 |
| Cook Time | 00:10:00 |
| Total Time | 00:20:00 |
Cooking Method
Gas
Type of Meal
vegetarian
Suitable For
Toddlers over 21 months of age
Meal Schedule
Lunch or Dinner
Recipe Type
Main Dishes
Ingredients
You will need the following ingredients to make jowar (sorghum) roIti for toddlers:
| | |
| --- | --- |
| Type | Quantity/ volume |
| Jowar flour | 4 tablespoons |
| Bajra flour | 2 tablespoon |
| Carrot, grated | 2 tablespoon |
| Bottle gourd, grated | 2 tablespoon |
| Fenugreek leaves, finely chopped | 1 tablespoon |
| Salt | To taste |
| Ghee, for frying | As required |
| Water, for kneading | As required |
Instructions
Follow these step by step directions to make yummy jowar rotis for your munchkin:
Mix jowar and bajra flour in a big bowl.
Add salt, grated carrots, chopped fenugreek leaves, and grated bottle gourd in the flour mixture. Give a thorough mix.
Add water to the flour mixture and knead to make a soft dough.
Divide dough into seven to eight equal parts and use jowar flour to roll these dough balls into thin rotis.
Heat tawa and cook these rotis on medium flame. Smear ghee on both sides to make crispy rotis.
Serve these yummy rotis with homemade curd!
Recipe Tips
After learning how to make jowar (sorghum) roti, learn some tips too for the added perfection:
You can add wheat flour in place of bajra flour to make softer rotis. You can add soya, ragi and other kinds of flours with jowar flour to make nutritious rotis for your little one.
Use warm water to knead the dough. Warm water helps in making softer dough for the rotis.
You can add chopped spinach leaves, grated pumpkin, chopped coriander leaves, and other such leafy vegetables or herbs for the added flavor.
Adding spices like whole cumin and carom seeds will help enhance the taste of the rotis.
You can make the rotis sans salt and serve them with ghee and jaggery if your baby prefers eating sweets instead of savoury dishes.
Make sure you make fresh rotis for your kiddo as jowar rotis tend to become hard when cold.
Nutrition Information (Serving Per 100 Grams)
Here is the nutritional information present in 100 grams of homemade jowar (sorghum) roti baby food recipe:
| | |
| --- | --- |
| Type | Value |
| Energy | 350 calories |
| Carbohydrates | 75 grams |
| Protein | 11 grams |
| Fibre | 12 grams |
| Fat | 18 grams |
| Sodium | 7 milligrams |
| Potassium | 670 milligrams |
Table Source
https://www.tarladalal.com/Jowar-and-Bajra-Vegetable-Roti-(-Baby-and-Toddler)-3079r
The table indicates the approximate nutritional content present in the jowar rotis. The actual nutritional content may vary.
Health Benefits
Here are some of the many health benefits of this simple jowar (sorghum) roti recipe:
Jowar is loaded with fibre and ample amounts of fibre in your baby's diet helps in adding bulk to the stool, which in turn facilitates smoother bowel movements and also keeps other digestive issues at bay.
High amounts of iron in jowar helps in increasing the red blood cells in the body. Ample amounts of calcium, copper, and magnesium in jowar helps in strengthening the bones and making the tissues strong. Together all these nutrients help in building better immunity in babies.
Jowar is sans gluten, thus an ideal meal option for babies with gluten sensitivity.
Ample dosage of protein in jowar is helpful in giving energy to the body and is also great for the regeneration of cells.
Buying Guide
Follow these simple buying tips whenever you buy ingredients to make jowar rotis for your child:
Always buy branded and food-grade products from a well-known brand to avoid any kind of food adulteration.
Make sure you check the date of manufacturing or date of packing when buying jowar flour. Though jowar flour has a shelf life of 6 to 8 months, however, stale flour may increase the risk of weevils or tiny insects that may make it unfit for consumption.
Always buy organic products when it comes to buying food products for your baby.
Next time you are bored of making usual rotis for your baby and looking for some healthy alternate, try this easy to make jowar roti!