Lauki Kofta Recipe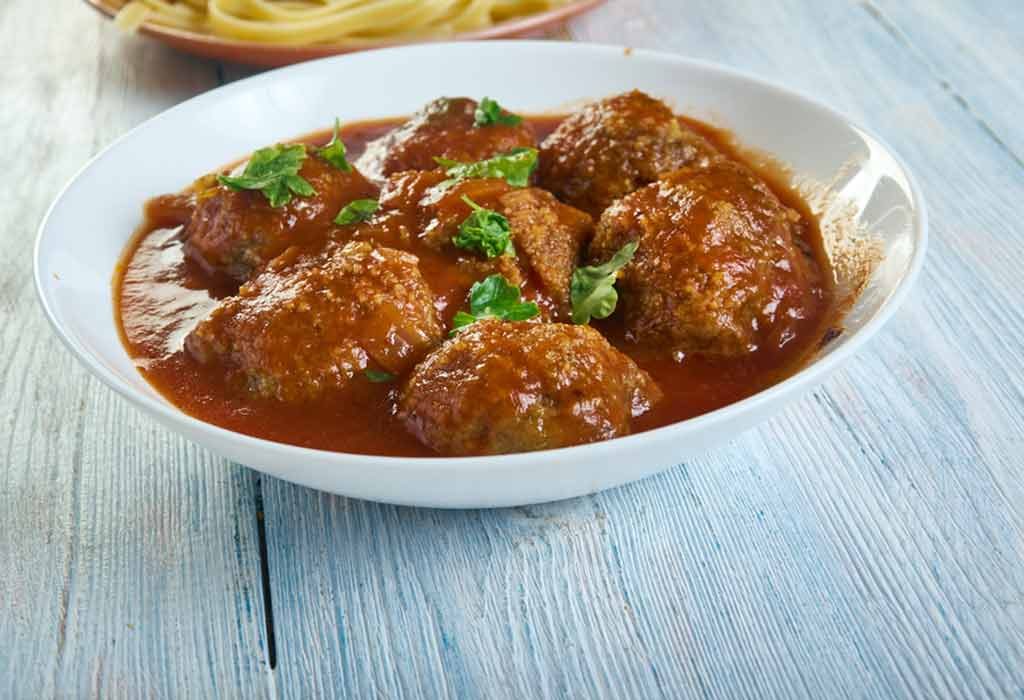 This wholesome, quick, and easy to make main course dish, lauki kofta recipe is perfect for an everyday lunch or dinner for your little prince or princess! Lauki kofta provides a good amount of both soluble and insoluble water and fibre and is considered to be the best nutritious food for babies. Lauki helps cool down body temperature and keeps the heart-healthy. Read below to find out how to make lauki kofta for your baby.
Cooking Time
| | |
| --- | --- |
| Type | Time (hh:mm:ss) |
| Preparation Time | 00:20:00 |
| Cook Time | 00:40:00 |
| Total Time | 00:60:00 |
Cooking Method
Gas
Type of Meal
Vegetarian
Suitable For
Babies older than 11 months of age
Meal Schedule
Lunch or Dinner.
Recipe Type
Main Course
Ingredients
| | |
| --- | --- |
| Type | Quantity |
| Lauki | One medium-sized |
| Coriander leaves | A handful |
| Onions | 1 medium-sized |
| Tomato | 2 medium-sized |
| Ginger | 1 small finely chopped |
| Kitchen King masala (optional) | ½ teaspoon |
| Coriander powder | ½ teaspoon |
| Garam Masala(optional) | 1 pinch |
| Turmeric powder | 1 teaspoon |
| Besan | 2 tablespoons |
| Baking soda | 1 pinch |
| Water | 3 cups |
| Salt | As required |
| Oil or homemade ghee | 1 tablespoon |
| Cumin seeds | ½ teaspoon |
Instructions
Mentioned below are the step by step directions to make lauki kofta:
To begin with, wash all the veggies thoroughly under running water.
Peel and grate lauki and boil in salted water for 2 minutes.
After this let it cool and squeeze out all the water, you can use this water in the gravy later as it has nutrients.
Put the squeezed out lauki in a container and add a very little salt, turmeric powder, some garlic, coriander leaves, and a hint of garam masala and mix well.
Now add two big spoonfuls of gram flour (besan) to the mixture along with a pinch of baking soda and one spoon coconut oil and mix properly.
Add some water to the mixture and make a thick paste.
Next, you will need to grease your palms with some oil and take a small portion of the mix and make a round or oval shape.
Then prepare a small pan and add minimum oil to it and fry the koftas on medium heat and put them aside.
After this, make the gravy for koftas by frying finely chopped onions in minimum oil till they look caramelised.
You can now add grind tomatoes, turmeric powder, coriander powder and a pinch of kitchen king masala and fry it till it gives a thick paste.
Add water and salt to it and let it boil for a few minutes till the smell of raw masala is gone.
Add koftas with coriander leaves and serve with freshly made rotis or rice!
Recipe Tips
This simple lauki kofta recipe can also be made without frying in oil and just by baking them in the microwave, which is even better for babies.
The homemade lauki kofta baby food recipe is best if served hot or warm otherwise, and it may get very soft and crumble.
Make sure you pick the freshest lauki and other ingredients for better nutrition and health benefits.
For small babies, it is better to skip green chillies, ginger, garam masala, and kitchen king powder from the recipe.
Nutrition Information (Per 200 Grams or 1 cup serving)
| | |
| --- | --- |
| Type | Value |
| Carbohydrates | 16.9 grams |
| Calcium | 42.7 milligrams |
| Iron | 1.6 milligrams |
| Protein | 4.9 grams |
| Fat | 2.6 grams |
| Fibre | 4.6 grams |
| Magnesium | 43.4 milligrams |
| Phosphorous | 88.1 milligrams |
| Potassium | 248 milligrams |
| Sodium | 89.6 milligrams |
| Zinc | 0.5 milligrams |
Health Benefits
This lauki kofta recipe is super delicious and has numerous health benefits. Read on to find out more:
The delicious lauki kofta is packed with nutritious goodness, taste, and a healthy dose of vitamins, carbohydrates, phosphorous, magnesium, calcium, and potassium.
According to the ancient Ayurveda, lauki has medicinal benefits and is used as an antidote for certain poisons as well as to treat cough, cold, and headache.
Lauki kofta is also high in dietary fibre and improves the digestive system and immunity of the baby.
Buying Guide
Below mentioned are certain buying tips while choosing the ingredients for baby food recipes:
For lauki kofta, try to buy fresh and unripe lauki as ripened lauki has more seeds and a fibre-like texture that makes it difficult to eat.
Also, it is better to use organic vegetables in making lauki kofta for babies, as they are free of harmful chemicals and pesticides.
Lauki kofta for babies can be made in very simple steps at home. It is easy to cook recipe, that goes well with kids and adults as well!