Chole Palak Recipe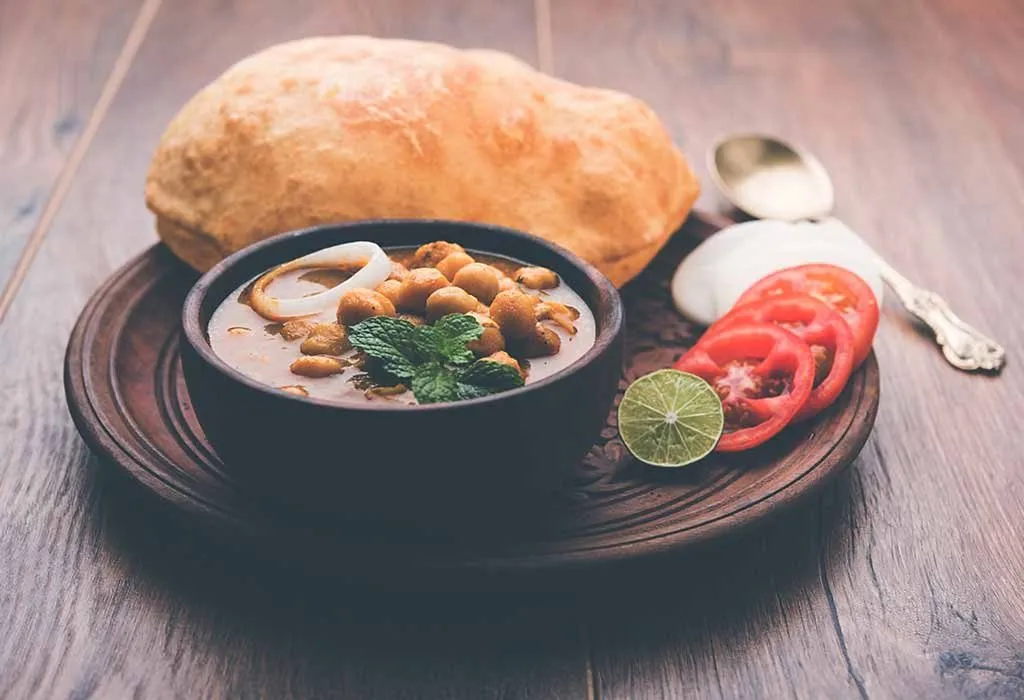 In this Article
You must be aware of the power of spinach and its health importance. Additionally, chickpeas are a good replacement for meat in a vegetarian diet. Chole palak is a traditional North Indian recipe that is mainly made with a combination of chickpeas cooked in a thick gravy of spinach and flavoured with spices. Its irresistible taste and high nutrition value make it a wholesome meal idea for lunch or dinner. This delicious curry can be ideally served with chapatti, paratha, bhatura, or rice. Find out how to make chole palak most effortlessly.
Cooking Time
| | |
| --- | --- |
| Type | Time (hh:mm:ss) |
| Preparation Time | 00:10:00 |
| Cook Time | 00:40:00 |
| Total Time | 00:50:00 |
Cooking Method:
Gas
Type of Meal:
Vegetarian
Suitable For:
Babies older 12 months of age
Meal Schedule:
Breakfast, Lunch, or Dinner
Recipe Type:
Side Dish
Ingredients
| | |
| --- | --- |
| Type | Quantity |
| Kabuli Chana (chickpeas) | ½ Cup |
| Spinach Leaves | 4 Cups |
| Garlic Cloves | 5-6 |
| Water | 2 Cup |
| Salt | As Per Taste |
| Ghee/Clarified Butter | 2 Tbsp |
| Tomatoes | 1, chopped |
| Garam Masala | 1 Tsp |
| Coriander Powder | 1 Tsp |
| Coriander Leaves | 2 Tbsp |
| Lemon Juice | 1 Tsp |
| Onion | 1, chopped |
| Ginger | ½ Inch |
| Bay Leaf | 1 |
| Cinnamon Stick | 1 Inch |
| Cardamom (Black/Green) | 1 |
Instructions
The step-by-step directions given here can be used to sharpen your culinary skills and cook chole palak to ultimate perfection.
Rinse the chickpeas a couple of times with clean water and soak them overnight.
The next day, rinse them once again and drain out the water.
Then, add 3-4 cups of water and 1/4th tsp of salt to the chickpeas and cook them in a pressure cooker.
Grind the onion, ginger, and garlic into a smooth paste. Set it aside.
Rinse the spinach leaves well to wash off silt and dirt. Chop the leaves and blanch them for 3 minutes.
Drain out the water after the spinach cools down and make a smooth paste in a mixer.
Heat the ghee in a pan. Throw in the bay leaf, cardamom, and cinnamon stick.
Add the onion, ginger, garlic paste to it. Mix and sauté till it turns light brown.
Add the chopped tomatoes and stir well with the masala and until the ghee starts separating.
Reduce the flame and add the boiled chickpeas along with water. Cook for 3-4 minutes.
Add the spinach paste, coriander powder, and garam masala.
Add some water if needed.
Squeeze in the lemon juice.
Simmer the gravy till it thickens and garnish with some coriander leaves on top.
Recipe Tips
This simple chole palak recipe can be spiced up using green chillies or chilli powder for older children.
Add some kasuri methi to enhance the flavour.
Add crushed pomegranate seeds powder or amchur powder (dry mango powder) for some tanginess.
You can add tomato puree instead of chopped tomatoes to make the gravy.
Adding powdered cashew nut to the gravy thickens it.
Nutrition Information (Per Serving)
| | |
| --- | --- |
| Type | Value |
| Carbohydrates | 33 gram |
| Energy | 225 kcal |
| Protein | 4.5 gram |
| Sodium | 26.3 gram |
| Fibre | 7.2 gram |
| Fat | 8 gram |
| Sugar | 9.2 gram |
| Potassium | 1056 mg |
| | |
Health Benefits
Chole palak can be a nutritional option for your kid's mealtime as it has exceptional health benefits. Some of its health benefits are given below.
Spinach is a great source of iron which helps in increasing the RBC in blood. The presence of dietary magnesium in spinach plays a part in maintaining muscle and nerve function, energy metabolism, and a healthy immune system for children.
Consuming spinach leads to improved bone health, lowered risk of developing asthma, and lowered risk of cancer.
Chickpea is a rich source of vital minerals, vitamins, and fibre that improves digestion.
Chickpeas are a great source of protein and can be included in vegetarian and vegan diets.
Eating chole palak improves digestion and eases bowel movement in kids.
Chickpeas provide Vitamin C, E, and beta-carotene, along with valuable antioxidants that protect your child from chronic illnesses.
Buying Guide
This buying guide for making chole palak simplifies the purchasing process by providing the necessary information required to choose the best quality products.
If you're buying sealed packed chickpeas, then look for its expiry date. Chickpeas that are infested with small pests should be avoided.
Spices need to have a strong aroma, dark colour, and preferably bought in small quantities.
Choose spinach leaves that are grown organically. Locally grown fresh spinach that is available in plenty in farmer's market can also be bought.
Addition of spinach enhances the taste and nutritive value of this recipe. Chole palak for babies made with love and care can be relished at least once or twice a week.