Soya Wheat Gud Papdi Recipe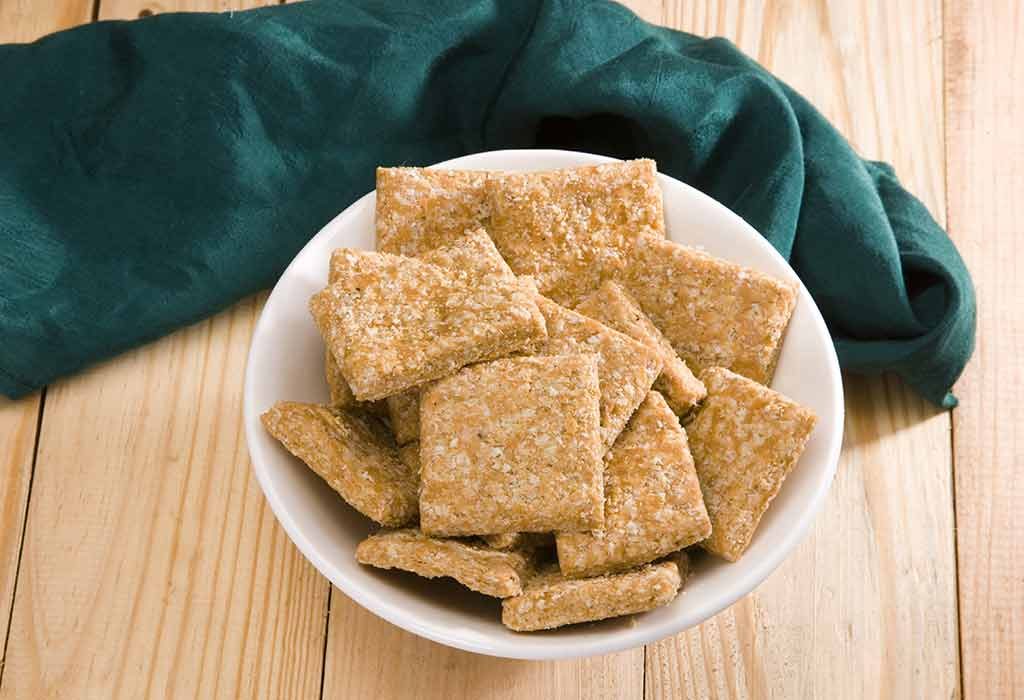 In this Article
Who doesn't like delicious gur papdis that melt in the mouth? More so, if you have a child at home with a sweet tooth. This popular Gujrati recipe has a soft texture and can be prepared using soya wheat, ghee and jaggery which makes it extremely healthy. Due to its long shelf life, this dry traditional dessert can be your travel companion, child's snack box idea, or an ideal treat for your family during a special occasion. Easy to make, this finger food for weaning babies and toddlers include the goodness of its ingredients that add nutritional value to your baby's daily diet. Mainly prepared during winter, check out how to make soya wheat gur papdi in the most authentic way and get complimented for your culinary skills.
Cooking Time
| | |
| --- | --- |
| Type | Time (hh:mm:ss) |
| Preparation Time | 00:10:00 |
| Cook Time | 00:10:00 |
| Total Time | 00:20:00 |
Cooking Method
Gas Stove
Type of Meal
Vegetarian
Suitable For
Toddlers older than 18 months of age
Meal Schedule
Breakfast, Snack or After-meal dessert
Recipe Type
Main Dish
Ingredients
| | |
| --- | --- |
| Type | Quantity |
| Whole Wheat Flour | ½ cup |
| Soya Flour | ¼ Cup |
| Ghee | ¼ Cup |
| Grated Jaggery | ½ Cup |
| Almond | 1 Tbsp Chopped |
| Cardamom Powder | 1 Pinch |
Instructions
The step by step directions given here will guide in making your culinary skills sharper as your child enjoys the rustic flavour of this dish.
Grate jaggery, chop almonds and set them aside.
Heat ghee in a non-stick pan.
Add wheat flour and soya flour together. Keep roasting it continuously for 3-5 minutes until it turns golden-brown.
Mix well until the jaggery is mixed evenly with the wheat and soya flour.
Add the cardamom powder to it.
Grease a thali with ghee. Put the mixture into it and level it evenly.
Sprinkle chopped almonds and keep it aside for 10 minutes.
Cut it into diamond-shaped equal pieces while it is still hot using a greased knife.
Cool down and serve or store them in an air-tight container.
Recipe Tips
This simple soya wheat gur papdi recipe tastes better with ghee made at home as it is free from synthetic hormones, pesticides and GMOs.
After adding jaggery, mix everything well fast and transfer it to a plate or else it will crumble and the barfi can't get the desired shape.
This homemade soya wheat gur papdi baby food recipe can be made easily at home using your kitchen shelf ingredients.
Palm jaggery, date palm jaggery, sugarcane jaggery are some of the varieties that are available in stores.
You may use nutmeg powder instead of cardamom powder.
Use powdered jaggery or grated jaggery so that it gets easily mixed.
Nutrition Information (Per 1 Serving)
| | |
| --- | --- |
| Type | Value |
| Energy | 310 Cal |
| Carbohydrates | 35 gram |
| Protein | 3.3 gram |
| Sodium | 1.4 mg |
| Fibre | 1.8 gram |
| Fat | 17.5 gram |
Health Benefits
Soya gur papdis are flavoursome whole-wheat treats that have exceptional health benefits for children:
Whole wheat flour has a nutty sweet favour and contains vitamins and minerals that are essential for your child. Phosphorous works closely with calcium to build the bones. Carbohydrates in wheat provides energy for the entire day. Niacin in wheat flour is good for brain functioning. Its iron content prevents anaemia.
Soya flour is a high-quality source of protein especially for children from vegetarian households. Its neutral flavour allows it to mix with extreme flavours.
The dietary fibre of soya flour reduces constipation and promotes a healthy gastrointestinal system.
Jaggery is often called as medicinal sugar as it contains minerals, iron, calcium, magnesium and phosphorous that are needed for the healthy growth and vital development of your child.
Ghee is a good source of energy for those sensitive to lactose. It can reduce the symptoms of inflammatory conditions, help in digestion and enhance the function of your child's immune system. It also provides general moisturizing for the skin and healthy hair.
Buying Guide
This buying guide is most beneficial for those who want to go shopping for the ingredients that are needed to make the tastiest soya gur papdi recipe.
Take a note of the shelf life, unadulterated and non-GMO variety and brand name before buying ghee.
The colour of the jaggery is important for identifying its purity. It is available in in solid, liquid or granular form.
Buy organic soya flour as those beans are naturally grown and retain the best nutrition. Check the pack and use by date on the label.
Before buying whole wheat flour, check for gluten-free, fibre content, nutrition facts on the pack of your 100% whole wheat flour.
Called Kasaar in Mathura, Sukhdi in Sindhi community, homemade soya wheat gur papdi for babies is a healthy energizing snack for babies and toddlers alike. So, the next time hunger pangs strike your kid, don't order. Just cook this delectable snack and spread the joy.
?>