Seviya Coconut Upma Recipe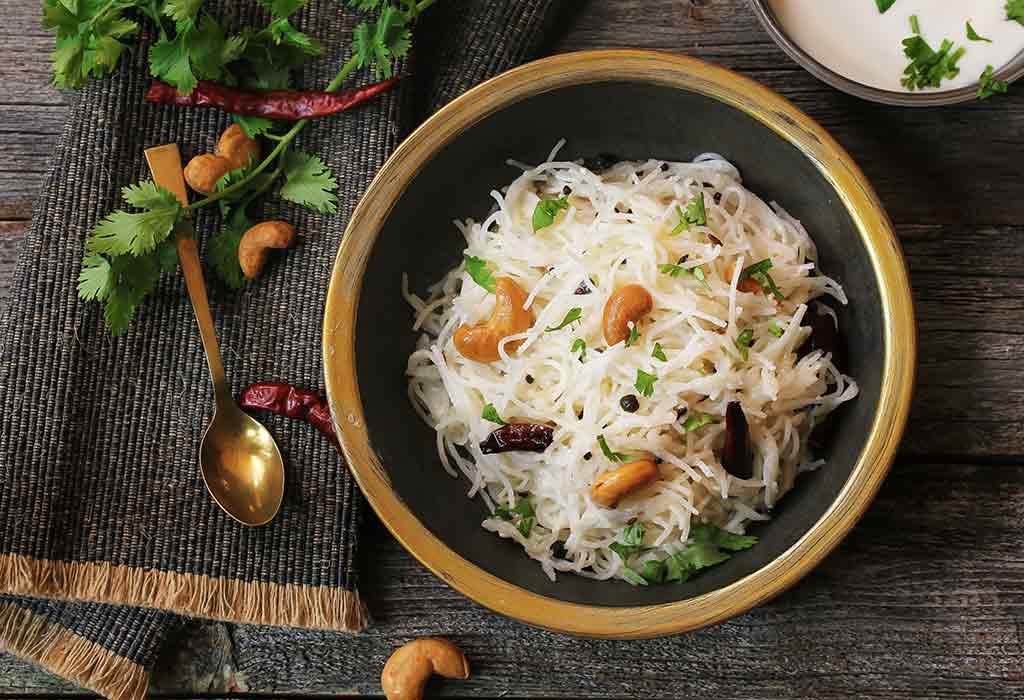 In this Article
Parents often wonder if their toddlers are getting enough nutrition or not from the food they are eating and are always on the lookout for nutritious recipes they can feed their kids. If you are looking for a tasty and nutritious recipe for your toddler that has lots of veggies in it, then this homemade coconut seviya upma recipe is for you. Seviya upma is easy to digest and tasty too! Find out how you can make healthy and yummy seviya upma for your baby in no time.
Cooking time
| | |
| --- | --- |
| Type | Time(hh:mm:ss) |
| Preparation time | 00:10:00 |
| Cooking time | 00:10:00 |
| Total Time | 00:20:00 |
Cooking Method
Gas Stove, induction
Type of Meal
Vegetarian
Suitable For
Toddlers above 20 months of age
Meal Schedule
Breakfast, mid-morning, evening or dinner
Recipe Type
Main dish
Ingredients
| | |
| --- | --- |
| Ingredients | Quantity and Volume |
| Vermicelli | 1 cup |
| Carrot (small-sized, chopped) | 1 |
| Beans (chopped) | 5 |
| Capsicum (chopped) | ½ |
| Onion (small, finely chopped) | 1 |
| Chana dal | 1 tsp |
| Mustard seeds | ½ tsp |
| Green peas | ¼ cup |
| Coriander leaves | 1 tbsp chopped |
| Ghee or cooking oil | 2 tbsp |
| Urad dal | 1 tsp |
| Peanuts | 1 tbsp |
| Water | 2 ¼ cup |
| Ginger | 1 tsp grated |
| Salt | As per taste |
Instructions
If you are wondering how to make coconut seviya upma, then check out the following instructions.
Stir-fry the vermicelli with a teaspoon of oil until golden brown and keep aside. If using roasted vermicelli, then you can skip this step.
Heat some oil in a kadhai then add in the mustard seeds, chana dal, urad dal, and peanuts and fry until the nuts turn brown.
Add in the grated ginger and chopped onions and fry until the onions turn translucent.
Now add in the vegetables and add salt and cook on a medium flame for 2-3 minutes.
Add some water and bring it to a boil.
Now add in the roasted vermicelli and give it a good mix to prevent the formation of lumps.
Cover with a lid and let the upma cook for 5 minutes or until the seviya turns soft.
Turn off the flame and garnish the seviya upma with on top and serve.
Recipe Tips
Coconut seviya upma tastes delicious and is extremely nutritious. Follow the below tips to make a healthy coconut upma recipe.
While making upma, do not add more than required water or else it may turn mushy.
Other than adding peas and capsicums, you can also add sweet corn or any other vegetable of your choice.
Always cook the seviya until soft; if you overcook it, it may stick to the bottom of the wok.
You can add garam masala or jeera powder for added flavours.
You can also add a pinch of turmeric powder to give it a nice colour.
Nutrition information (per 100 gms)
| | |
| --- | --- |
| Nutrient | Value |
| Energy | 150 cal |
| Fibre | 2 g |
| Fat | 1.5 g |
| Vitamin A | 300 mcg |
| Cholesterol | 30.5 mg |
| Vitamin B3 | 2.1 mg |
| Folic acid | 17.5 mcg |
| Vitamin K | 20 mcg |
| Protein | 5 g |
| Vitamin C | 4 mg |
| Iron | 2.2 mg |
| Calcium | 36.5 mg |
| Potassium | 150 mg |
Health benefits
Read on to know some health benefits of coconut seviya upma.
Seviya is a wholesome food as it has ghee and mixed vegetables in it; it can keep your baby full.
The beans in seviya upma are a good source of Vitamin K, which is essential for the development of bones.
The fibre-rich vegetables that go into this recipe can be very good for your baby's digestive system.
Carrots are loaded with vitamins, minerals, and antioxidants which aid in the growth and development of your baby.
Vitamin A in carrots can help strengthen your baby's immune system of your baby which can make your child less prone to sickness.
Buying Guidelines
Now that you know the step-by-step procedure for this recipe, check out the buying guidelines before you start preparing it.
Buy the vegetables from a local vendor, which are organically grown.
Use cold-pressed nut oil rather than refined oil to make the recipe more nutritious.
If using ghee, make sure you opt for homemade ghee as it is more nutritious than store-bought ghee.
Buy coriander leaves that are bright green and avoid the ones with yellow leaves.
Coconut seviya upma is a wholesome and comforting food for babies and toddlers, and even adults. The best part, it can be made in no time. You can make this upma for breakfast or for dinner. Make this upma for your little one with love, just like you do, and enjoy it with him.