Groundnut Laddoo Made With Jaggery And Milk Recipe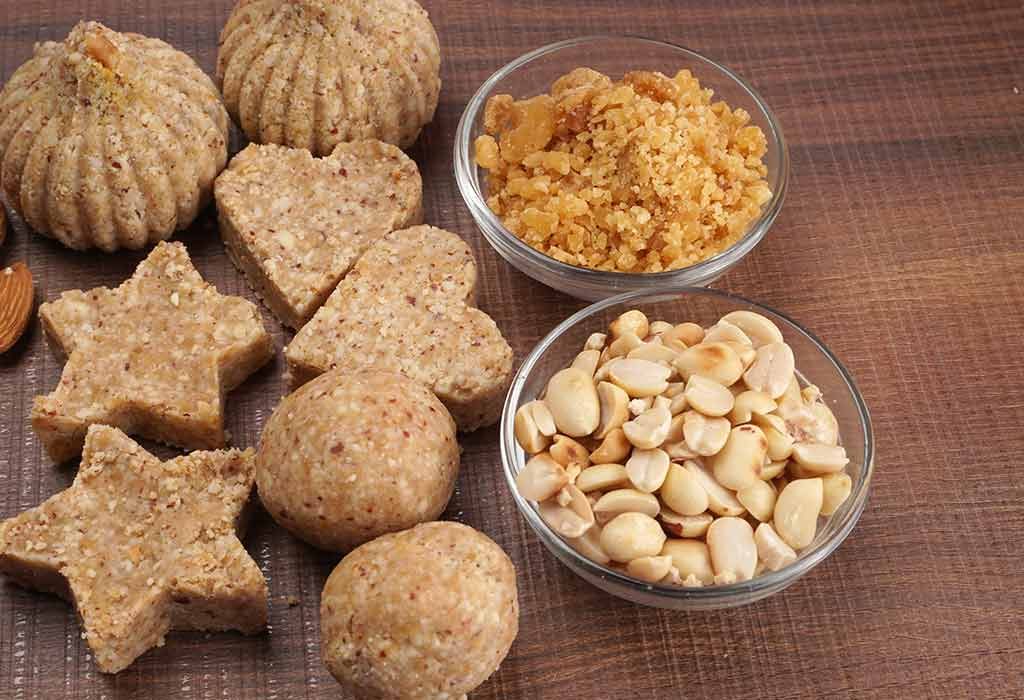 In this Article
Looking for ways to introduce your baby to the nutritious world of groundnuts but don't know how? Well, we have a recipe that is not only super easy to make, but your baby will also relish to the core. Combined with the goodness of jaggery and milk, this groundnut laddoo recipe is loaded with many essential vitamins and minerals!
Cooking Time
| | |
| --- | --- |
| Type | Time |
| Preparation Time | 00:05:00 |
| Cooking Time | 00:10:00 |
| Total Time | 00:15:00 |
Cooking Method
Gas Stove
Type of Meal
Vegetarian
Suitable For
Toddlers over 15 months of age
Meal Schedule
Mid Morning Snack or Evening Snack
Recipe Type
Dessert
Ingredients
Use the following ingredients to make this easy Groundnut laddoo made with jaggery and milk recipe.
| | |
| --- | --- |
| Ingredient | Quantity and Volume |
| Groundnuts | 1 cup |
| Jaggery (grated) | 1/3 cup |
| Milk | Few tsp |
| Cardamom powder | 1/2 tsp |
Instructions
Here are step by step instructions to make the yummy laddoos:
Take a heavy-bottomed wok and dry roast the groundnuts on medium flame until they become aromatic and crunchy.
Once the groundnuts cool down, rub them gently to remove their outer layer.
In a blender jar churn the groundnuts to turn the groundnuts into a fine powder.
Add grated jaggery, cardamom powder and milk in the blender jar and blend again.
Remove the mixture from the blender jar and roll into small balls with your hands.
Serve this sweet delight to your munchkin!
Recipe Tips
Take note of following tips when making homemade Groundnut laddoo made with jaggery and milk baby food recipe:
You can add roasted sesame seeds, desiccated coconut and other such ingredients for the added nutritional punch.
Instead of powdering or grinding the groundnuts into a very fine powder, you can also use coarsely grounded peanuts for toddlers over one year of age or babies who are comfortable in chewing food.
You can store these laddoos for a few days. Make sure you store them in the refrigerator.
If you wish to skip the milk, you may do so if you feel the laddoos can bind without the milk.
Adding a tablespoon of ghee to the laddoos will lend pleasant aroma and flavour to the laddoos.
Nutrition Information (Per 100 Grams)
After mastering the technique of how to make Groundnut laddoo made with jaggery and milk, let us now share some interesting nutritional facts of this sweet delicacy!
| | |
| --- | --- |
| Type | Value |
| Energy | 250 Cal |
| Fats | 18 g |
| Sodium | 10 g |
| Potassium | 220 mg |
| Calcium | 49 mg |
| Iron | 2 mg |
| Fibre | 3 g |
| Carbohydrates | 20 g |
| Protein | 10 g |
This table indicates tentative nutritional content present in 100 grams of groundnut laddoos. The actual values may slightly vary.
Health Benefits
Here are some health benefits of Groundnut laddoo made with jaggery and milk for toddlers:
Groundnuts contain high amounts of protein which is an essential nutrient that helps in optimum growth and development of young kids.
High in calories, groundnuts provide ample energy to your munchkin.
Peanuts or groundnuts are an excellent food option that contributes towards better growth and development in kids as they contain essential nutrients and micronutrients.
Essential minerals such as potassium, calcium, magnesium, iron and other such nutrients not only help in maintaining overall health and well-being but also boosts immunity and keep infections and ailments at bay.
Jaggery is loaded with iron and thus great for keeping iron deficiencies at bay in babies.
Jaggery contains a good dose of calcium and phosphorus, which aids in the proper development of bones and teeth in kids.
Buying Guide
Keep the following points in mind when picking up ingredients to make groundnut jaggery and milk laddoo for your kiddo:
Always buy organic variety when picking up groundnuts to make laddoos.
Make sure to check the date of packing or the best before date before picking up groundnuts.
There are many varieties of organic jaggery available in the market. Do not pick up jaggery that is sold in the open.
Buying products from renowned brands is always the safest bet.
These healthy, nutritious and yummy laddoos are a win-win bet for both mommy and her baby. Because it is not only simple to make and it is also highly nutritious for your munchkin. Next time you are scratching your brains to whip out some interesting, yummy and nutritious for your baby using groundnuts, do try this recipe!