Fruit Custard Recipe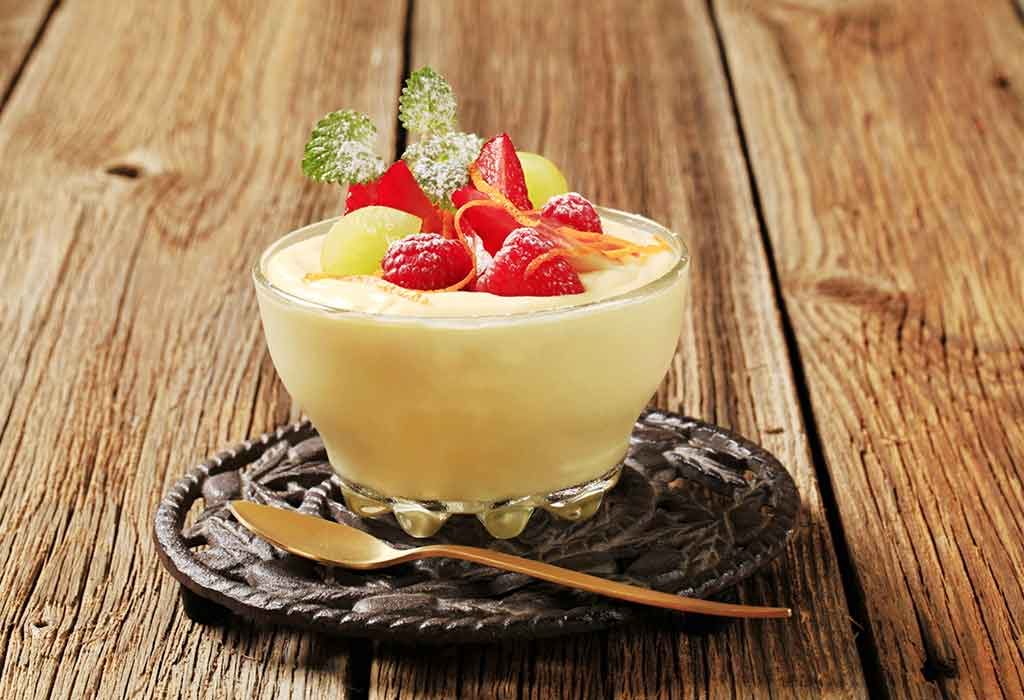 In this Article
A timeless dessert recipe, this mouth-watering and simple Fruit Custard recipe is the perfect way to serve some exotic and nutritious fruits to your toddler. It is one of those desserts that can be whipped up in seconds and is equally filling too. So go ahead and serve this basket of fruits with a creamy twist for your baby to enjoy.
Cooking Time
| | |
| --- | --- |
| Type | Time (hh:mm:ss) |
| Preparation Time | 00:20:00 |
| Cook Time | 00:15:00 |
| Total Time | 00:35:00 |
Total Servings
3-4
Cooking Method
Gas stove or induction
Type of Meal:
vegetarians and non-vegetarians
Suitable for
Any toddler above 12 months of age
Meal Schedule
Dessert or Snack
Recipe Type
Main Meal
Ingredients
| | |
| --- | --- |
| Ingredients | Quantity & Volume |
| Milk | 4 ½ cups |
| Vanilla Custard Powder | 3 tablespoon |
| Sugar | 5 tablespoon |
| Apples peeled and finely chopped | 1 cup |
| Grapes finely chopped | 1 cup |
| Oranges chopped | ¾ cup |
| Bananas chopped | ½ cup |
| Chickoo | ½ cup |
Instructions
Making fruit custard needs a little bit of patience as you need to peel, de-seed and chop the fruits. But the fruits of your labour will not go to waste. Learn how to make Fruit Custard by following this simple step-by-step procedure:
Combine the custard powder, milk, sugar in a deep bottomed pan. Stir well and cook on a slow flame for about 10 to 12 minutes while stirring continuously.
Once the mixture starts to thicken slightly turn off the gas. Let the mixture cool completely.
Once cooled, add the fruits and mix gently.
Refrigerate it for some time if you want to serve it chilled.
Recipe Tips
Make sure you rinse and wash the fruits before chopping them.
Make sure you remove the seeds from the apple when you peel and chop them.
Always slit the grapes lengthwise first and then chop them into tiny pieces.
Make sure you take the seeds out of the oranges before chopping them.
You can add the fruits of your choice. When berries are available, add them for an exotic touch. Try to add seasonal fruits. During summer you can use mangoes, and during winters you can add pomegranate and guavas. If you are adding pomegranates, you may need to de-seed them as the tiny seeds could irritate and choke your baby.
Try to make the custard with a thin consistency so that your baby can slurp it easily.
Nutritional Facts Per Servings
| | |
| --- | --- |
| Nutrient | Value |
| Calories | 237 Kcal |
| Protein | 5.5 gm |
| Carbohydrates | 30.6 gm |
| Fibre | 2.7 gm |
| Fat | 7.7 gm |
| Cholesterol | 18 mg |
| Sodium | 31.3 mg |
Health Benefits
No mother will ever challenge the health benefits of Fruit Custard for babies. Below are the ones for the fruits included in this recipe. If you add more, you feed more.
Apples are an excellent source of antioxidants and help to keep the free radicals at bay. They re also a good source of fibre and Vitamin C.
Chickoo is good for digestion and also helps in the development of bones. TIt is also rich in Vitamin A and Vitamin C and provides energy.
Oranges are rich in Vitamin C and help in boosting immunity. They also contain soluble fibre making it a good source for digestion.
Grapes are superfoods to protect from respiratory infections and a potential laxative. They are also a good source of antioxidants.
Bananas are great for digestion and are rich in Vitamin C, Vitamin B2 and Vitamin B6.
Buying Guide
Now that you have learned the homemade Fruit Custard baby food recipe, you need to familiarise yourself with some buying tips when sourcing the ingredients.
Buy organic fruits as they do not contain chemicals or pesticides. Harvested with 100% natural ingredients, they are entirely safe for your baby.
If you are using grapes and oranges, make sure they are not sour. If sour grapes and oranges are used, it will spoil the taste of the fruit salad.
You can buy custard powder of any reputed brand from the shelves of supermarkets. Make sure you check the expiry date before using the product.
Fruit Custard can be made with the fruits that are readily available in your fruit basket. You do not have to add too many vegetables. You could add just two of them and mix it with the custard and serve it to your baby. A good idea would be to alternate the vegetables daily so that your baby is introduced to new tastes and will not be bored too soon.
?>