Multigrain Cookie Recipe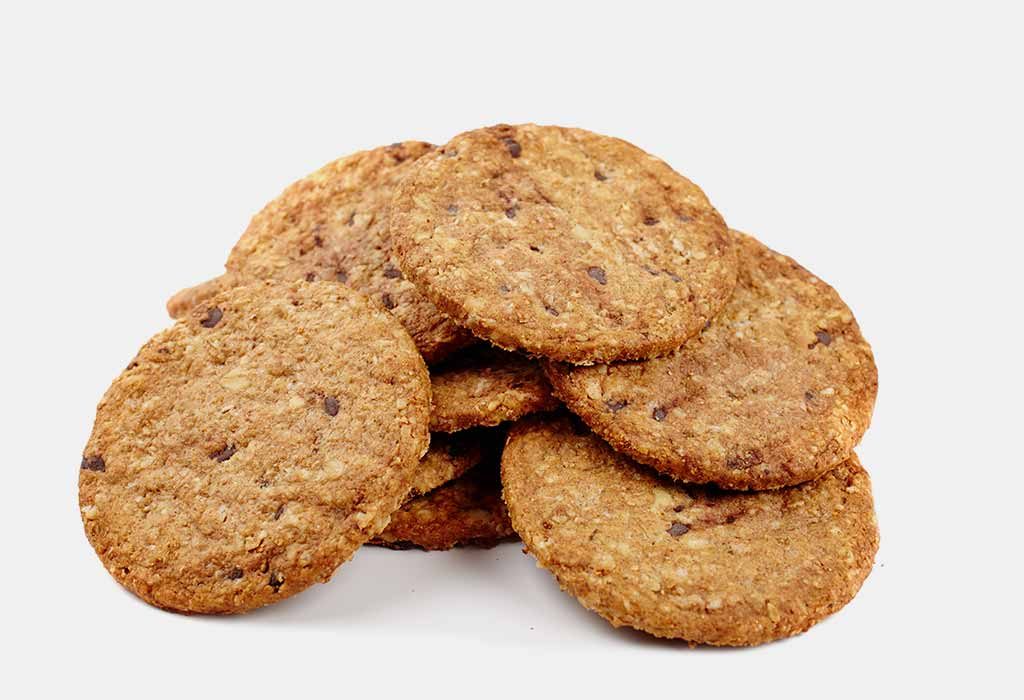 In this Article
Mooli or radish is a wholesome root vegetable and has several nutrients that are essential for our body. It is used to prepare paratha which can be given to babies above six months old. It is easily digestible and safe for babies. Mooli paratha for toddlers is easy to cook and requires very little time. It is one of the healthiest foods, which can be served to all and can be prepared by wheat flour stuffed with grated mooli or radish and slightly mixed with spices. For this recipe, white radish is used, and it is quite filling and delicious, which makes it excellent for breakfast, lunch, and dinner.
Cooking Time
| | |
| --- | --- |
| Type | Time (hh:mm:ss) |
| Preparation Time | 00:40:00 |
| Cooking Time | 00:10:00 |
| Total Time | 00:50:00 |
Cooking Method
Gas Stove
Type of Meal
Vegetarian
Suitable for
Any baby above 16 months of age
Meal Schedule
Breakfast, Lunch or Dinner
Recipe Type
Main Dish
Ingredients
| | |
| --- | --- |
| Ingredients | Quantity and Volume |
| Wholewheat flour | 1.5 cups |
| Oil | 1 tsp |
| Water | As needed to knead the dough |
| White radish (Mooli) | One large or two medium-sized |
| Cilantro (chopped) | 2 tbsp |
| Carom seeds (Ajwain) | 1/8th tsp |
| Coriander powder | 1/4th tsp |
| Garam masala powder | 1/8th tsp |
| Chopped green chilli (optional) | 1 |
| Salt | As needed |
| Oil | As needed to prepare paratha |
Instructions
Wondering how to make mooli paratha? The recipe is easy and doesn't require much time to cook. Here are the step by step directions to prepare mooli paratha.
Take 1.5 cups of whole wheat flour and a teaspoon of oil in a large bowl. Add water slowly till the dough mixes properly.
Knead it thoroughly to form a soft dough. Transfer it to a container, apply few drops of oil on top, cover it and keep it aside for 15-20 minutes.
Peel the radish and then grate it with the help of a grater. Transfer the content to a bowl and add a pinch of salt and leave it for 15 minutes.
After 15 minutes, you can observe that the radish has released some amount of water. Remove this water and then press the grated radish to remove the water content altogether.
Transfer the squeezed mooli to another bowl. Add coriander powder, ajwain, chopped cilantro, and garam masala.
Mix all items thoroughly. The stuffing is ready. Do not add salt now.
Cut the prepared dough into 5-6 balls equally. Take one dough ball and roll into a circle and apply one drop of oil throughout. At the same time, heat the tawa on medium flame.
Keep approximately two tablespoons of stuffing at the centre and scatter the salt on top of the stuffing. Don't fill too much, or else it would be tough to roll.
With the help of a rolling pin, turn the dough into a round shape of approximately 7-8 inch diameter. Apply equal pressure throughout while rolling.
Place the other rolled dough on top of stuffing. Take all the edges together and compress it to close the edges.
Place the rolled paratha on the hot tawa. Put one spoon of oil and fry for a few minutes. Turn this and apply oil on the other side as well. Press with the help of a spatula and fry on both sides till golden brown spots appear. Follow the same procedure for remaining dough balls.
Serve this hot and delicious mooli paratha with any side of choice.
Recipe Tips
Ensure that you keep in mind the below mentioned vital points before you start cooking the healthy and simple mooli paratha recipe for your baby.
Wash the mooli thoroughly and peel off before grating.
Remove water entirely from the grated mooli so that there shouldn't be additional moisture in the stuffing.
Nutritional Information (Per 100 Grams)
| | |
| --- | --- |
| Nutrient | Value |
| Energy | 742 kJ |
| Carbohydrates | 37.98 g |
| Dietary fibre | 6.9 g |
| Fats | 0.985 g |
| Protein | 7.19 g |
| Vitamin A | 0.024 mg |
| Vitamin B1 | 0.229 mg |
| Vitamin B2 | 0.127 mg |
| Vitamin C | 14.8 mg |
| Vitamin E | 0.71 mg |
| Vitamin B9 (folate) | 0.035 mg |
| Calcium | 29.5 mg |
| Iron | 2.11 mg |
| Magnesium | 74 mg |
| Potassium | 319 mg |
| Zinc | 1.60 mg |
Health Benefits
Here are few health benefits of home-made mooli paratha baby food recipe
Radish is a rich source of various nutrients and minerals, like vitamin E, C, A and B6.
Radish helps to cure many diseases such as piles, urinary and respiratory disorders etc.
It also helps to reduce weight and improves cardiovascular health.
It is also essential for the proper functioning of the liver and gallbladder.
Buying Guide
Few buying tips that you should consider while getting ingredients for mooli paratha for your baby.
Purchase organic and best quality products from a well-known store.
The radish used in the paratha should be fresh and soft.
Check for the expiry date of the wheat flour before purchasing it.
Prepare this superb and delicious recipe for your baby. It tastes excellent, and babies love it.