Jowar Puff Recipe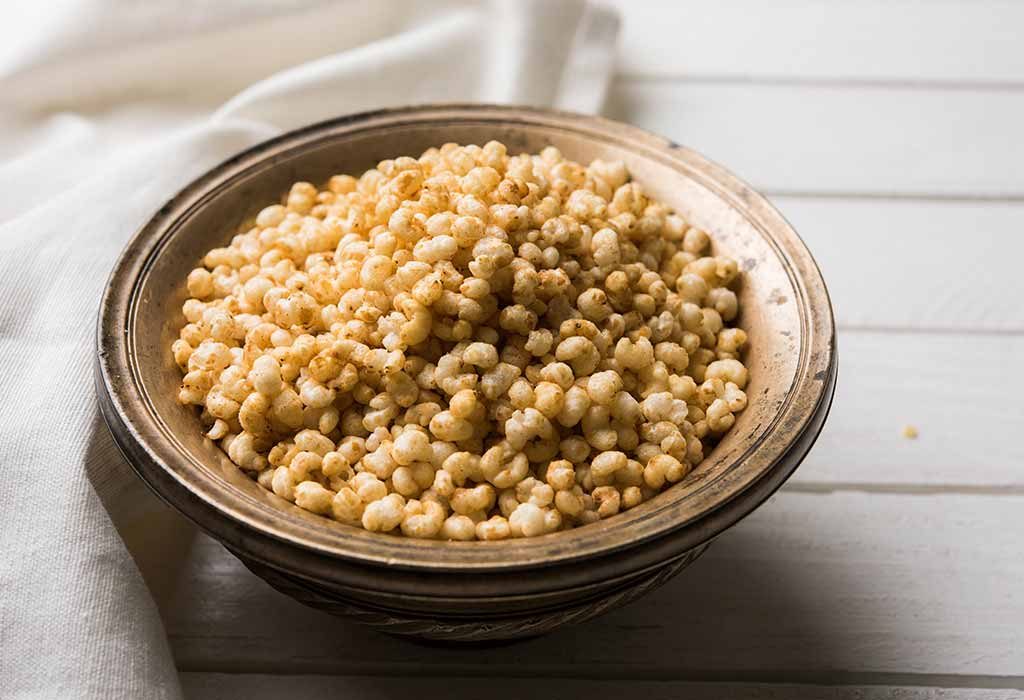 In this Article
A popular millet, Jowar also comes in the form of puffs that can be had as a snack. Nutritious and healthy to digest, it can be fed to your baby along with apple puree as a snack. This Jowar Puff recipe is an ideal addition to your growing toddler's diet chart from the age of seven months onward.
Cooking Time
| | |
| --- | --- |
| Type | Time (hh:mm:ss) |
| Preparation Time | 00:05:00 |
| Cook Time | 00:10:00 |
| Total Time | 00:15:00 |
Cooking Method
Gas
Type of Meal
Vegetarian or vegan
Suitable For
Weaning babies above 7 months of age
Meal Schedule
Dessert after lunch or dinner or in-between meals snack
Recipe Type
Dessert or snack
Ingredients
| | |
| --- | --- |
| Type | Quantity |
| Jowar Puff | 2-5 tbsp |
| Salt | To taste |
Instruction
Babies can eat only small portions of food as their organs are still developing, and this easy jowar puff baby food recipe is aimed at getting the portion just right for your baby. A simple to follow process, make the jowar puff with the step by step instructions given below:
Heat the pan and drop in the jowar seeds. Use a spatula and dry roast them.
When the seeds get hot, they start popping out.
Just like you cook popcorn, cover the pan with a lid and keep a spatula inside.
Once it is all done, sprinkle some salt.
Recipe Tips
You can soak the jowar puffs in a little apple puree for a while to make them soft for your baby to eat.
Nutrition Information(Per 100 Grams)
| | |
| --- | --- |
| Type | Value |
| Energy | 51 Kcal |
| Protein | 0.2 gm |
| Carbohydrates | 11.7 gm |
| Fibre | 2.8 gm |
| Fat | 0.4 gm |
| Cholesterol | 0 mg |
| Sodium | 24.4 gm |
Health Benefits
Now that you know how to make jowar puff for toddlers, read to find the health benefits:
Jowar Puffs are great for improving immunity.
Jowar Puffs are also good for the bones and rich in protein, hence good for muscular growth.
Buying Guide
This homemade jowar puff recipe is an excellent snack for your kid, but you need to keep a few things in mind while buying the ingredients:
Buy good quality jowar seeds that will pop easily and also make sure you buy them in sealed form.
Check the expiry date of the jowar seeds before using them.
A healthy snack, jowar puffs is a great way to introduce your baby to weaning foods. Your little one is growing and needs variety in his palate. The more you explore, the more he will get accustomed to different tastes. Offer a combination of foods in small servings and get your baby accustomed slowly to new and different flavours.