Ragi Dosa Recipe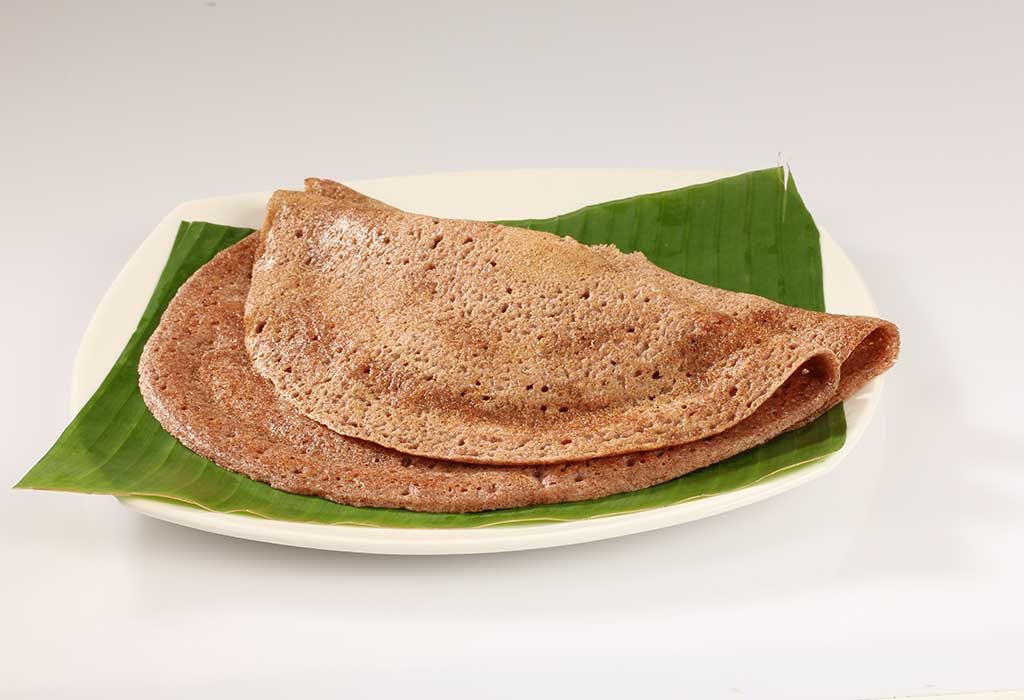 In this Article
Dosa is a staple food in South India. A twist on the western pancakes, these dosas can be totally adapted to suit all the nutrition needs. They are crunchy and mouth-watering just on their own, without any frills. You can always stuff them with vegetables of your liking to bring more colour and health benefits. Ragi dosa for babies can be a filling as well as a wholesome breakfast option. We here have an instant dosa recipe that does not need fermenting. If your baby is tired of ragi porridges and drinks, then this dosa will be a welcome respite and a great addition to your baby's menu. It can also be a good breakfast idea for those busy days or when you run out of time to cook something. You can have many variations of this dosa, which will be provided in the recipe tips section below.
Cooking Time
| | |
| --- | --- |
| Type | Time (hh:mm:ss) |
| Preparation Time | 00:10:00 |
| Cook Time | 00:15:00 |
| Total Time | 00:25:00 |
Cooking Method
Gas stove
Type of Meal
Vegetarian
Suitable For
Babies above 10 months of age
Meal Schedule
Breakfast, Dinner
Recipe Type
Main dish
Ingredients
| | |
| --- | --- |
| Ingredients | Quantity and Volume |
| Ragi flour | ½ cup |
| Whole wheat flour | Three tbsp |
| Onions | One small |
| Grated coconut | 2 tbsp |
| Cumin seeds | One pinch |
| Water | As needed |
| Ginger | 1 tsp finely chopped |
| Salt | As required |
| Oil | For greasing |
| Grated carrots | ¼ cup |
Instructions
Here is the step by step procedure to make this crunchy and healthy Ragi dosa:
Mix all the dry ingredients in a mixing bowl.
Start adding water little by little till you get a consistency that is easy for you to make dosa with. It should neither be too runny nor too thick.
Water should be added in small amounts with constant mixing so that no lumps are formed.
Heat an iron tawa with some oil in it.
Ladle dosa batter on the tawa and spread it, do not make it too thin.
Sprinkle some oil on top of the dosa.
Cover and cook it until it is brown, around 5 minutes.
Flip dosa and cook on the other side covered for 2 minutes.
Recipe Tips
This is an easy Ragi dosa recipe for babies which can be done within 25 minutes.
You could make your ragi flour by sprouting ragi and then grinding them. This has much more nutrition and is very easy on the stomach.
You could add coriander and other grated vegetables in the dosa batter for more taste and health.
Make sure all the vegetables are finely grated as small kids might not be able to chew big chunks of vegetables well.
For younger kids, sterilise all your utensils, the ones you cook in as well as the ones your serve in.
To spread dosa evenly, cut out a potato or onion in half and with a fork, use the base of potato/onion to do the spreading.
It's preferable not to use non-stick tawa for babies as there is a chance of heavy metals creeping into your child's food.
You could make sweet dosa with jaggery and cardamom powder instead of salt and vegetables.
Nutrition Information (Per Ragi Dosa)
| | |
| --- | --- |
| Nutrient | Value |
| Energy | 37 Cal |
| Protein | 0.7 g |
| Carbohydrates | 6.7 g |
| Fibre | 1 g |
| Fat | 0.9 g |
| Sodium | 1.7 mg |
| Calcium | 33.1 mg |
| Iron | 0.4 mg |
| Potassium | 43.5 mg |
| Magnesium | 12.6 mg |
| Phosphorous | 27 mg |
| Zinc | 0.2 mg |
| Vit A | 80 mcg |
| Vit B1 | 0 |
| Vit B2 | 0 |
| Vit B3 | 0.1 mg |
| Vit C | 2 mg |
| Folic acid | 2.5 mcg |
Health Benefits
This is a home-made Ragi dosa baby food recipe which will surely be a hit with your child and also give you the bonus of sneaking in vegetables that your child might not prefer otherwise.
Ragi flour is rich in many essential vitamins and minerals. It is also a great source of iron and calcium, which are very important for a growing child.
Vegetables in this recipe are a good source of fibre and vitamins which your baby will benefit from.
Buying Guide
Buy organic ingredients as you do not want to risk your precious child's health and development with non-organic things.
Buy an iron tawa as it is the best choice for making dosas.
If you ever wondered how to make Ragi dosa for a child, then this recipe is going to make it all easy and a time-saving option.
?>