Palak Moongdal Muthias Recipe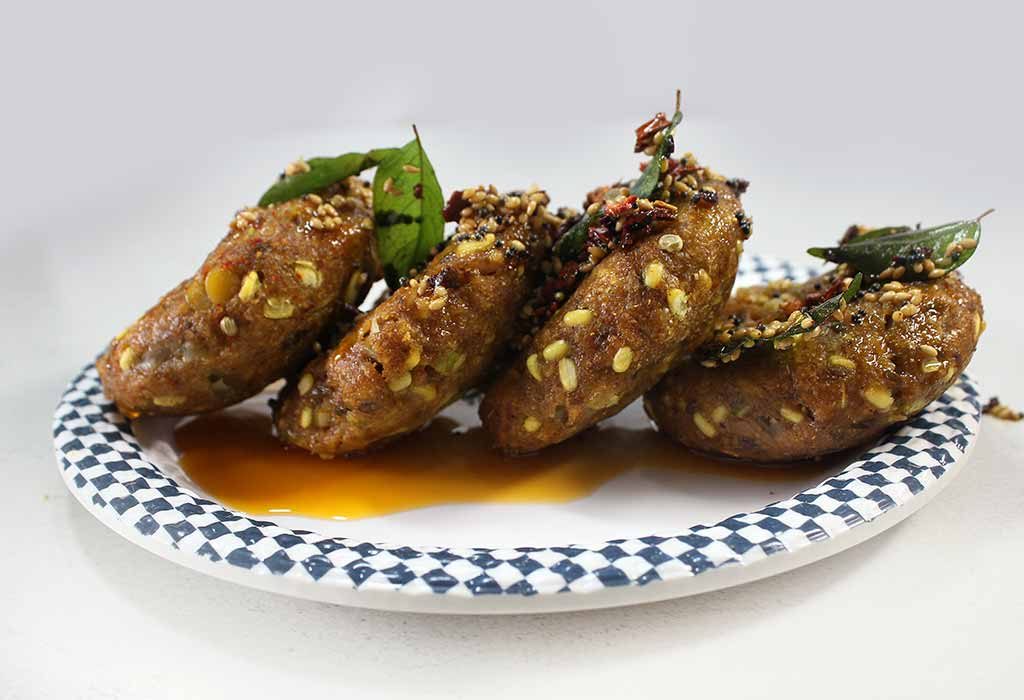 In this Article
Gujratis love their food and stock up like there is no tomorrow. Out of all their snacks, muthias are the most laborious to make but totally worth the effort. Packed with the goodness of lentils and vegetables, they are ideal quick bites to satisfy hunger cravings, In fact they can also be served as a side dish. These homemade Palak Moongdal Muthias baby food recipe must feature on your list.
Cooking Time
| | |
| --- | --- |
| Type | Time (hh:mm:ss) |
| Preparation Time | 00:250:00 |
| Cook Time | 00:45:00 |
| Total Time | 010:00:00 |
Total Servings
3-4
Cooking Method
Gas stove, induction or microwave
Suitable For
Toddlers above 17 months of age
Meal Schedule
Appetizer, Mid-day snack or Main Meal
Recipe Type
Appetizers, Snacks or Accompaniment to Main Meal
Ingredients
| | |
| --- | --- |
| Ingredients | Quantity & Volume |
| Whole Green Gram (Moong Dal) | 1 cup |
| Chopped Spinach | 3 cups |
| Sour Yoghurt | 1 cup |
| Water | ¼ cup |
| Ginger Paste | 1 teaspoon |
| Garlic Paste | 1 teaspoon |
| Green Chilli Paste(optional) | 1-2 tsp |
| Salt | As per taste |
| Lemon Juice | 1 tablespoon |
| Sugar | 1 teaspoon |
| Besan or chickpea flour | 4 tablespoon |
| Soda Bicarbonate | ¼ teaspoon |
| Oil | 1 tbsp |
| Mustard Seeds | ½ tsp |
| Sesame Seeds | 1 tablespoon |
| Carom Seeds | ¼ tsp |
| Asafoetida | ¼ tsp |
Instructions
If you are wondering how to make Palak Moongdal Muthias for toddlers, just follow this step-by-step guide to get this snack right.
Soak the moong dal in warm water for about 6 hours.
Drain the water and wash the moong dal.
Take a bowl, add the moong dal, spinach, yoghurt and water. Combine the ingredients.
Pour the ingredients into the blender jug and blend it into a coarse mixture.
Remove the batter from the jug and pour it into the mixing bowl.
Add the ginger, garlic, green chilli paste(optional). Then toss in the salt, flour, sugar and lemon juice.
Mix the batter well.
Heat water in a pan or the steamer. You could also use a pressure cooker. Grease the mould with oil.
When the water begins to boil, add the soda bicarbonate to the batter and give it a stir.
Divide the batter and pour it into the moulds.
Sprinkle the chilli flakes over the batter.
Steam for about 20 minutes. Pierce a fork or knife to see if it is done. If the batter sticks, then steam it for some more time.
Remove the moulds once done and let the muthias get done completely.
Cut the muthias into square.
Heat oil in a pan and add mustard seeds, carom and sesame seeds. Add the asafoetida. Immediately add the muthia squares. Mix the muthias until they become hot.
Recipe Tips
Make sure the batter is not too thin or too thick.
You can make muthias by rolling them into cylindrical shapes. It is easier to steam them like dhoklas and then chop them.
Make sure you cool the muthias down completely before you chop them.
If you do not want to temper them with the mustard seeds, then you can opt to drizzle some olive oil to make it healthier.
Nutritional Facts serving (Per 100 Grams)
| | |
| --- | --- |
| Nutrient | Value |
| Total Calories | 135 kCal |
| Protein | 3.6 gm |
| Total Carbohydrates | 18 gms |
| Fat | 5.5 gms |
| Cholesterol | 0 mg |
| Sodium | 45.2mg |
| Fibre | 2.9 gms |
| Iron | 1.6 mg |
| Folic Acid | 69.8 mcg |
| Zinc | 0.7 mg |
| Calcium | 134.1 mg |
Health Benefits
Spinach is an extremely nutrient-rich vegetable. It is rich in Vitamin B6, B9 and Vitamin E. Rich in folic acid, spinach is an antioxidant.
Besan is full of protein and helps to relieve constipation. It is also rich in Vitamin B1 and B2 which improves the energy metabolism of the body. Also, besan contains more good fat than whole wheat flour.
Besan is also rich in folic acid and contains blood-building nutrients. It is a good source of Thiamine and Folate which help in boosting blood function.
Buying Guide
Make sure you follow the below tips when buying ingredients to make this easy Palak Moongdal Muthias recipe.
Spinach leaves must be bought fresh and used the same day. Leaves must not be dry or wilted. Make sure the leaves have no holes in them as that may be a sign of infestation.
Purchase besan sold in packaged form. Check the expiry date on the packaging. Besan tends to catch fungus if kept out for too long.
You could use homemade yoghurt for this recipe.
These muthias are a great snack for your kid and the addition of palak makes it even more nutritious. You could also try to add some methi leaves to give it a different twist.