Grape and pear chaat recipe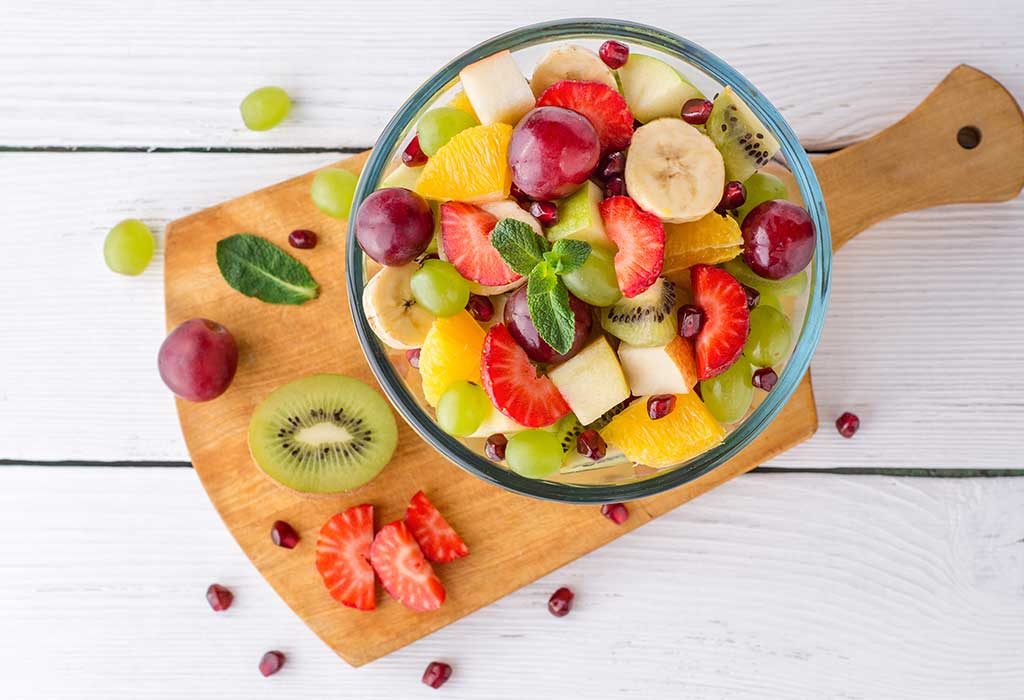 In this Article
Grapes are loaded with nutrition and introduce a new and exciting taste to your baby. Satisfying your baby's taste buds and feeding them healthy does not usually go hand in hand. However, if you know how to make grapes and pear chaat, then it can be a great way for including nutritious fruits in your munchkin's diet. This simple and delicious recipe can be prepared while travelling if you have the fruits and dressing ready with you.
Cooking time
| | |
| --- | --- |
| Type | Time(hh:mm:ss) |
| Preparation time | 00:10:00 |
| Cooking time | 00:05:00 |
| Total Time | 00:15:00 |
Cooking method
Mixing
Type of meal
Vegetarian
Suitable for
Babies older than 20 months
Meal Schedule
Mid-morning snack, evening snack
Recipe type
Salad
Ingredients
| | |
| --- | --- |
| Type | Quantity |
| Grapes black or green | ½ cup |
| Pear | 1 medium-size |
| Lemon juice | ¼ tsp |
| Salt | To taste |
| Chaat masala | ¼ tsp |
| Mixed seasonal fruits (optional) | ½ cup |
| Jeera powder | ¼ tsp |
Instructions
Explore a fun way to introduce the goodness of fruits in your babies diet with the step by step directions below:
Peel the skin and cut the pear into small cubes.
Wash the grapes, drain the water and cut them into halves.
Take a small bowl and add a few drops of lemon juice, jeera powder, salt, and chaat masala and give it a good stir.
Take the cut fruits along with other seasonal fruits like banana, strawberries or mangoes if using any in a large bowl.
Now add-in the dressing on top of the fruits and mix well for the spices to coat. The tasty pear and grapes chaat is ready to be served to your little one.
Recipe Tips
Before heading towards a supermarket, read on a few tips to make a hearty homemade grape and pear chaat baby food recipe:
If you feel pears are a little hard for your baby, then you can lightly steam the fruit before adding it to the chaat recipe.
Feel free to add the fruits of your choice to this recipe to make it more interesting and nutritious.
If you are adding apples, then cut the fruit just before adding the dressing as apples turn brown when exposed to air.
You can experiment with your baby's craving for certain fruits by mixing different fruits each time you prepare this recipe. So that you know which fruits fancy your baby's taste buds.
Nutrition Information (Per 100 Grams)
| | |
| --- | --- |
| Type | Value |
| Energy | 86 Cal |
| Fat | 0.1 g |
| Protein | 1 g |
| Carbohydrates | 20.2 g |
| Potassium | 95 mg |
| Sodium | 80 mg |
| Zinc | 0.9 mg |
| Vitamin B6 | 0.1 mg |
| Vitamin C | 8 mg |
Health benefits
Do not be surprised if this grape and pear chaat for toddlers become a regular in your home for it is a delicious snack with loads of nutrient value in it which you will know better as you read below:
Grapes help in protecting your baby from respiratory infections due to their rich nutritious value.
Good quality ripe grapes aid in better digestion for your baby, as grapes are light and can be broken down by the body easily.
Grapes are loaded with antioxidants that flush out the toxins from your munchkin's body.
The fibre-rich pears are great for preventing constipation in babies, and they can be one of the first solid food for the little ones.
Pears are also rich in Vitamin C, potassium and antioxidants that play a vital role in keeping your baby's good heart health.
Grapes and pears both have low calories and hence makes a great snacking option for your baby anytime.
Buying guide
Creating delicious fruit recipes might seem to be a difficult task but not anymore. Check out the following buying guidelines before you pick your favourite fruits this season:
Always check the expiry date of the spice packets you select at the store.
Select black or green grapes depending upon the season.
Grapes you select must be firm and not soggy because you do not want to serve an unpleasant chaat to your baby.
Remember to choose organically grown fruits to stay away from chemicals and pesticides.
While mashed fruits are perfect for weaning babies, the simple grape and pear chaat recipe is really cool for toddlers. Avoid any packaged junk for snacks and introduce healthy options like this delicious recipe for your munchkin. Get your toddlers involved in making this recipe to make it more enjoyable and interesting.