Wheat and Soy Flour Cookies Recipe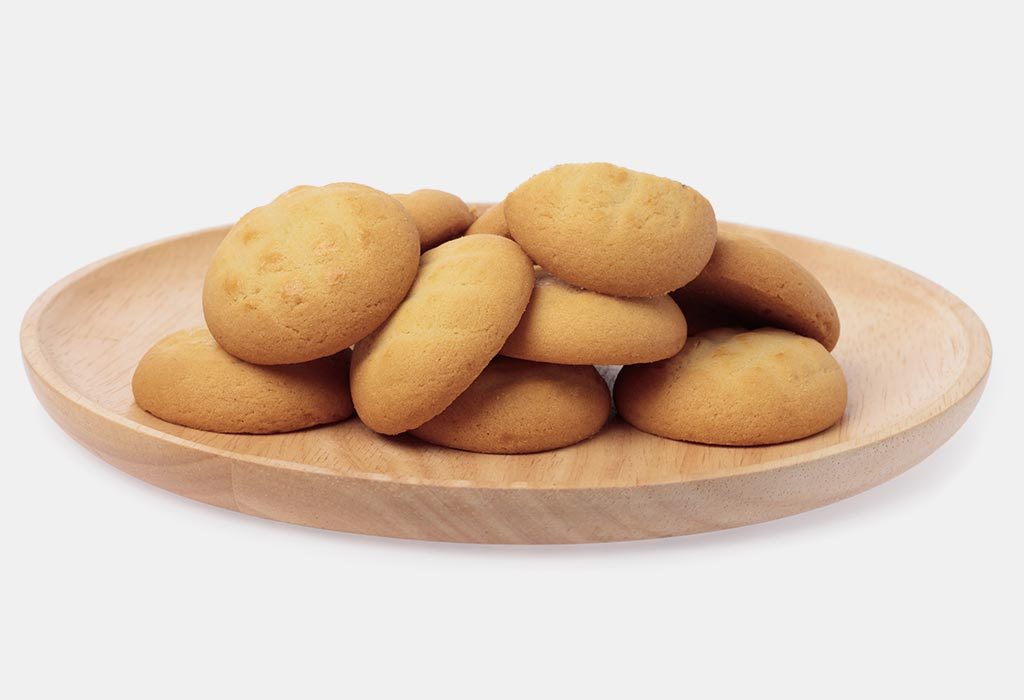 In this Article
If you've only been making cookies out of whole wheat flour or all-purpose flour, and need to change to something healthier, it's a fantastic idea to add in a bit of soy flour. Being highly nutritious, it would also add a nutty flavour to the cookie, making it more delicious while its combination with wheat gives it a unique texture. The honey in the cookie will offer plenty of sweetness without the excess refined sugar, making it perfect for babies and children. You can make a whole batch that will last 2 weeks and refrigerate to offer it to teething babies to soothe their gums.
Cooking Time
| | |
| --- | --- |
| Type | Time (hh:mm:ss) |
| Preparation Time | 00:05:00 |
| Cook Time | 00:15:00 |
| Total Time | 00:20:00 |

Cooking Method
Baking oven
Total Servings
18 cookies
Type of Meal
Vegetarian
Suitable for
Toddlers above 15 months of age
Meal Schedule
Snack
Recipe Type
Appetizers
Ingredients
| | |
| --- | --- |
| Type | Quantity |
| Whole wheat flour | 6 tablespoons |
| Soy flour | 5 tablespoons |
| Honey | 2 tablespoons |
| Olive oil | 1 tablespoon |
Instructions
Step by step procedure to make the cookies:
If you wish to keep it as do-it–yourself as possible, make the soy flour on your own from soybeans. Alternatively, you can source soy flour from organic stores.
To make the soy flour on your own, wash and rinse the soybeans, and dry them on a baking sheet. Roast it in the oven at 150°C for about 45 minutes until the beans turn aromatic and golden yellow. Cool the grains and grind them in a coffee blender or a grain mill and pulverize until it reaches the consistency of fine flour.
In a mixing bowl, add all the ingredients and mix thoroughly before kneading it into a dough.
Roll out the dough into a thick 6 mm sheet.
With the help of a cookie cutter, cut the cookies into desired shapes or use a serrated knife to cut them out into shapes.
Re-knead and roll out the leftover dough and cut it into more pieces until all of it is used up.
Preheat your oven to 180 degrees.
Keep the cookies on a greased baking tray and bake them in the oven for 10 to 12 minutes.
Let the cookies cool down before serving and refrigerate the rest in an airtight container.
Recipe Tips
To make your homemade wheat and soy flour cookies baby food recipe more nutritious, sprinkle some ground almonds, and nuts on the dough before baking it.
Nutrition Information (Value per biscuit- 9 g)
| | |
| --- | --- |
| Nutrient | Value |
| Energy | 51 kcal |
| Carbohydrates | 5.2 g |
| Protein | 3.1 g |
| Fat | 2.1 g |
| Vitamin – A | 34.5 mcg |
| Vitamin – C | 0.0 mcg |
| Calcium | 17.2 mg |
| Iron | 0.8 mg |
| Folic acid | 7.3 mcg |
| Fibre | 0.3 g |
Health Benefits
Soy flour is an amazing source of soy proteins and fibre. There are many essential oils present in soybeans, and making your own flour gives you the full advantage of preserving all the natural oils found in soy.
Wheat and soy flour cookies for babies are also the perfect solution for vegetarian and vegan parents who cannot give meat to their kids. As soy contains almost all the essential nutrients, it is a good supplement by itself.
Shopping Guide
While the ingredients for your simple wheat and soy flour cookies recipe are limited, they need to be sourced organically to avoid allergies and health risks.
The three most commonly found types of soy flour are full-fat flour with all the natural oils intact, low-fat flour, which only has about 1/3rd of the natural oils, and defatted flour that has no natural oils. Since oils are essential for babies, it's better to use the full-fat flour.
If your infant is under one year old, it's better to avoid raw honey as it contains pollen and other contaminants. It also carries with it a high risk of infant botulism, which can be dangerous for babies under six months of age.