Cheese Vegetable Pancake Recipe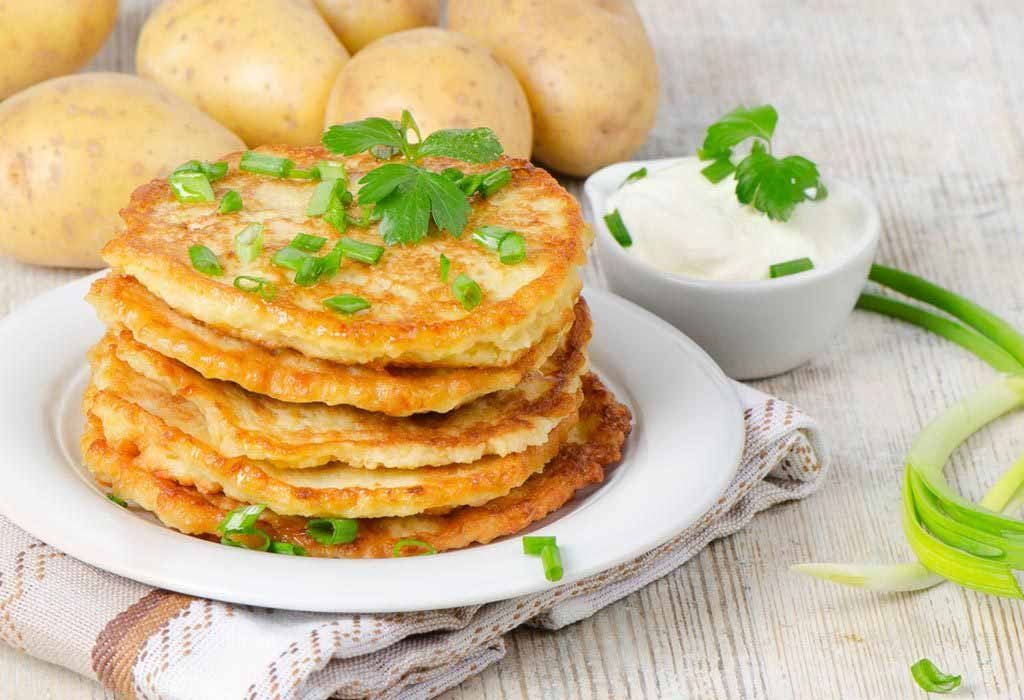 In this Article
A wonderful method to ensure your child gets all the essential veggies is to stuff it into a delicious appetiser that he finds irresistible. Cheese vegetable pancakes are easy to make and are a lifesaver for parents with children who are picky eaters. The crispy bites with a tender, tasty core are a combination most children and adults enjoy. Therefore, with some wholesome ingredients and a little bit of effort, you can whip up these delicious pancakes at any time of the day for a nutritious meal.
Cooking Time
| | |
| --- | --- |
| Type | Time (hh:mm:ss) |
| Preparation Time | 00:30:00 |
| Cooking Time | 00:15:00 |
| Total Time | 00:45:00 |

Type of Meal
Non- vegetarian
Cooking Method
Convection oven, gas stove
Suitable For
Kids over one year of age.
Meal Schedule
Lunch
Recipe Type
Appetisers, main meal
Ingredients
| | |
| --- | --- |
| Ingredient | Quantity |
| Plain flour | 1 cup |
| Baking powder | 2 teaspoons |
| Whole milk (or soy/almond milk) | 1 cup |
| Egg | 1 |
| Unsalted butter | 2 tablespoons |
| Medium-sized onion | 1 |
| Broccoli head (small) | 1 |
| Red bell pepper | 1 |
| Grated cheddar cheese | 50 g |
| Olive oil | 2 tablespoons |
Instructions
Preheat the oven to 200°C.
Peel the onion, remove the core of the bell pepper, and dice them into large chunks.
Transfer them to a baking tray and add a bit of olive oil before placing it in the oven.
Roast the veggies in your oven until they turn soft and start to brown, it will take about 25-30 minutes.
While the vegetables cook in the oven, steam the broccoli in a pressure cooker until it is soft.
Transfer all the cooked vegetables to a chopping board and chop them all into tiny baby size bits.
In a large mixing bowl, add the baking powder and the flour, and mix them thoroughly.
In another clean, dry bowl, mix the egg with the melted unsalted butter and milk and stir until they're uniform.
Make a small crater in the flour-baking powder mix and gently add the egg mix while whisking it carefully to avoid lumps.
Add the chopped vegetable mix and grated cheese to the batter and mix it until they are completely combined into a thick paste.
On a non-stick frying pan, heat a little olive oil on medium flame.
Scoop the batter and spread it on the pan, make pancakes.
Make a few of these in the pan at the same time and keep an eye on their frying times.
Fry until the pancakes are golden brown on both sides and serve with a dip of your choice.
Recipe Tips
If you wish to turn this homemade cheese vegetable pancake baby food recipe to vegan replace the unsalted butter with coconut butter and dairy milk with almond or soy substitutes. The cheese can be substituted with vegan cheese and don't add an egg.
Nutrition Information (Serving Per 100 Grams)
| | |
| --- | --- |
| Nutrient | Value |
| Calories | 198.2 |
| Total Carbohydrate | 30.4 g |
| Total Fat | 6.2 g |
| Cholesterol | 2.5 mg |
| Sodium | 379.0 mg |
| Potassium | 369.6 mg |
| Dietary fibre | 5.9 g |
| Sugars | 5.0 g |
| Protein | 8.6 g |
Health Benefits
There are a number of health benefits of these cheese vegetable pancakes for toddlers starting with the abundant supply of fats, which are essential for the development of the brain.
The range of vegetables in the pancake offers several different minerals, while the egg provides the much-needed proteins and amino acids. Whether it is had for breakfast, lunch, or as a mid-day snack, these pancakes are nutritionally loaded.
Buying Guide
Your simple cheese vegetable pancake recipe isn't complete without fresh ingredients.
To ensure your child gets all the nutrients, pick undamaged vegetables or frozen ones (which often have all their nutrition intact) from the store. Choose organically-grown vegetables to protect your baby from the chemicals used in growing vegetables.
Wash the vegetables thoroughly to get rid of germs.
When buying cheese, avoid processed cheese, as it has plenty of artificial ingredients, excess salt, and preservatives. Cheeses made out of unpasteurised milk straight out of the farm should also be ideally avoided. Also, avoid using mould-ripened soft cheeses as all of these can cause allergies and infections.
You can now make these delicious and easy to make pancakes every time your child is hit by those hunger pangs.