Sago Kheer Recipe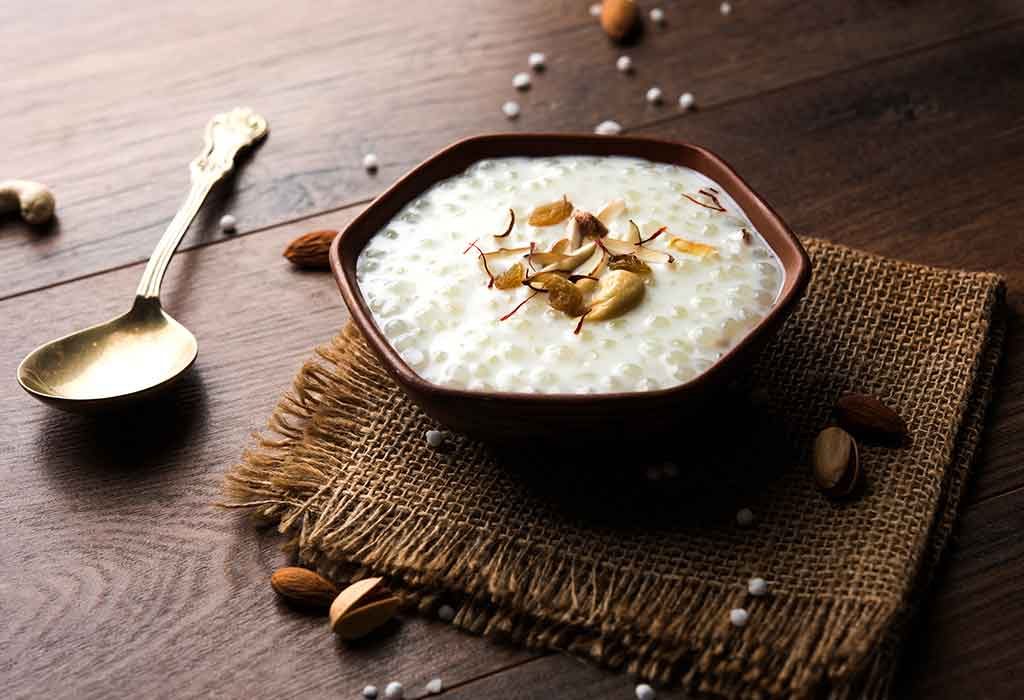 In this Article
Sabudana tastes delicious and is one of the widely consumed foods (especially during fasting) in Indian households. It is very tasty and healthy, and the best part? It can be given to babies and toddlers too! Made from tapioca pearls or cassava, sabudana or sago is a processed food that makes for a great summer food. A lot of dishes can be made with sabudana, sabudana kheer being one of them. Sabudana kheer is a creamy, delicious thick pudding made with milk, sugar, and sabudana. If you're wondering how to make sago kheer for your little one, then we bring you one of the simplest recipes of this delicacy. Trust us, your little one will enjoy eating the kheer you make for him.
Cooking Time
| | |
| --- | --- |
| Type | Time (hh:mm:ss) |
| Preparation Time | 00:30:00 |
| Cook Time | 00:30:00 |
| Total Time | 01:00:00 |
Cooking Method
Gas
Type of Meal
Vegetarian
Suitable For
Weaning babies older than 12 months of age
Meal Schedule
Breakfast, Evening Snack or post-dinner
Recipe Type
Snack
Ingredients
| | |
| --- | --- |
| Type | Quantity |
| Sabudana | 1/4 cup |
| Water | ½ cup |
| Full cream milk | 3 cup |
| Sugar | ¼ cup |
| Raisins | 2 tbsp |
| Cardamom powder | ¼ tsp |
| Saffron strands | 4-5 |
Instructions
The step by step directions given here gives the quick tips and tricks to make this recipe easily at home and treat your little ones.
Soak the sabudana in a small bowl of water for about 30 minutes.
Take a thick bottomed pan and boil some milk on medium flame.
Add in the soaked sabudana in the pan with milk. Add some water and stir occasionally to make sure that the milk doesn't stick to the bottom of the pan.
Let it simmer until the sabudana swells up and turns translucent.
Add in the sugar and cardamom powder and mix well.
Chop the raisins and add it in the kheer and let it simmer for another 20 minutes or until it thickens.
Let it cool and garnish with saffron strands before serving.
Recipe Tips
Here are some tips that you can follow to make sabudana kheer taste even better and healthier.
This simple sago kheer recipe can be made more delicious by adding pistachios, cinnamon powder or dates powder to make it more flavourful.
If you want to make a healthier version of sago kheer, add jaggery instead of sugar.
If you are a vegan, you can make sabudana kheer using coconut milk, cashew milk, or soy milk.
You can add in some grated carrot or bottle gourd to the kheer for making it healthier.
If you're making it for your baby, add milk and sabudana in a pressure cooker and make the kheer in just 10 minutes. Once it is cooked well, add in the sugar and cardamom powder, and mix well.
You can also add chikoo or mango pieces to the kheer to make it more flavourful.
Note: Do not use honey as a sweetener if your baby is under 1 year of age.
You can soak the saffron strand in warm milk for 10 minutes before adding it to the kheer. This will add colour to the kheer.
Nutrition Information (1 Serving)
| | |
| --- | --- |
| Type | Value |
| Carbohydrates | 35.5 gram |
| Calories | 316kcal |
| Protein | 6.8gram |
| Sodium | 26.1mg |
| Fiber | 0.1mg |
| Fat | 13.2mg |
| Potassium | 161mg |
| Calcium | 283.7mg |
| Vitamin C | 1.4mg |
| Calcium | 283.7mg |
| Iron | 0.7mg |
| Folic Acid | 11.2mg |
| Magnesium | 43.2mg |
| Zinc | 0.3mg |
| Vitamin A | 235.9mg |
| Vitamin B1 | 0.1mg |
| Vitamin B2 | 0.1mg |
| Vitamin B3 | 0.2mg |
| | |
Health Benefits
This most-loved Indian dessert has exceptional health benefits for babies and toddlers alike as sabudana can be a part of their staple diet. Read on to know the health benefits of sabudana kheer.
Sabudana is a natural source of the natural source of veg protein. Being the purest form of starch, sabudana is an excellent source of carbohydrates that provides instant energy to children. Rich in starch, sabudana also helps babies to gain weight.
As calcium is a crucial requirement for babies, sabudana, as well as milk, which are a rich source of calcium can contribute to their bone development.
The potassium content in sabudana can help in the smooth functioning of the cardiovascular system.
Saffron acts as a powerful antioxidant and is known to improve mood.
Raisins exhibits anti-bacterial properties that helps to treat infections in children. It is effective for dental care and keeps the eye-sight strong.
Buying Guide
This buying guide eliminates hassles and gives useful information to all savvy mothers who want to buy quality products for making the tastiest sabudana kheer.
Buy pasteurised milk only after having checked its expiry date. You can choose between low saturated fat, full-cream, light or skim milk.
Choose sabudana that are evenly sized and white in color. Mini pearls are good for making kheer.
Buy fresh milk that is stored in untampered cartons.
Choose unsalted large-sized cashews.
Buy saffron that is sold by popular brands.
If your munchkin craves for a dessert, homemade sago kheer for babies is one of the best options. You don't need to coax your child into drinking milk on days he's not interested, just make sabudana kheer and watch him eat it with delight!