Rava Ladoo Recipe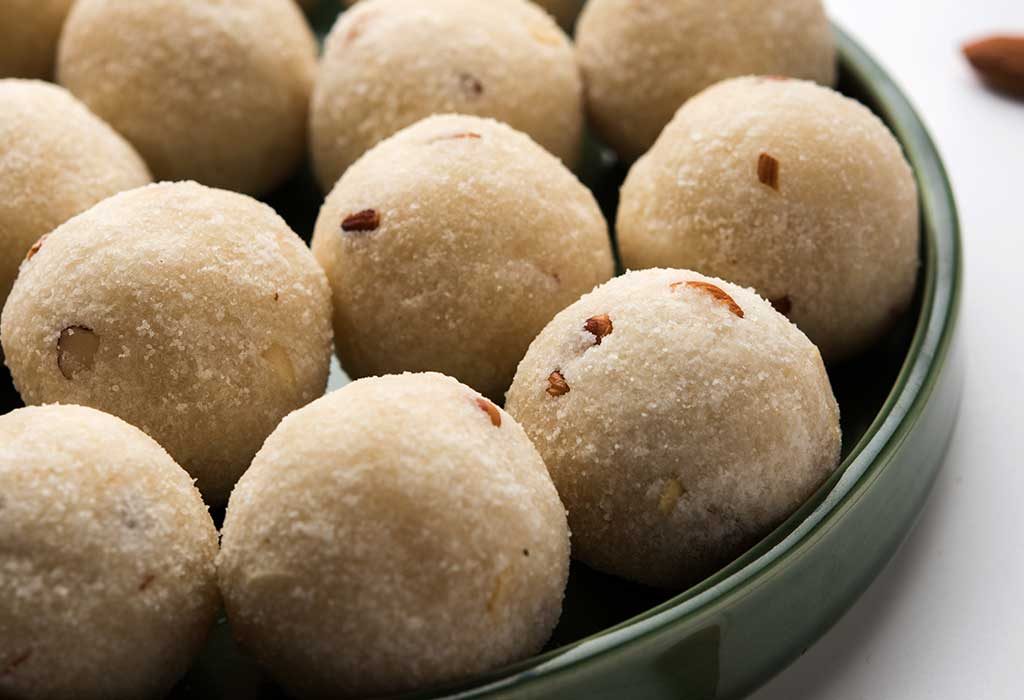 In this Article
Children with a sweet tooth must be served Rava laddoo for developing their love for traditional Indian sweets. Ideal for kids lunch box, breakfast, desserts or festival treats, these laddoos are round-shaped balls with a softly chewable texture. The edgy pairing of sweet Rava and ghee make these laddoos nutritious and delicious for growing babies and toddlers. Easy to make, can be one of the best finger food that can be given to a weaning baby. This Indian food speciality will guide mothers who are wondering how to make Rava ladoo in the simplest way possible.
Thinking about how to make Rava Ladoos? Let's start making the ladoos:
Cooking Time
| | |
| --- | --- |
| Type | Time (hh:mm:ss) |
| Preparation Time | 00:05:00 |
| Cook Time | 00:40:00 |
| Total Time | 00:45:00 |
Cooking Method
Gas Stove
Type of Meal
Vegetarian
Suitable For
Any toddlers above 18 months of age
Meal Schedule
Breakfast or Mid-Morning Snack or Evening Snack.
Recipe Type
Side Dish
Ingredients
| | |
| --- | --- |
| Ingredient | Quantity |
| Fine Rava or Semolina | 1 cup |
| Ghee | 4 tbsp |
| Fresh Coconut(Grated) | 6 tbsp |
| Sugar | ½ cup or as per taste |
| Cashews and almonds(finely chopped) | Total 3 tbsp |
| Raisins | 1 tbsp |
| Cardamom Powder | ½ tsp |
Instructions
Here is the step by step process to prepare delectable Rava ladoos:
Heat 1 tbsp ghee in a heavy pan. Once the ghee melts, add 1 cup Rava into the pan.
Mix everything properly and keep on roasting the rava on low flame.
You have to roast the rava well. It will take around 12 minutes to roast the rava properly.
Stirring the rava should be done non-stop if not rava might burn.
Once the semolina is done, add grated coconut and stir for a minute.
Turn the gas off and allow the mixture cool down.
Take a grinder jar and grind ½ cup of sugar.
Once the rava and coconut mixture cools down, add the mixture in the grinder jar along with sugar. Grind the entire mixture into a fine texture. Keep the jar aside.
Take the same pan and add 3 tbsp ghee to it. Keep it on low to medium heat. Now add finely chopped almonds and cashew to the pan. Fry till they turn golden in colour.
Next, add 1 tbsp of raisin and fry till they swell up.
Switch off the flame.
In the same pan, add the prepared mixture of rava, coconut and sugar. Note: The ghee should be hot when the rava mixture is added to it.
Add 1/2 tsp cardamom powder to the mixture.
Mix everything properly. Let the ladoo mixture cool down at room temperature.
Now take small portions from the mixture and shape them into round balls known as ladoo.
Repeat the step above for the entire mixture and store the ladoos in an airtight jar.
Recipe Tips
You should note down the following points if you face difficulties while preparing the homemade rava ladoos baby food recipe:
If your ladoo is not taking the round shape and is breaking, that means the mixture is dry. Add 3 tbsp of melted ghee to the mixture and mix everything properly. Now your ladoos will turn out perfect!
If your ladoos are losing shape and turning flat, that means the quantity of ghee is high. To make the perfect ladoos do either of the following steps: a)Keep the mixture in the refrigerator for half an hour and then try making ladoos out of it or, b) Roast 2 to 3 tbsp of rava and then grind it and add to the mixture.
Nutrition Information (Per 100 Grams)
| | |
| --- | --- |
| Type | Quantity |
| Energy | 132 Kcal |
| Carbohydrates | 16.1 gm |
| Protein | 1 gm |
| Fat | 7.1 gm |
| Dietary Fiber | 1.1 gm |
| Vitamin C | 0.3 mg |
| Iron | 0.3 mg |
| Calcium | 2.2 mg |
| Potassium | 37.7 mg |
| Sodium | 2.8 mg |
| Phosphorous | 26.8 mg |
Health Benefits
This simple rava ladoos recipe has many health benefits for your growing child. Below is the list of the same:
Rava is easy to digest and keeps the baby full for long.
It has a good amount of fibre and hence helps in regulating the bowel movement in kids.
This recipe has a good amount of phosphorous and magnesium and hence helps in the development of bones and teeth in kids. It also aids the nervous system.
This recipe is known to boost immunity in kids.
The potassium content of this recipe keeps the kid hydrated and boost metabolism.
The ghee used in this recipe promotes sleep in kids.
Buying Guide
Rava Ladoos for babies will turn out perfect if you follow the below pointers:
Buy only fine rava and not the one with coarse and thick grains.
Try to use homemade ghee in this recipe. The ladoos made will be tastier if you do so.
You can't compare a ladoo to an apple. But you can say a rava ladoo a day might keep the doctor away and now you know why! Try making these ladoos at home and include in your child's daily routine.