Varan Recipe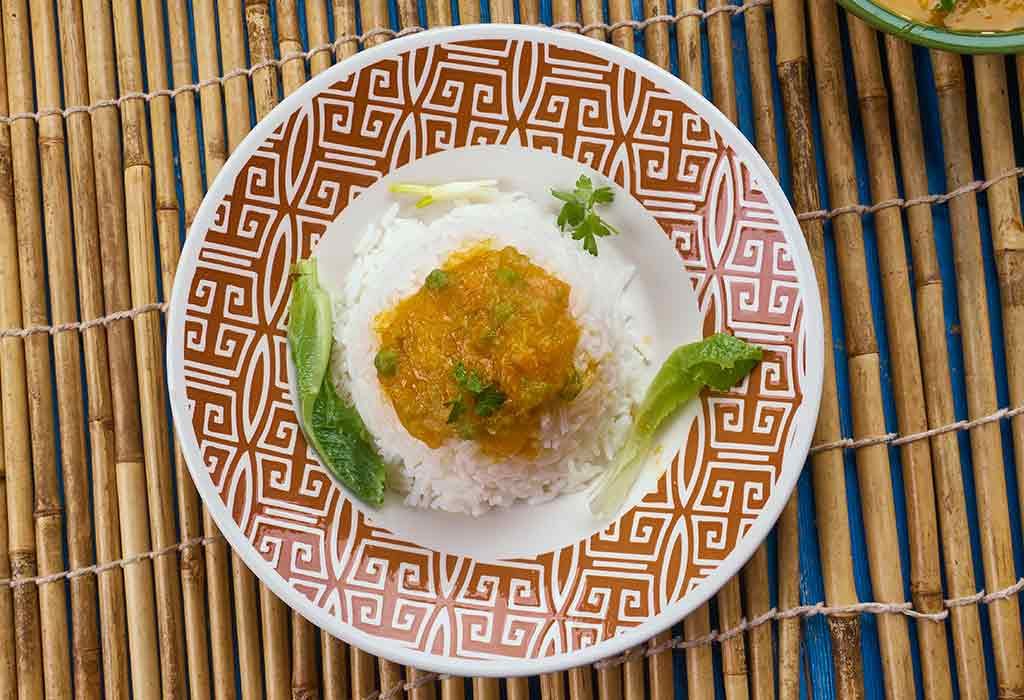 In this Article
Elders and tons of baby sites will vouch for the effectiveness of moong dal in your baby's diet. But as your baby grows older, you will need to include toor dal in his diet to give him the needed nutrients. As you introduce it gradually, your toddler will be ready for this homemade Varan baby food recipe.
Cooking Time
| | |
| --- | --- |
| Type | Time (hh:mm:ss) |
| Preparation Time | 00:10:00 |
| Cook Time | 00:25:00 |
| Total Time | 00:35:00 |
Cooking Method
Gas Stove
Type of Meal
Vegetarian
Suitable For
Toddlers above 23 months of age
Meal Schedule
Lunch or Dinner
Recipe Type
Main Dish
Ingredients
| | |
| --- | --- |
| Type | Quantity |
| Toor dal | 5-6 tbsp |
| Asafoetida or hing | 2 tsp |
| Turmeric powder or haldi | ¼ tsp |
| Lemon | 1 |
| Ghee | 1 tsp |
| Salt | As per taste |
Instructions
You just need to follow these step-by-step instructions to learn how to make Varan for your toddler:
Wash the toor dal. Add hing, turmeric powder or haldi and salt.
Add ¼ cup of water to this.
Cook the dal in a pressure cooker for about 20-25 minutes on a medium flame. Cook for approximately 5-6 whistles.
Let the pressure from the cooker be released and check the consistency of the dal. It should not be too watery or too thick.
Cook the rice in the pressure cooker. Double the quantity of water while cooking the rice so that each grain cooks well and is nice and fluffy.
Serve the rice and dal in a dish.
Squeeze the lemon just enough to add a tangy taste to the dish.
Top the dal rice with a dollop of homemade ghee and mix the dal-rice with a spoon. You do not need to mash the rice if it is fluffy.
Recipe Tips
A few essential tips to perfect this easy Varan recipe :
Rinse and soak the toor dal if you want it to cook quickly.
Cook the rice in the same pressure cooker. If you wish you can also cook it in a separate vessel with water and drain the water after the rice is cooked.
Do not squeeze the lemon until the last drop as it may make the dish too sour. You only need to add just the right amount of lemon juice to help the dish taste tangy.
You can add 1-2 teaspoons of freshly grated coconut towards the end in this varan recipe.
If you wish you can also add some goda masala to the dal to give it a different taste.
Nutrition Information (Per 100 Grams)
| | |
| --- | --- |
| Type | Value |
| Calories | 1445 kCal |
| Carbohydrates | 227.1 gms |
| Protein | 39.1 gm |
| Fat | 42.2 gms |
| Potassium | 1123.6 mg |
Health Benefits
Varan for toddlers is a great way to introduce rice and dal to your child's diet. Often, babies are fed with khichdi that is rice and lentils cooked together. But this dish introduces the elements separately and is fed to babies over ten to twelve months of age. Read on to find out more about the health benefits:
Toor Dal is healthy as the legumes are rich in dietary fibre. This helps to prevent constipation.
Toor Dal is a rich source of protein. It takes more time to break down and keep the tummy fuller for longer.
Toor Dal is also rich in folic acid and iron.
Rice contains carbohydrates and instantly energizes the baby.
Rice is also essential is vitamins and proteins that are needed for the healthy development of the baby.
Rice is gluten-free ad is suitable for children with allergies.
Buying Guide
Follow these guidelines when purchasing ingredients for Varan bhaat :
Buy toor dal in sealed form and check for the expiry date before use.
Buy rice from supermarkets and check the quality of the rice before using it.
Buy organic rice and dal if possible as they will be free from chemicals and pesticides.
Use homemade ghee if possible. If you do not have homemade ghee, buy branded one from supermarkets and check the expiry date before use.
This famous Maharashtrian dish of piping hot rice and lentils served with dollops of ghee is comfort food that will appeal to your kid. The unique combination of rice and lentils will satiate your baby's appetite and will soon make it a staple on the dinner table.