Masala Khichadi Recipe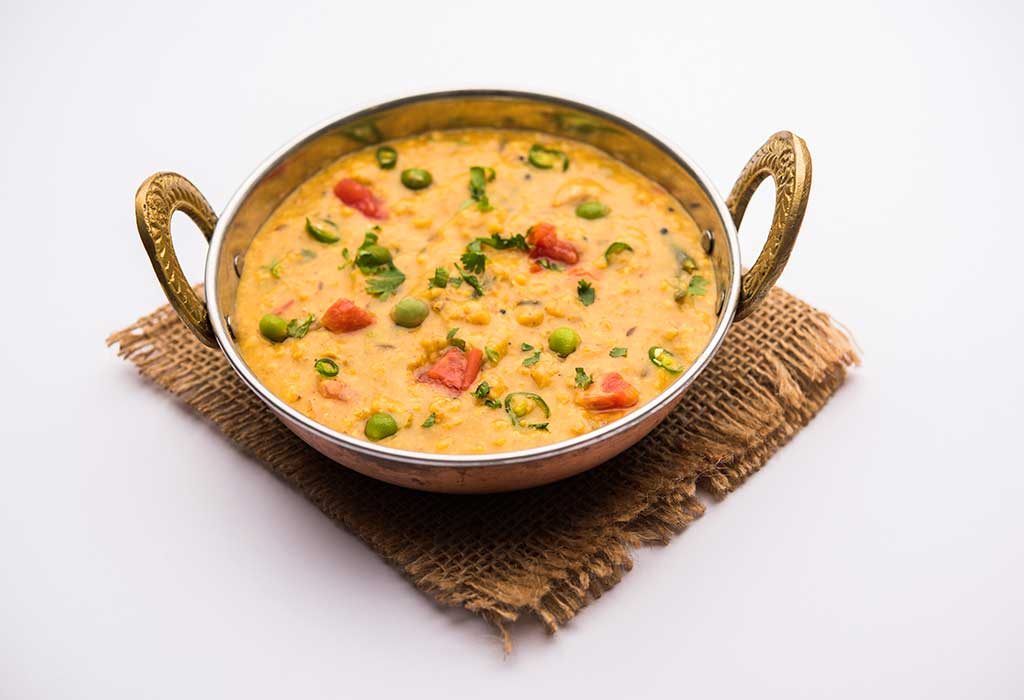 In this Article
If you're a mother looking for an alternative lunch option for your little one then rather than making the same boring rice, masala khichadi can be a good choice. This simple homemade food is easy to make, nutritious and can be given as a weaning food for babies when it's time to introduce rice, lentils, and vegetables. This one-pot meal is a wholesome, anytime food that is soft, soothing to the throat and tummy of babies. If you're wondering how to make masala khichadi, then the recipe given here will guide you to cook a meal in a jiffy.
Cooking Time
| | |
| --- | --- |
| Type | Time (hh:mm:ss) |
| Preparation Time | 00:05:00 |
| Cooking Time | 00:01:00 |
| Total Time | 00:06:00 |
Cooking Method
Gas
Type of Meal
Vegetarian
Suitable For
Weaning babies older than 11 months of age
Meal Schedule
Breakfast, Lunch, Dinner
Recipe Type
Main Dish
Ingredients
| | |
| --- | --- |
| Type | Quantity |
| Rice | 1 Cup |
| Moong dal | 1 Cup |
| Tomato | 1 Small |
| Big Onion | 1 Small Sized |
| Vegetables | 1 Cup chopped |
| Turmeric Powder | A Pinch |
| Water | 4.5 Cups |
| Asafoetida | A Pinch |
| Clove/Cinnamon Stick | 1 |
| Garam Masala Powder | ½ Tsp |
| Salt | As Required |
| Ghee | 2 Tsp |
| Cumin Seeds | ½ tsp |
Instructions
Here are step-by-step directions to make the yummiest and easy masala khichadi recipe that would keep your child's hunger pangs away for a long time.
Slice onions, chop tomatoes and vegetables and set them aside.
Wash the rice, moong dal together and soak them in warm water for 20 minutes.
Heat ghee or oil in the pressure cooker. Add asafoetida, clove, and cumin seeds and let it crackle.
Sauté the onion till it becomes transparent and golden brown. Add tomatoes and fry until it becomes mushy.
Add chopped vegetables, turmeric powder, and required salt. Stir the mix.
Add the soaked rice and moong dal.
Add the required water and wait till it boils. Throw in some coriander leaves. Close the lid of the pressure cooker and cook on medium flame. Wait for three whistles.
Wait for the steam to escape before opening the lid.
Top it with a drizzle of ghee, a pinch of garam masala powder and serve hot.
Recipe Tips
This masala khichadi recipe can be your child's favourite food while travelling or for any meal.
This homemade masala khichadi baby food recipe can be made mushy by adding more water. You can use more than one dal like toor dal mixed with moong dal.
For older babies, you can use ginger, carrots, beans, potatoes, green peas, or cauliflower that they can chew and digest. For smaller kids, grated bottle gourd or carrot can be used.
Add water for a thinner consistency of the khichadi.
You can use any kind of rice for making this dish.
You can make this khichadi without vegetables.
Mash the khichadi with the back of the spoon to make it easier for smaller children to eat.
Instead of tomatoes, you can use a teaspoon or two of tamarind water for getting the tangy taste.
Nutrition Information (Per Plate Serving)
| | |
| --- | --- |
| Type | Value |
| Carbohydrates | 20 grams |
| Sugar | 3 grams |
| Fat | 21 grams |
| Protein | 15 grams |
| Sodium | 1290 mg |
| Potassium | 261 mg |
| Cholesterol | 5 grams |
| Vitamin A | 20% |
| Calories | 330 kcal |
| Vitamin C | 64% |
| Calcium | 2% |
| Iron | 9% |
Health Benefits
The health benefits of a plateful of masala khichadi for babies are listed here:
Khichadi has the right balance of carbohydrates, protein derived from rice and lentils that are used in this dish.
As it eases digestion, doctors recommend this dish as a comfort food when your child is unwell for faster recovery. No wonder it is a called a pot-cure for anything.
The vegetables used has high fibre content that helps in preventing constipation in children.
It is gluten-free and good for the stomach.
Its adequate protein content keeps the blood sugar levels stable.
The moong dal is a source of vitamin C, magnesium, potassium, calcium that is necessary for the growth of the body.
Buying Guide
Keep these buying tips in mind while you go shopping for the right ingredients required for making this recipe for your baby:
Buy organic vegetables as they are grown without using harmful pesticides and insecticides.
Use homemade ghee instead of the packaged product.
Spices used need to have a strong aroma to ensure a good taste.
Inspect for moth-like, wormy insects or tiny pebbles in the pulses that you buy. Inspect the expiry date if they're sold in a pack. Look for the ones that are uniform in size and bright in colour.
This masala khichadi for babies is an incredibly flavourful and the perfect hearty meal. It is also an ideal way to feed vegetables to your baby.