Spring Onion Thalipeeth Recipe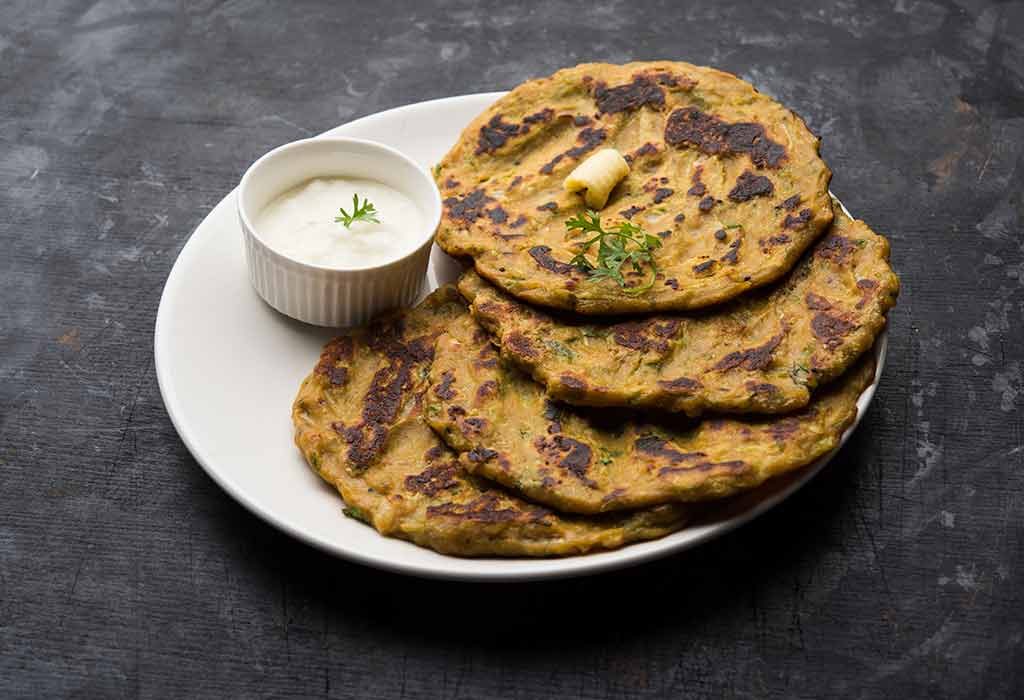 In this Article
Thalipeeth is a popular Maharashtrian cuisine, which is widely consumed in Maharashtra. It is made healthy ingredients and is super healthy and tasty. If you want to learn to make thalipeeth, we will tell you how! The best thing about this dish is you can add as many vegetables as you want. Here we are giving you the recipe of spring onion thalipeeth, which you can make with single grain or multiple grains. The flour used for making thalipeeth is known as bhajani. Bhajani can be bought from the store or it can be prepared at home by mixing the flours. Thalipeeth can be enjoyed plain or with butter or yoghurt.
Cooking Time
| | |
| --- | --- |
| Type | Time (hh:mm:ss) |
| Preparation Time | 00:05:00 |
| Cook Time | 00:15:00 |
| Total Time | 00:20:00 |
Cooking Method
Gas
Type of Meal
Vegetarian
Suitable for
Toddlers above 12 months of age
Meal Schedule
Breakfast or mid-breakfast, snacks
Recipe Type
Main dish
Ingredients
| | |
| --- | --- |
| Type | Quantity |
| Jowar flour | 1/2 cup |
| Gram flour (besan) | 1/4 cup |
| Wheat flour | 1/4 cup |
| Pearl millet flour (bajra) | 1/4 cup |
| Rice flour | 1/4 cup |
| Ginger garlic paste | 1/2 tsp |
| Turmeric powder | 1/4 tsp |
| Coriander powder | 1/2 tsp |
| Cumin seeds powder | 1/2 tsp |
| Carom seeds (ajwain) | 1/4 tsp |
| Sesame seeds | 1 tsp |
| Coriander (finely chopped) | 2 tsp |
| Spring onion (finely chopped) | 4 tsp |
| Salt | 1/2 tsp |
| Water | As required for kneading |
| Oil | As required for roasting |
Instructions
Here are step by step directions to make spring onion thalipeeth for toddlers.
Take a large bowl and mix jowar flour, besan, wheat flour, bajra flour, and rice flour.
Then add ginger-garlic paste, turmeric powder, coriander powder, cumin powder, ajwain (carom seeds), sesame seeds, chopped coriander, chopped spring onions, and salt.
Now add water and combine everything well to make a soft dough. Keep the dough aside for 20 minutes.
Now make small balls from the dough. Take a lemon-sized ball and place it over the butter paper sheet. You can also use a ziplock plastic bag instead of a butter paper.
Grease your palm and fingers with oil and pat the ball, flattening it out until you get a puri-shaped rolled out thalipeeth.
Heat a pan and brush some oil on it. Now place the rolled out thalipeeth on it gently.
Now brush some oil over the thalipeeth. Cover it and let it cook. Once it cooks from one side, flip and cook from the other side on medium-high flame.
After 3-4 minutes, once it turns golden brown, transfer it on a plate and serve warm.
Add butter to it while it is hot and serve with plain yoghurt or dahi.
Recipe Tips
Here are some tips that you should remember while making thalipeeth.
Thalipeeth should be made thicker than rotis. If you make thin thalipeeth, they will turn hard.
To make this easy spring onion thalipeeth recipe more nutritious, you can add chopped spinach or grated carrot to the dough.
You can also add some of the other nutritional elements like oats flour, amaranth flour, ragi flour, and quinoa flour.
Using fresh flour will make better thalipeeth than using the stored flour.
Nutritional Information (Serving one thalipeeth)
| | |
| --- | --- |
| Type | Value |
| Energy | 100 calorie |
| Protein | 2.4 g |
| Carbohydrates | 10.4 g |
| Fibre | 2 g |
| Fat | 5.5 g |
| Vitamin A | 153.3 mcg |
| Vitamin C | 5.4 mg |
| Folic acid (Vitamin B9) | 16 mcg |
| Calcium | 18 mg |
| Iron | 0.8 mg |
| Magnesium | 21.7 mg |
| Phosphorous | 49.6 mg |
| Sodium | 8 mg |
| Potassium | 93.9 mg |
| Zinc | 0.3 mg |
Health Benefits
Here are some benefits of eating thalipeeth for kids.
Spring onions are loaded with essential nutrients and provide unique taste and flavour to the dish.
Jowar is high in fibre and lowers bad cholesterol levels along with increasing good cholesterol.
Besan can help in the growth of red blood cells and white blood cells in the bone marrow.
Bajra in thalipeeth can take care of the heart health and it is good to include in your baby's diet in winters.
Spices provide anti-inflammatory effects to the body and add taste to the food.
Sesame seeds support bone health and are a good source of fibre.
Buying Guide
Before you make spring onion thalipeeth, first make sure you buy the right ingredients for it.
Always purchase fresh flour from the market.
Check the expiry date of the flours before buying them.
If you have access to the atta chakki, then purchase all the flours from there.
Spring onions should be fresh and without any blemish.
Homemade food is good for babies and toddlers, so whatever you feed your baby, make sure it is homemade. And do consider this yummy and nutritious spring onion thalipeeth. It is very healthy and filling option, and we are sure your little tot will enjoy it. So make it once a week and feed it to your child and enjoy it with everyone in your family!