Melon Juice Recipe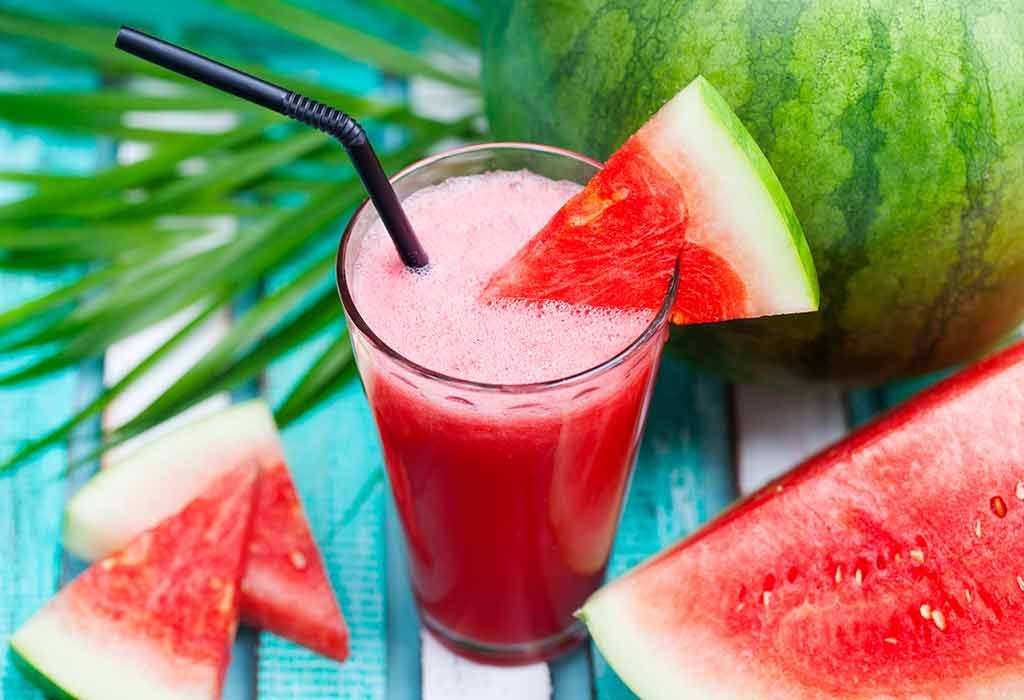 What fun are summers without a glassful of cool melon juice to quench our thirst and cool down our body? Melon is a sweet, fleshy fruit that usually grows in the tropical and sub-tropical climate. They are rich in Vitamin A and Vitamin C that help build a baby's defence against diseases and combines its sweet fragrance with its refreshing taste.
Melon juice is a nourishing drink and is highly recommended for babies to keep them hydrated, especially during summers. If you're wondering how to make melon juice, here's a super-easy recipe that can help you beat the heat. This preparation can be made with watermelon, cantaloupe or honeydew melon, as well as summer, treat to cheer up your baby.
Cooking Time
| | |
| --- | --- |
| Type | Time (hh:mm:ss) |
| Preparation Time | 00:15:00 |
| Cook Time | 00:00:00 |
| Total Time | 00:15:00 |
Cooking Method: No Gas Involved
Type of Meal: Vegetarian beverage
Suitable For: Weaning toddlers older than 15 months of age
Meal Schedule: Breakfast, mid-morning snack, evening snack.
Recipe Type: Snack
Ingredients
| | |
| --- | --- |
| Type | Quantity |
| Watermelon/ honeydew melon/ cantaloupe (de-seeded, cubed) | 2 cups |
| Ginger (finely chopped) | ½ piece |
| Sugar | 2 tsp |
| Crushed ice (optional) | For serving |
Instructions:
Here's a step-by-step recipe to make some delicious melon juice for your baby.
Rinse the melon in water and remove the peel. Separate the flesh and remove the seeds.
Chop into cubes and put them in a blender.
Add the chopped ginger, and sugar.
Blend till you get a smooth thick juice/ puree.
Add the crushed ice and some water (if required) and mix it well.
Pour the juice out gently in a glass or a bowl and feed your baby.
Recipe Tips
This simple melon juice recipe can be fed as a mid-morning or an evening snack.
Try adding a dash of lemon juice, and some crushed mint leaves to enhance the flavour.
This homemade melon juice recipe for babies can be made more appealing by adding orange or kiwi juice to give it a punch. You may also add finely chopped citrus fruits to add some texture and flavour to it.
Add more water for diluting the juice, and cutting down the sugar, calories, and acid found naturally in melons.
Add cardamom or black salt for making the juice more tempting for kids.
So, what is it that your little one will gain by drinking this delicious juice? Let's find out.
Nutrition Information
Here's the nutritional information per serving (1 cup) of melon juice.
| | |
| --- | --- |
| Type | Value |
| Carbohydrates | 34.1 grams |
| Energy | 138 kcalories |
| Protein | 2.6grams |
| Sodium | 51grams |
| Fibre | 2.8grams |
| Fat | 0.6grams |
| Potassium | 839grams |
| Calcium | 30grams |
| Vitamin A | 10550IU |
| Vitamin C | 157.6mg |
| Sugar | 33.1gram |
| Iron | 0.7mg |
Health Benefits
Not only are melons juicy and delicious, but they are also packed with nutrients. The exact nutritional value may vary from one variety of melon to another, but they are extremely beneficial to your baby. Here are some of the health benefits of melon juice –
Your baby's body converts the beta-carotene present in the melon into Vitamin A, which is beneficial for good eyesight. It also protects human cells from free radicals.

The Vitamin C present in melons is vital as protection against the common cold. It also helps in absorbing iron and calcium from the baby's food. Deficiency of Vitamin C leads to inflamed gums and fatigue in babies.
As melons contain around 90% water, they are easy to digest.
The dietary fibre present in melons keeps constipation at bay.
Melons help reduce body heat and keeps it cool after a super-active playtime.
The sugar content of this vitality drink keeps your baby active and energised throughout the day.
Low in saturated fat and calories, melons also aid in healthy weight loss.
Here's a buying guide for those who don't know what they need to check for while selecting and purchasing melons.
Buying Guide
These buying tips can help modern consumers make an informed decision about what ingredients they need to pick for their baby.
It is advisable to choose organic fruits and vegetables to ensure that your baby is exposed to fewer toxins and synthetic chemicals.
The market is flooded with a variety of sweeteners like caster sugar, cane sugar, coconut sugar, palm sugar, date sugar or maple sugar. Choose the sweetener as per your baby's health requirements and preferences.
This glassful of melon juice for babies is simply delicious and adds a burst of freshness to your baby's weekly diet plan. So, instead of buying commercially available sweetened beverage from the supermarket, choose to buy the best quality melon fruit and prepare its juice in the most hygienic way to feed your precious little one.
?>