Jowar Puff Chivda Recipe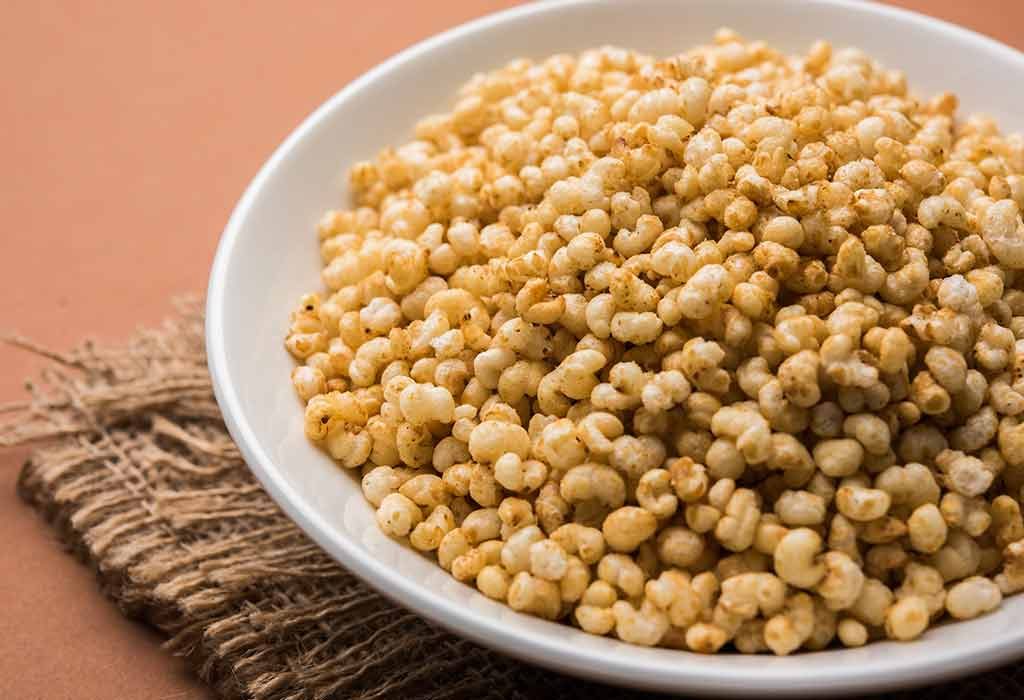 In this Article
This Jowar Puff Chivda recipe promises a bowl full of crunchy and tangy fun. Made with some jowar puffs, roasted chana dal and seasoned with mild spice powders, it is an excellent crispy treat that can be enjoyed by kids and adults alike. Chivda is a popular tea time snack in India, and it can be introduced to babies after the age of twelve. Although adults like it spicy, this variation is a perfectly spiced snack that babies will love.
Cooking Time
| | |
| --- | --- |
| Type | Time (hh:mm:ss) |
| Preparation Time | 00:05:00 |
| Cook Time | 00:10:00 |
| Total Time | 00:15:00 |
Cooking Method: Gas
Type of Meal: Vegetarian or vegan
Suitable For: Toddlers older than 18 months of age
Meal Schedule: Snack, In-between meals
Recipe Type: Snack, Treats
Ingredients
| | |
| --- | --- |
| Type | Quantity |
| Jowar Puffs | 5 cups |
| Oil | 2 tbsp |
| Mustard seeds | 1 tsp |
| Curry leaves | 6 |
| Asafoetida | ¼ tsp |
| Roasted chana dal | 2 tbsp |
| Turmeric powder | ½ tsp |
| Chilli Powder (optional) | ½ tsp |
| Salt | To taste |
Instructions
This easy jowar puff chivda baby food recipe is an excellent starter for your child who has just completed their first birthday. A milestone in itself, children over one year need to be offered different foods to tickle their taste buds. Follow this step-by-step guide to make this yummy snack.
First, make the jowar puffs with the seeds. Pop them in a pan. Close the lid and let each grain pop. Remove and keep the popped corns aside.
Boil some oil in a pot or a deep non-stick pan. Add the mustard seeds, curry leaves and asafoetida and saute on a medium flame. Wait until the mustard seeds pop.
Add the roasted chana dal and cook on a medium flame for about 1 minute.
Now add the turmeric powder, chilli powder and salt. Mix well and cook on a low flame for about 10-20 seconds.
Add the roasted jowar puffs to this mixture and mix well. Cook on a low flame for about 1-2 minutes and keep stirring occasionally.
Cool this completely and store in an airtight container.
Recipe Tips
You can eliminate the chilli powder if you do not want it to be too spicy.
Make sure the jowar seeds puff and check before you add them to the sautéed mixture.
Chop the curry leaves finely so that your child will not have difficulty in biting them.
Nutrition Information (Per 100 Grams)
| | |
| --- | --- |
| Type | Value |
| | |
| Energy | 66 kCal |
| Protein | 1 g |
| Carbohydrates | 1.8 g |
| Fibre | 0.4 g |
| Fat | 6.1 g |
| Cholesterol | 0 mg |
| Vitamin A | 102.8 mcg |
| Vitamin B1 | 0 mg |
| Vitamin B2 | 0 mg |
| Vitamin B3 | 0.3 mg |
| Vitamin C | 2.6 mg |
| Folic Acid | 0 mg |
| Calcium | 5.9 mg |
| Iron | 0.1 mg |
| Magnesium | 0 mg |
| Phosphorus | 0 mg |
| Sodium | 9.7 mg |
| Potassium | 48.2 mg |
| Zinc | 0 mg |
Health Benefits
You have learnt how to make jowar puff chivda for your kids, but you would want to learn the health benefits. Read on to find out.
Jowar puffs are great for improving immunity in infants.
Jowar puffs are full of carbohydrates and help to keep the tummy full for longer.
Jowar puffs are also good for the bones as it contains high levels of magnesium. It is also rich in protein.
Jowar contains a high concentration of fibre which helps in digestion.
Jowar also contains iron and can be combined with any source of Vitamin C to aid in absorption.
Jowar contains Vitamin B and helps the body to build new tissues and cells.
Jowar also contains traces of copper, zinc, and high levels of antioxidants.
With its high levels of iron and copper, it aids in healthy blood circulation in the body.
Buying Guide
This homemade jowar puff chivda recipe is an excellent snack for your kid with a popcorn-like feel in the mouth.
Buy jowar seeds in sealed form.
Check the expiry date on the packaging before using the jowar seeds.
Buy good quality chana dal and preferably in sealed form.
Buy fresh curry leaves from the market. Make sure to check that there are no holes in the leaves. If there are discard them immediately as worms may infest them.
This jowar puff for babies is a perfect balance. As your baby grows, they will need more meals and in small portions. It may not always be possible to make something fresh from the kitchen all the time. Snacks like these will come to your rescue. These snacks can be made in a jiffy and stored. It can come in handy when your baby feels hungry between meals.