Custard Apple Milkshake Recipe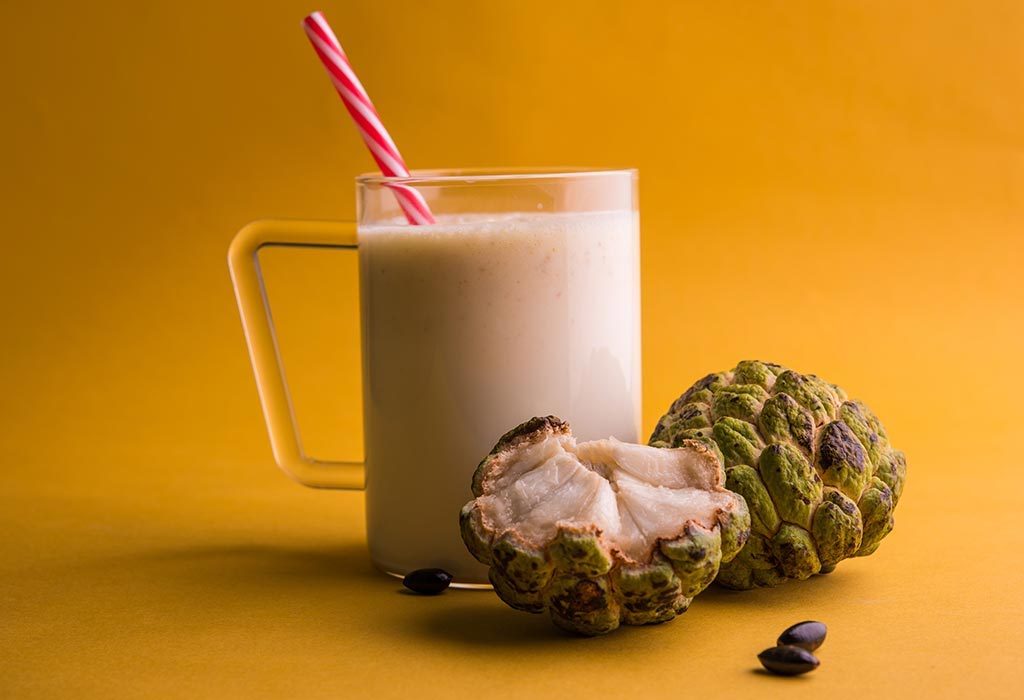 In this Article
Milkshakes are not only wholesome but also are a great way of introducing milk to babies! If you are looking for ways to incorporate yummy and nutritious custard apple in your baby's diet, blending it into a smoothie or shake is something that is what we recommend to you and shakes are usually liked by kids of all age. Packed with the goodness of vitamins and minerals, learn how to whip up a simple Custard apple Shake recipe in a jiffy!
Cooking Time
| | |
| --- | --- |
| Type | Time |
| Preparation Time | 00:15:00 |
| Cook Time | 00:00:00 |
| Total Time | 00:15:00 |
Cooking Method
Blending
Type of Meal
Vegetarian
Suitable For
Ideal for Toddlers over 14 months of age
Meal Schedule
Mid Morning Snack or Evening Snack
Recipe Type
Beverages
Ingredients
| | |
| --- | --- |
| Ingredient | Quantity and Volume |
| Custard apple (medium-sized) | 2 |
| Milk | 1.5 cup |
| Cinnamon powder (optional) | a pinch |
Instructions
Follow these simple step by step instructions to make a yummy treat for your little one.
Wash custard apples thoroughly under running water. Leave in the strainer to dry before chopping them.
Extract the pulp by deseeding the custard apple. You will require ¾ cup of custard apple pulp for this recipe.
Put the pulp in a blender jar. Add a few spoons of milk and blend it into a smooth paste.
Add remaining milk and cinnamon to the paste and blend for few more seconds.
Serve in a sipper cup or glass.
Recipe Tips
Here are some tips that you can keep in your mind while making Custard Apple Shake for toddlers:
Always use milk that is boiled and cooled down.
For the added sweetness, you can either add brown sugar or jaggery (for babies over one year of age). However, for younger babies avoid adding any kind of sugar.
For older kids (2 or more years of age), a scoop of vanilla ice cream can be added to enhance the taste.
You can save the pulp of custard apple for a couple of days in the refrigerator. Add milk and churn for a few seconds in the blender to give a fresh shake to your kiddo.
Ice can be added when serving the shake to adults or grown-up children.
Nutrition Information (Per 100 Grams):
| | |
| --- | --- |
| Nutrient | Value |
| Energy | 130 Cal |
| Carbohydrates | 19 g |
| Protein | 3 g |
| Fats | 4 g |
| Fibre | 2 g |
| Sodium | 7 mg |
| Cholesterol | 6 mg |
The table above mentions tentative amounts of nutrients present in approximately 100 grams of custard apple shake. The actual values may vary slightly.
Health Benefits
Here are some of the many health benefits present in homemade Custard apple Shake baby food recipe:
A rich source of calcium, custard apple helps in better development of your baby's bones and teeth.
The presence of ample amounts of phosphorus is also great for bone development and it also helps in aiding the digestion process.
Great antibacterial properties of this fruit help in fighting various kinds of infections.
Buying Guide
Now, that you have mastered how to make Custard apple Shake for your munchkin, do take note of some of the following aspects too:
Going for organically grown fruits and vegetables is always the safest bet. Pick up organic custard apple from any local supermarket or gourmet store.
Ensure the fruit is ripe and mature and not raw. However, at the same time make sure that custard apples are not overripe. The best way to establish is by gently pressing the fruit. The fruit tends to open up when it's ripe and ready to be eaten.
Do not pick up the ones that are dented, have scars or the ones that do not look fresh.
Though for shakes and smoothies using full-fat milk is the best choice, however, that may not be true for babies and toddlers. Full fat milk may get difficult to digest, thus skimmed milk should be used for babies. Cow's milk can be used too (make sure you consult your paediatrician before giving any kind of milk to your baby for the first time).
Do check the expiry date when picking up milk to make shakes or other such recipes.
Custard apple is a very safe fruit and seldom causes an allergic reaction in babies. However, wait for a few days to see how your baby reacts before feeding it again.
Custard Apple Milkshake is a very easy and tasty way to make your child eat the much-needed minerals and vitamins. Serve it to your kid and watch them enjoying the taste till the last drop!