Paneer Dates Ladoo Recipe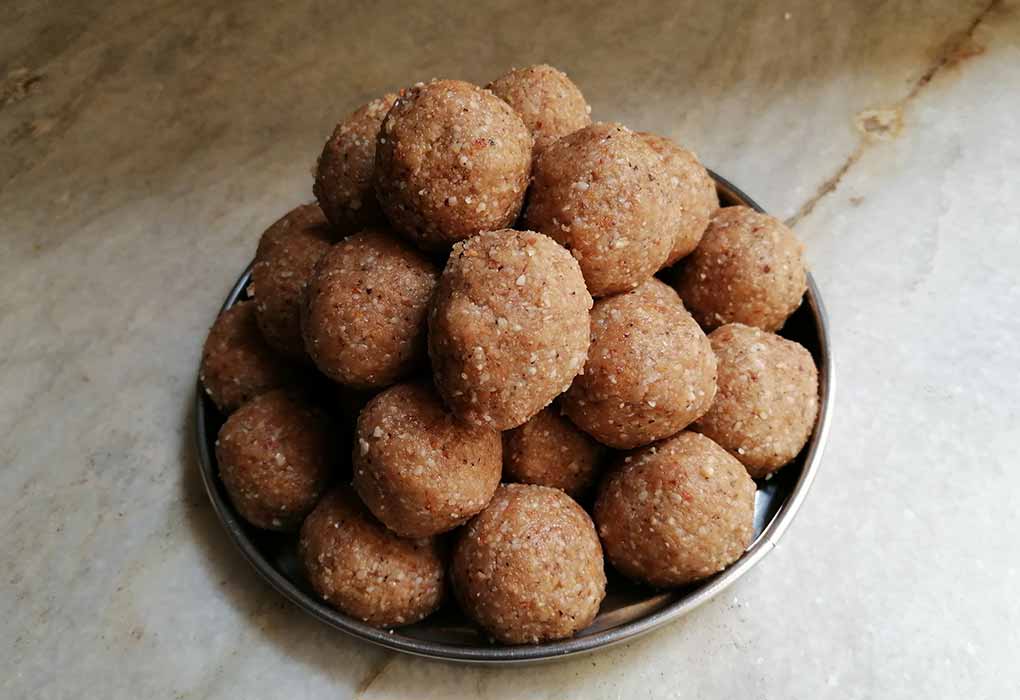 In this Article
Children with a sweet tooth must be served paneer dates ladoo for developing their love for traditional Indian sweets. Ideal for kids lunch box, breakfast, desserts or festival treats, these ladoos are round-shaped balls with a softly chewable texture. The edgy pairing of luscious malai paneer and sweet dates make these ladoos truly nutritious and delicious for growing babies and toddlers. Easy to make, paneer dates ladoos are gluten-free and can be one of the best finger food that can be given to a weaning baby. The below given recipe will guide mothers who are wondering how to make paneer dates ladoo in the simplest way possible.
Cooking Time
| | |
| --- | --- |
| Type | Time (hh:mm:ss) |
| Preparation Time | 00:05:00 |
| Cook Time | 00:45:00 |
| Total Time | 00:50:00 |
Cooking Method
Gas
Type of Meal
Vegetarian
Suitable For
Weaning toddler older than 13 months of age
Meal Schedule
Breakfast, Brunch, Playtime
Recipe Type
Snacks
Ingredients
| | |
| --- | --- |
| Type | Quantity |
| Full Fat Milk | 4 Cup |
| Lemon Juice | Three tablespoon |
| Sugar | 3-5 tablespoon |
| Cardamom Powder | ½ teaspoon |
| Rose Water | One teaspoon |
| Saffron Strands | 1 Pinch |
| Dates Chopped | 4-5 |
| Pistachio | Sliced 4-5 |
| Ghee | 1 tsp for greasing |
Instructions
Discover the joy of making the best paneer dates ladoo by following the step by step directions given here.
Take 1-litre full-fat milk in a thick bottomed pan and simmer it on a medium flame.
As it boils, add lemon juice and wait for it to curdle.
Stir and wait for the whole milk to curdle.
Strain the whey keeping 1/3rd portion with the coagulated milk solids.
Simmer the mixture on a low flame and stir at intervals till all the whey disappears.
Take 3 tbsp of sugar and grind it to form a fine powder. Keep it aside.
Add ½ tsp of cardamom powder, a few strands of saffron and rose water to the mixture.
Throw in the chopped (de-seeded) dates and powdered sugar to mix them well with the rest of the ingredients.
Knead the mixture into a soft dough.
Spread a bit of ghee in your palms and make small portions that can be shaped into laddies.
Garnish the ladoos with sliced pistachios in a plate and serve.
Recipe Tips
This simple paneer dates ladoo recipe can be your secret trick to lighten up your child's mood or celebrate any special moment in your family.
Add more lemon juice or vinegar as required for the entire milk to curdle.
You can use your favourite almonds, walnut, pistachios pumpkin or sesame for seasoning the laddoos.
These ladoos need to be kept in the fridge for storage as dairy products have low shelf-life.
This homemade paneer dates ladoo baby food recipe can be an instant hit even with picky eaters. Make them tastier by grinding condensed milk and paneer together until it becomes thick enough to make ladoos—no need to add extra sugar in such a case.
Tiny paneer dates ladoos can look cute and kid-friendly to pop them into the mouth.
If the ladoo mix is dry, add warm milk before adding sugar.
You can add milk powder to the paneer and cook to add texture to the mixture.
Nutrition Information (Per 1 ladoo)
| | |
| --- | --- |
| Type (From Paneer) | Value |
| Carbohydrates | 10 gm |
| Calories | 96 gm |
| Protein | 3 gm |
| Sodium | 52 gm |
| Sugar | 10 gm |
| Fat | 4 gm |
| Potassium | 165 mg |
| Calcium | 139 mg |
| Vitamin C | 1.8 mg |
| Calcium | 139 mg |
| Iron | 1.5 mg |
| Vitamin A | 200 IU |
| | |
| --- | --- |
| Type (From Dates) | Value |
| Calories | 94 kcal |
| Fat | 0.13 gm |
| Carbohydrate | 24.91 gm |
| Protein | 0.81 gm |
| Calcium | 13 mg |
| Iron | 0.34 mg |
| Potassium | 218 mg |
| Vitamin A | 31 Iu |
| Vitamin C | 0.1 mg |
Health Benefits
Brimming with the goodness of cottage cheese and dry dates, paneer dates ladoos can be a wholesome snack providing instant energy to active babies and toddlers:
Cottage cheese is an excellent source of protein that meets the energy needs of your child's body. Its calcium content is also essential for healthy bones, muscles and teeth.
Dates are the most advisable winter dry fruit as it offers warmth to the body and also boosts the immunity system of all pre-schoolers. The vitamins and minerals present in dates promote brain functions.
Dates are a source of antioxidants and maintains body mass. They are also good for blood sugar balance as they are natural sweeteners.
High in fibre, dates prevent constipation in kids.
Sugar is a source of carbohydrates and energy that keeps your child active for the entire day.
Buying Guide
This handy list of guidelines will help all buyers venturing out to shop for the ingredients that they will need to make their favourite paneer dates ladoos.
Check the expiry date of the milk carton before buying.
Buy best quality 100% natural plump dates.
Choose established brands for buying saffron that must be dry, brittle and have the same shape. They emanate a piquant, fresh scent.
Sugar comes in different varieties like palm sugar, maple sugar, coconut sugar, date sugar, cane sugar, light brown and dark brown. Choose as per your preference.
Homemade paneer dates ladoo for babies have an astounding taste and can be stored in the fridge or carried for short travels. They are a better alternative to sugar-coated snacks available in the stores that can adversely affect your child's teeth and health. Just make these ladoos a few times a week and watch your family crave for more.