French Toast Recipe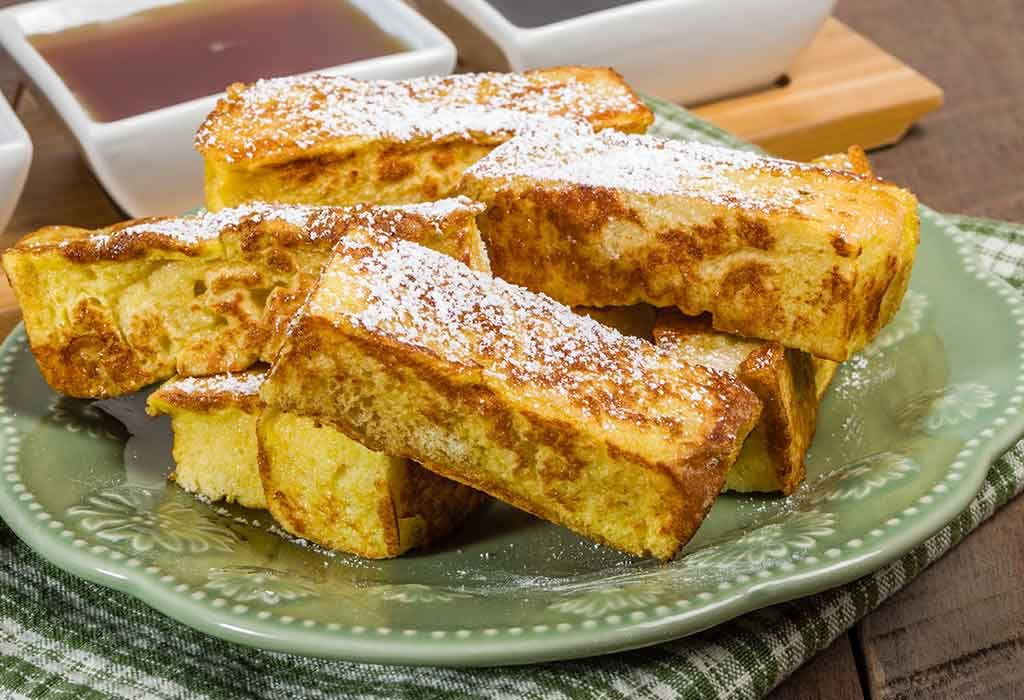 In this Article
The soft, spongy French Toast for babies is the perfect finger food for your baby who is weaning from breastmilk and mashed food! Enriched with protein, potassium and other essential nutrients, this ideal dish can be served for breakfast, lunch or dinner. A perfect recipe for toddlers and ideal for babies over 12 months of age, this French Toast recipe is sure to be one of your toddler's favourite!
Cooking Time
| | |
| --- | --- |
| Type | Time (hh:mm:ss) |
| Preparation Time | 00:05:00 |
| Cook Time | 00:10:00 |
| Total Time | 00:15:00 |
Total Servings: 3-4
Cooking Method: Gas stove or induction
Type of Meal: Vegetarian (uses eggs)
Suitable for: Babies over 15 months
Meal Schedule: Evening Snack, Morning Breakfast, Lunch and Dinner
Recipe Type: Snack or Breakfast
Ingredients
| | |
| --- | --- |
| Ingredients | Quantity & Volume |
| Banana (Ripe) | 1 |
| Egg | 1 |
| Milk | 20 ml |
| Wholemeal Bread | 3 slices |
| Butter or oil for frying | As needed |
Instructions
This step by step procedure on how to make French Toast is your guide to make that start to your baby-led weaning journey. Simple to make, it can be made in minutes and is an ideal finger food to serve to your baby.
Chop the banana and add it to a bowl. Mash it completely with a masher or the back of a ladle.
Break the egg and add it to the mashed bananas.
Add the milk to the egg and banana mixture and stir well.
Juilenne the bread slices.
Dip each slice into the mixture. Make sure you just dip it and wet it. Do not soak them. The bread should be coated with the mixture and not soaked or marinated.
Melt the butter in a frying pan.
Once hot, add one or two bread slices on the pan and fry until both sides turn golden brown.
Serve immediately.
Recipe Tips
You can leave the crusts on the bread in this easy/simple French toast recipe. If your baby does not have teeth, you can take them away.
Use a generous amount of butter while frying as it enhances the taste and also makes the toast softer for your toddler to be able to chew.
Make sure you add the bananas as it adds to the sweetness of the dish.
You do not need to add sugar separately.
You can also experiment with different flavours. Try adding a splash of orange juice instead of milk to give the dish a citrus twist.
Sprinkle some cinnamon powder on the toast before serving.
Alternatively, you can also add some powdered sugar to the toast before serving.
Nutritional Facts Per Servings
| | |
| --- | --- |
| Nutrient | Value |
| Calories | 175 kCal |
| Fats | 6.7 gm |
| Carbohydrates | 23.1 gm |
| Protein | 6.5 gm |
| Sodium | 170.3 mg |
| Sugar | 6.6 gm |
| Vitamin A | 60.2 mg |
| Vitamin C | 0.13 mg |
| 0.2 mg | 70.6 mg |
| Iron | 1.2 mg |
Health Benefits
This homemade French toast baby food recipe has its fair share of health benefits. Find out more:
Bananas are loaded with potassium and are the ideal food for aiding in digestion.
Eggs are a rich source of protein and much needed for building the immunity levels of your baby. Eggs are also a source of Vitamin D, B and B12.
Milk is loaded with calcium that is good for the nourishment of bones and teeth.
Buying Guide
French Toast baby food recipe seems like a piece of cake. But there are a few things to remember while buying the ingredients.
Make sure you buy bananas that are ripe. You need to be sure that the bananas have not gone rotten. Carefully peel the banana and examine every part of it before chopping and adding into the bowl.
Make sure you buy eggs that come in packaged form. You can be sure of the expiry date of the product. Loose eggs sold in the market are very often past their shelf life.
Buy fresh bread that comes in packaged form. Again, bread is a commodity that has a limited shelf life and it is important to check the shelf life of the product.
Only use good quality butter or oil to fry this dish.
Always boil the milk before adding it to the mixture.
French Toast for babies is a great way to introduce some variety in your toddler's diet. It combines the richness of bananas, eggs and milk to make a rich breakfast that will keep their tummy full for a couple of hours. Once fried, the bread stays really soft. Your child can comfortably hold it in their hand and eat it on their own. Weaning babies from breast milk and mashed food is a task for parents and a lot of parents are not sure about the kind of foods to offer to their babies. Thus, weaning food recipes are growing in popularity and French Toast, out of all others, is a great start. You must try and introduce it in your baby's diet chart.